HTML make head woozy...
Okay, I think I have this down now.
WIP's? Check.
Progress trackers? Check.
Trackback? Check. (But it ate the previous comments. Dang. Oh well, at least there weren't too many.)
Links? Check.
Buttons? Check.
Time to take a nap on the futon? Check!
And where is my crazy animal through all this? You know, when mommy needs some snuggles? See for yourself...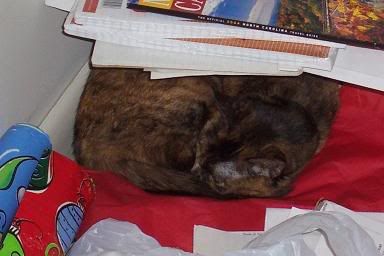 Sleeping as usual. Thanks for the support. Hmm, I guess I should put the wrapping paper away now huh?