So now what?
I've been working on that Airy Scarf and it's coming along nicely. I had hoped to finish it tonight but, wow, that mohair will slow you down! I had about five people call dibs on it almost immediately. *laugh* I guess it will have a good home after all...
So of course, as I am knitting one project, my mind begins to wander and I begin to wonder what I will work on next. I recently found out about a scarf called a "Magic Scarf" that can be worn like a scarf or a cowl. It's neat! The one I saw had been done on one of those circular knitting looms with a fun fur yarn. One of the gals in my office just went nuts when she saw it and of course I thought... I'll try and find this pattern and surprise her with one. Nope, I can't find a pattern to save my life. So I think this might be the first thing I end up 'free knitting'.
But of course, I still have this yarn too: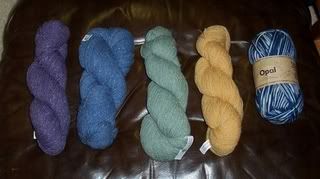 I got it along with the Mohair yarn that I am using now. It's been sitting in my stash waiting for a sock pattern I wanted to try. It's a lovely cotton/wool blend that I can't help but squeeze! But what pattern to use? I've downloaded so many free patterns and there are so many in the books I have... I think I may have given myself too many choices! So I'm thinking, something cute and simple... wide stripes? *shrug* I plan to make this pair for myself. The only other pair of socks I've ever knit I gave to
afghans for Afghans
. (Sorry no pic... I sent them out without taking one.)
So... stripes?