Got my sock on...
Alrighty. I thought about it all day long and I've decided to do two different pairs of socks. The first one's I will do are the
Cut Your Teeth Socks
from
Knitty
. The pattern calls for 12 squares per sock. Here's one!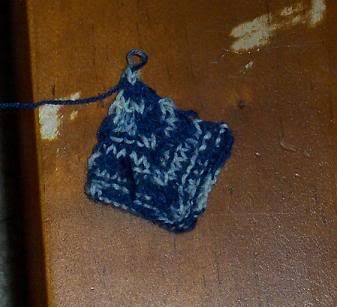 Once these are done, I'll do a set of striped socks with the other colors. I think they'll be great!
The Airy Scarf is coming along nicely. I would have finished it this evening but the cat (and I) needed some snuggles. Eric is out of town for a month. He's been gone for four days and well... we're both missing him.
The second Pasha is coming along nicely too. I'm able to focus on it when I'm at work so it's been the project I'm taking with me each day. I think I'm only going to do three total then I think I'll move on to something else. Maybe some hats for the Canter Center...
Through one of the gals in my office, I have a lead on a new yarn store. I was shocked to know that there is another one within 15 miles of my house! It's in a town called Burlington. I think I've only been there a handful of times so I'm going to try and find the place tomorrow and scope it out. :)
Well, I'm going to cut this entry short as it's after midnight and well... I have to work in the morning!