What can I say...
Things have been a bit rough here at chez urbanpagan. Money is uber tight, (and I mean tight)! Hurricane season is upon us and what's left of Ernesto is blowing debris across my backyard. I've had so much on my mind with money, bills, work, and the like that I really didn't pay much attention when my birthday came and went. (It was on the 21st for those of you that are curious). So when I got a message from Eric letting me know that I had a box full of pretty yarn waiting for me at home, I was surprised.

He opened it?!

He said he did because it looked like it had been sat on all the way across the Atlantic and he wanted to make sure nothing was broken. But lookie what I got!: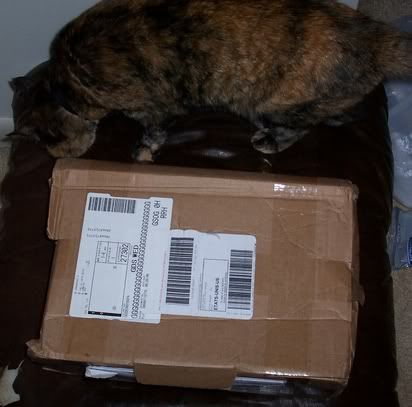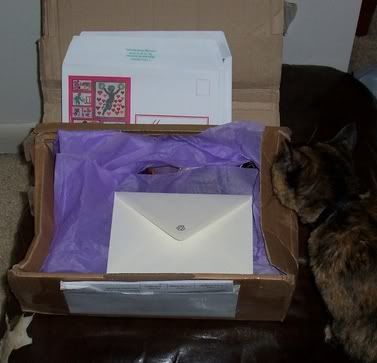 You can see, Trouble is very interested in this box. :)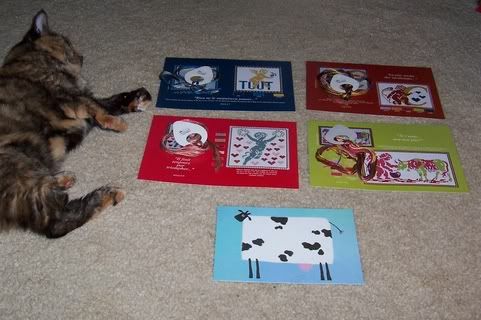 She sent some cross stitch patterns and a cool card with a cow on it: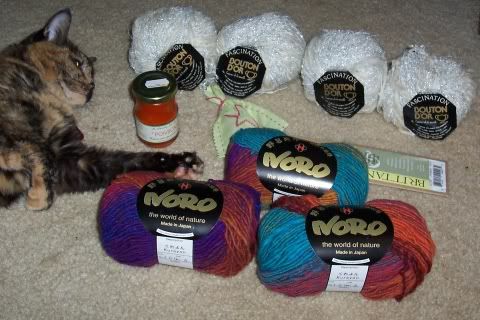 A set of DPNs, some nifty pepper sauce, a lovely bag of lavender and some Noro and some groovy French yarn. :) Thanks SP!!! I really needed that boost.

But I won't start knitting with any of it until I finish the projects I am working on now. I swear! I have to finish this other stuff first. :P

So now that I'm feeling a bit better I think I'll try to look over the finances and figure out what I need to do to get out of this hole. Sorry to sound down... but man it's rough! I think I'll go squeeze my yarn first though. :)
In response to comments:
Stephanie said: areyou going to hit dragon con in Atl? or is it just the gamer conventions you prefer?
I would have liked to hit Dragon Con but it's all about the $$$ right now. We had to choose what we could afford to do and what we couldn't afford to do. Sadly Dragon Con was on the chopping block.