A quick update before lunch time...
So I'm sitting here at reception, and I realized I haven't updated my blog in quite some time. I'm a bad blogger. Bad blogger.
So I realized that I hadn't posted a pic of what I got from my Knittyboard SP. Check it out!: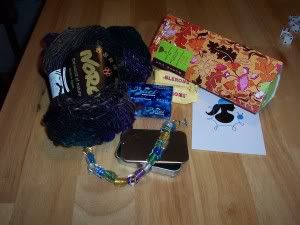 She made this kewl bracelet, I got this yummy Earl Grey tea, some Noro yarn (I lurv you SP!) a card, some mini Toblerones and a pack of Bacci candy (which Eric promptly ate!). Thanks so much SP. Eric said the candy was good. :P
Still no knitting to speak of but I think my wrist is ready to give it a shot. It hasn't hurt in a while. (Yay!) But of course, I've still been doing a lot of cross stitching.
Here's the gift for Dennis (my father in law) all neat, pressed and in a frame: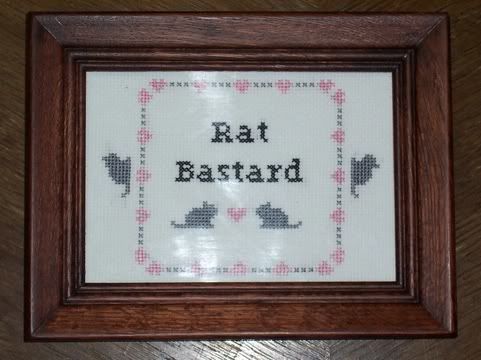 Eric picked the frame out and recommened that I add the rats on the side. I think it came out nicely.
When I came into work last Monday, I saw this sitting on my chair: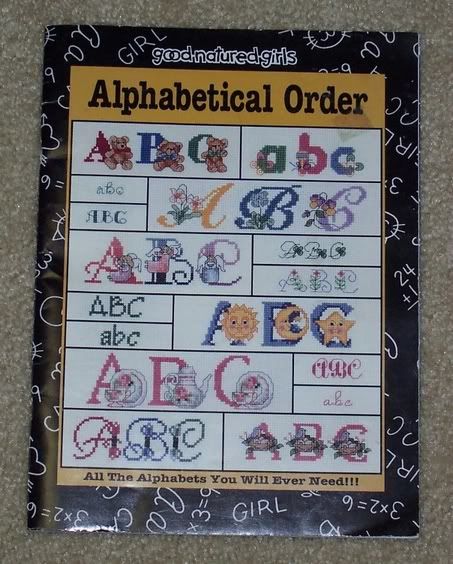 It's a "Good Natured Girl's" book. That made me laugh more than anything else. I am soooooo far from good natured! But it's all very nice letters and I saw a lovely pattern for letters that I want to try out. It's got leaves wrapped around the letters and it's five colors. Eep! Of course, I plan to spell something highly offensive out. ;)
Of course, the cats haven't been up to much lately. Well nothing beyond their normal habits: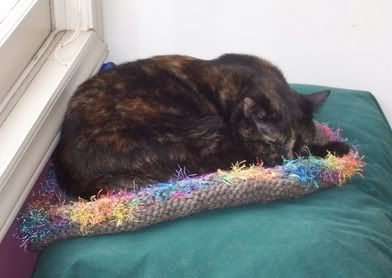 Fang really does like that knit kitty bed I made. She never let me take it from her to felt it so I just left it as it was.
In response to comments:
Marlene
said: Be careful who you 'dis' on your blog (even if they deserve it...hell especially if they deserve it!) You might get banned from the next round of what ever exchange you're in for 'bad behavior'. Even if you were the greatest damn exchange pal ever. Me? Bitter? Naw it's just that enormous chip on my shoulder that's makeing you think that!
Yeah I know. I'm a baaaaaaaaaaad girl. But I didn't mention her name. So there. :P
Stephanie
said: great new socks; your pal did some bitchin stitchin and it's *really* nice of you to knit for someone who was dropped.
I know, I lurv them! I did volunteer to be a sock saviour again this round but Alison decided to pass on my offer this go-round. It's all good! I was glad I was able to help the last round. :)
Well back to work I go. Lunch time is almost here... ;)