New Office! Now with blurry photos!
Yes folks. Here it is. My new office. In blurry camera phone motif. Take a gander: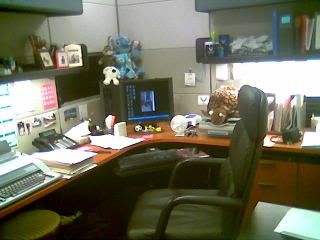 I was in and unpacked so quickly, I even had time to pile some papers up. :P


Here's a shot of the window I can see including the back of my colleague's head: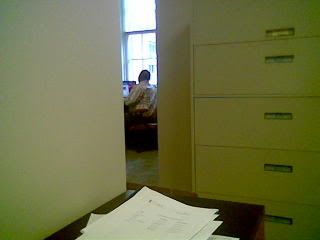 At first, that cabinet was six inches to the left. I can honestly say I did get a bit selfish and asked that they move the damn thing so I could see the sun. I am a delicate flower after all... *bats eyelashes*


I've got nearly all of my personal stuff up. The cards one of my secret pals sent me: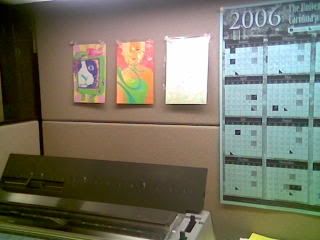 A few pics of Eric, my old car, my mother in law's log cabin, and a card a secret pal sent me:




The lovely panel that is missing...: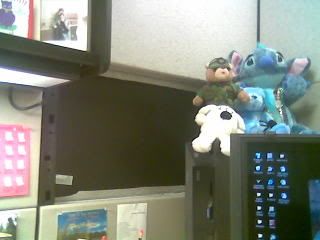 And my all important tea pot and honey: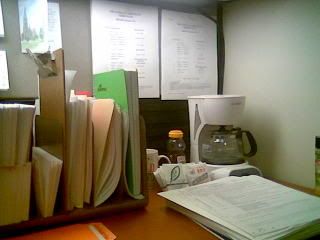 Oh yes! Gotta have my tea!


Well I hope you enjoyed the tour. Now it's back to work.

UPDATE!

I forgot my turtle. I don't know how I could have done that. *shakes head*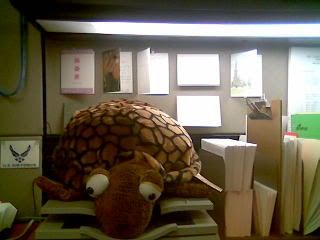 Those are some thank you cards that some of the visiting medical students have sent me as well. But mainly I just wanted to show off my turtle. He snuggles with my scanner all day and night.

Okies, back to work again.