"The sewer saga is over" or "Hooray for Poop!"
Oh yes boys and girls, the sewer line has been fixed! I can do my laundry. I can take an actual shower. I can wash my dishes. But best of all, I can poop! You have no idea how good that makes me feel! (No pun intended.) :D

I don't even care how the lawn looks: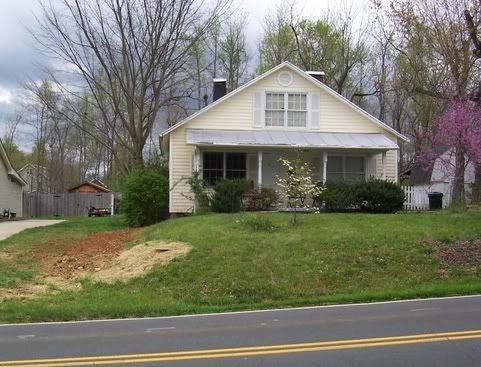 and a close up: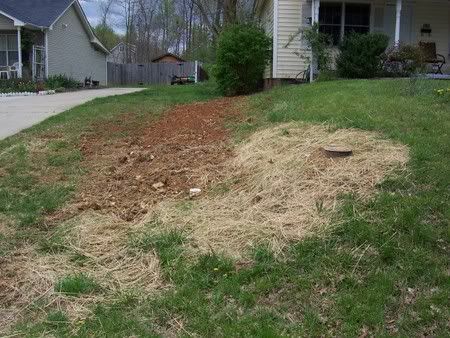 I danced when I saw it was done. Danced! Then promptly went to the bathroom and took a half hour long shower and shaved my legs. It was so nice!

And the final damage? $1100.
:D

I ended up sending thank you cards to the City Manager, the Assistant City Manager, the Director of Public Works and at a suggestion from a friend, the Mayor. Oh and our neighbors too. Oh yes. Yes I did. *insert huge sly grin here* See as Eric says, nothing says "fuck you" more than a thank you card in a time of strife. I put so much in that 'thank you' note that I had to type it. I explained the entire situation to them in that note. Hell, they had a right to know. *laugh* When I came home from the store that same day, I saw my neighbor lady outside washing her car. She yelled to me "Thank you for the note and the best of luck." I accepted. But they still ain't getting cookies at Yule this year.

I got a letter back from the Mayor too saying thank you for the thank you card. *laugh* To tell you how small of a town this is, he knew of our problems and was glad to hear that all had been taken care of. And he was also happy to hear such nice things about his staff. I really did tell him how kind they had been to me and how they all helped me.
In knitting news, I'm almost done with my sockapaloooza socks. See: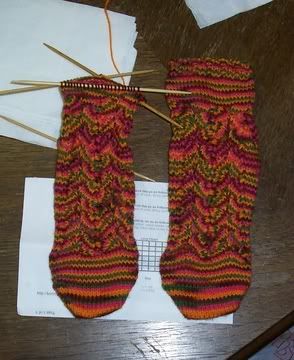 It even looks like the colorway is matching up too. Sweet! I hope she likes them. :)

When I was outside running around taking pictures of the house, the kitties were of course, looking at me: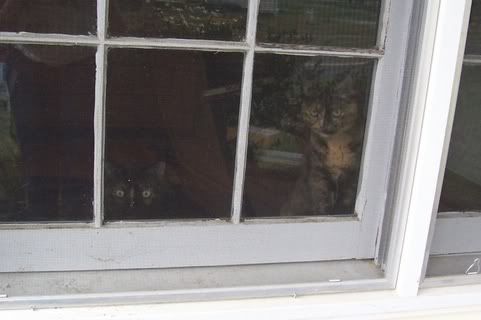 They've been so happy since Spring has sprung. Oh and since we've stacked the bean bag chairs downstairs so they could sit comfortably and look out the window: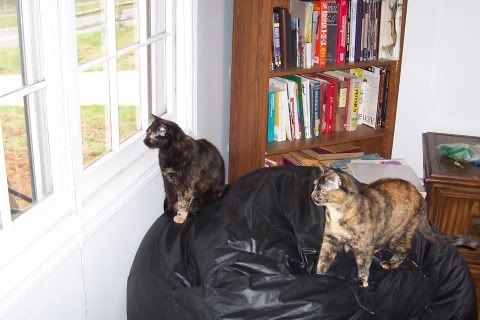 Wow I baby these cats!

Oh and guess what I'm up to? Crochet! Yup, one of the gals in my office is having twin girls sometime in June and well
Ragan
had this great onsie that she crocheted (it was on her previous blog which has since died or I would link you a pic). It's been a really, really, really long time since I crocheted and really I only knew a few stitches and not even what they were called so really, I am learning all over again.

I'll post pics once I have something to actually take a good look at. :)