A post for my Sock Pal
I got my socks! YAY! Once again I was in the Sockapaloooza sock exchange. And once again, I got some great socks. Check them out: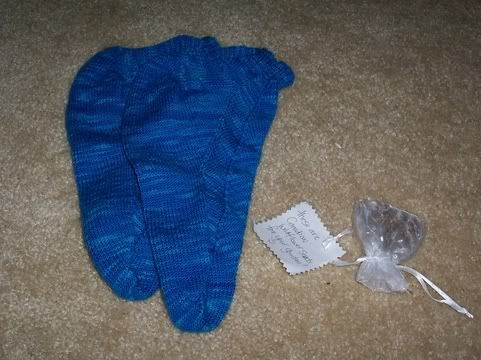 Aren't they kewl? I love, love, LOVE the color! She also sent me some wild flower seeds. Those are going right in a planter.


But back to these gorgeous socks. Here they are on me: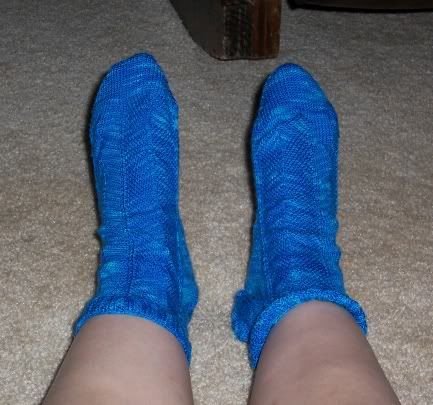 And another shot

: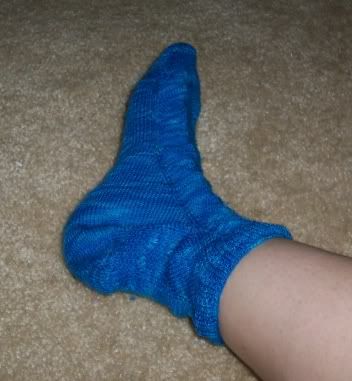 They are a bit too big, but I still think they are the greatest. One turn through the washing machine and they will fit perfectly. :)
Thanks so much sock pal!


But I give a *shakes fist!* to the gal I was knitting for. She never once responded to any of my emails, nor our sock sister's emails, nor let me know if she's gotten her socks. I sent her some goodies too so I really wanted to know how she liked them. *sigh* And I also heard that she has ditched on the gal she was knitting socks for. :(


This will be the second sock pal that -I- have knit for that has ditched out. What's up people? I sent an email to Alison (our sock momma) letting her know I would knit for my pal's pal. Poor thing. I got ditched on round two and it sucks! :P I understand that things in your life happen... but damn. At least reply to an email. Let -someone- know.


Oh well. I guess I'll stop bitching now and get back to work. :P