Time to play catch-up
Oh it's been a while since I've posted. I've been busy, busy, busy! Also, Eric and I were on vacation for a while so that kept me away from a computer as well.
So, where to start? Well before I went on vacation I went to a
Durham Bulls
baseball game. While there, I finished my socks!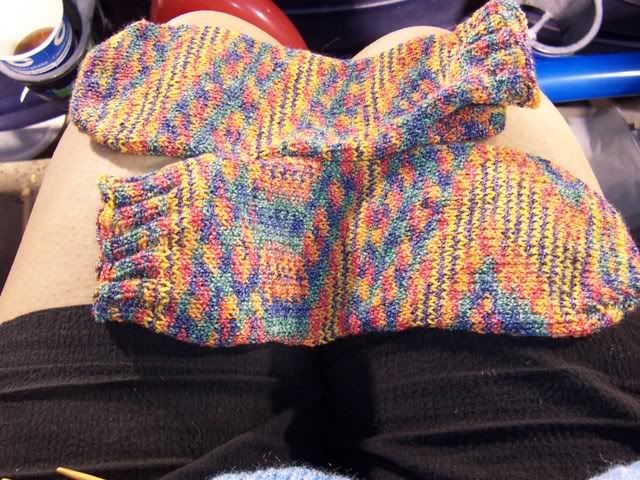 And then started a new pair: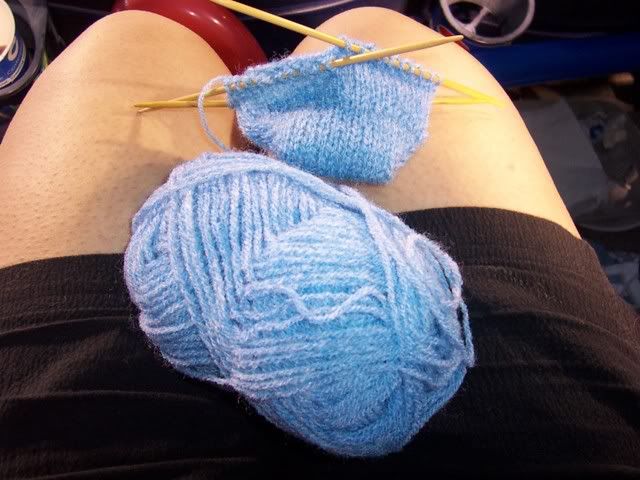 All the while, doging foul balls and yelling at the batter. "Hey batta, batta, batta!"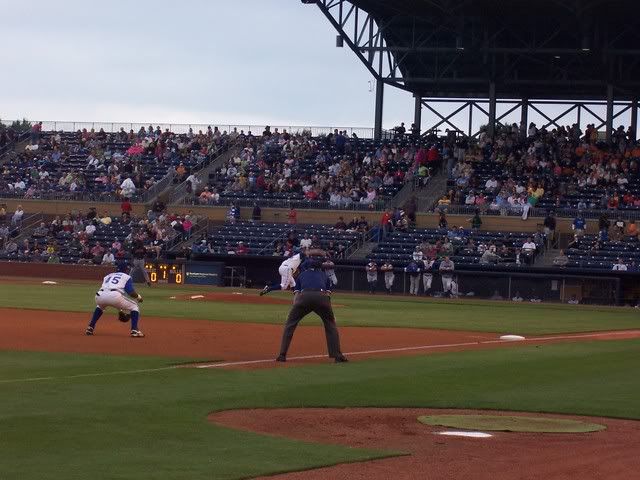 Then it was off to Plattsburgh. I had a change over in DC. While there, I was able to take this shot: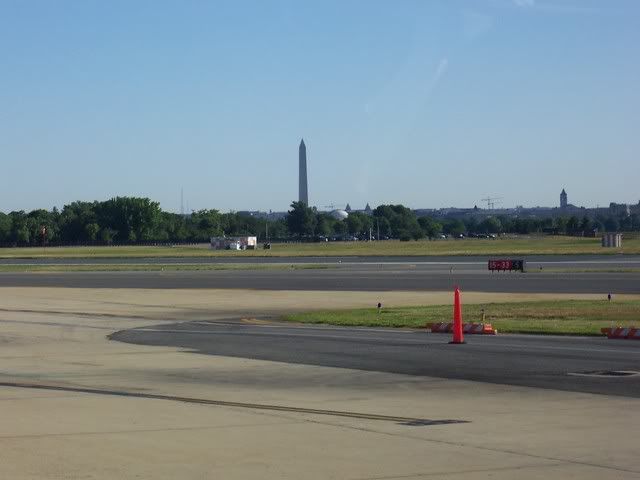 The Washington Monument. That's the closest I've ever been to it. I was in DC for about an hour and a half. Not nearly enough time to swing by the White House and tell W he's "number one". ...But I did think about it anyway. :P When the plane took off again for Burlington, I flew -right- over the Pentagon. It was amazing. Just amazing. I wish I could have taken a picture of it.
Once I got to Plattsburgh, it was cold! COLD! 56 degrees my ass! When I took off that morning in Raleigh, it was 83 and that was at 7am. Yeah, I forgot how cold it still is even in summer up there. I officially have Southern blood now. :P Eric's father had rented a cabin pretty much right on
Lake Champlain
: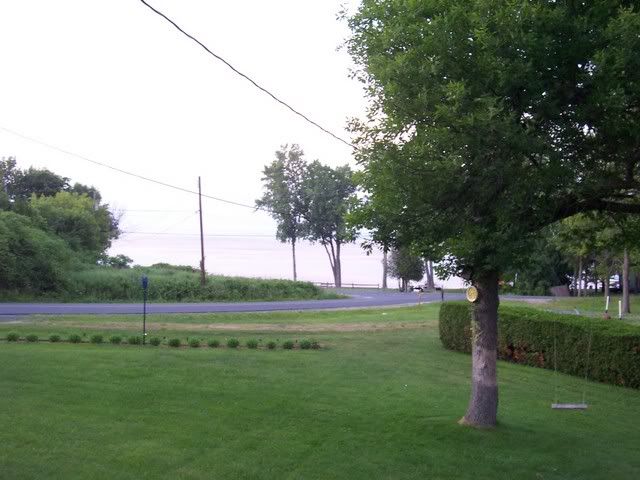 And no for the record, I did not see
Champ
... but then I wasn't looking either. *giggle*
The water was not nearly warm enough for swimming (at least not for Eric and I!) but Eric did take me sailing and did a lot of sailing himself. See: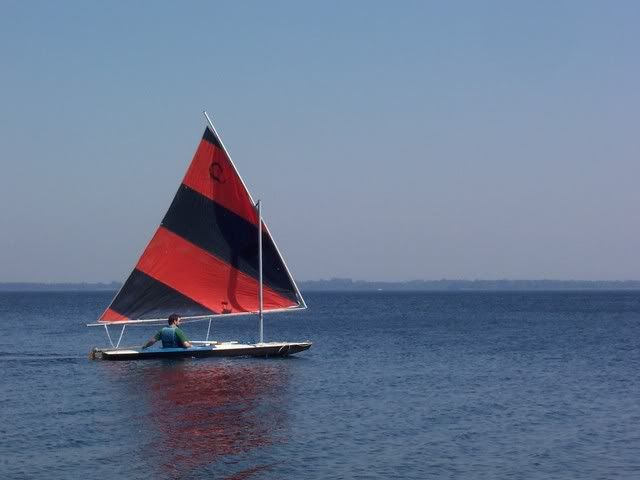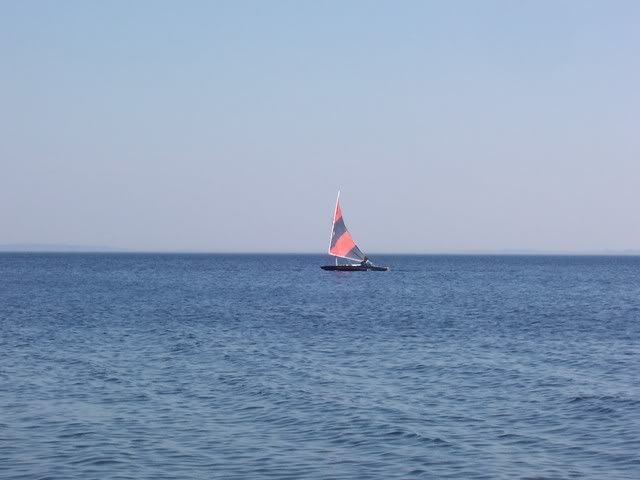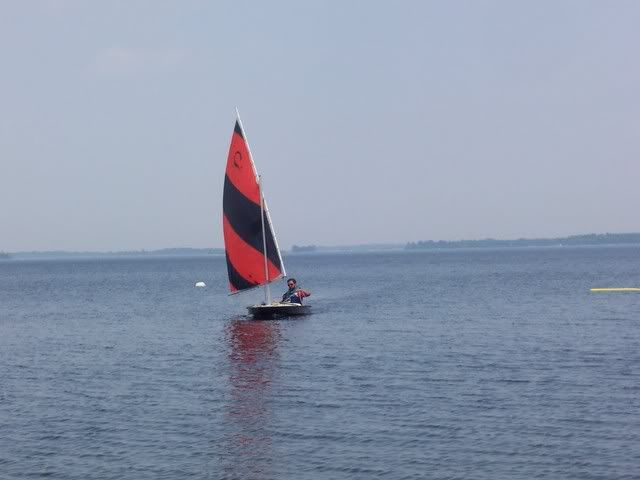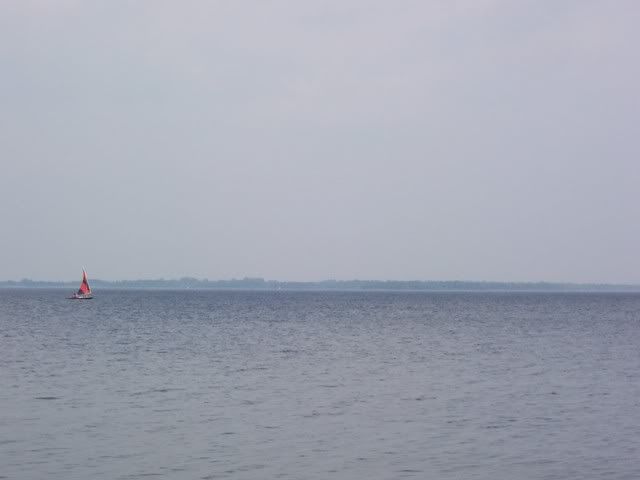 Having never sailed before in his life, he's pretty good at it now! :D
But that doesn't mean he didn't capsize it. *laugh* Cuz he did. I even have the scars to proove it. It was the second time he went sailing, so the time after he had taken me. He decided that he'd go out pretty far and try to work on making his
tacks
. I decided to lay down and get some sun on the dock. Every few minutes I would raise my head, see the sail and keep sunning. The fifth time I raised my head I thought "Where's the sail?" That's when I spotted the keel sticking straight up. I thought, if I didn't see him in 10 seconds I was in that water no matter how cold it was! But thankfully, I saw him come bobbing back up out of the water, waving at me. (Yes, he had a life vest on.) So I comandeered a row boat and rowed out to him. It was pretty far out, but I got to him pretty quickly. The sail was still completely extended and completely upside-down. In the current. Yeah, that sucked. Eric's father had the motor boat because he was fishing so Eric climbed in the row boat and we tried to fight the capsized sail boat back to shore. (That current was strong!) Once we were nearly back, his father returned, and giggling like a madman, pulled us mostly back to shore. As we got close to shore Eric's father yells out "Watch out for that man's plane!" This plane: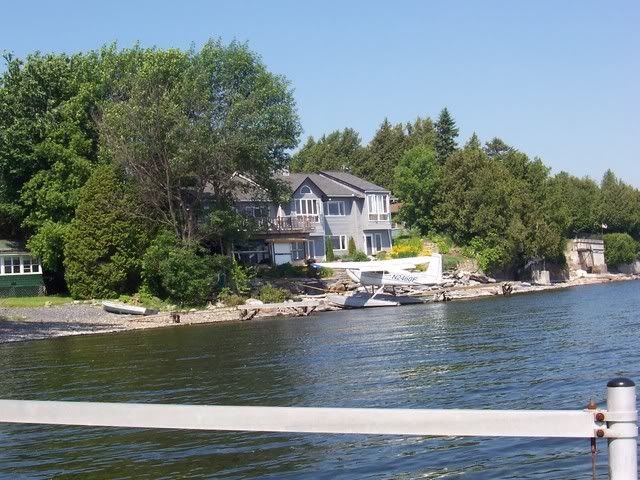 So of course, without any warning, Eric dives (yes, dives!) off the rowboat into the water after the sailboat. He nearly capsized me and the rowboat in doing this. *shakes fist* I flung myself backwards toward the center of the boat to balance it out and in the process, caught my fingers under one of the seats. Here's the result:
It was bleeding like crazy and looked a lot worse than it was. But I still teased him mercilessly about it. I told him if I couldn't knit on my vacation he was done for! *laugh* After that, he and his father went sailing and then Eric went sailing again just about every day, at least twice a day. Now he's looking for a boat for us!
While we were there Eirc's father, Dennis, went fishing a few times and had a pretty good haul too! He took me on one occassion and got a few bass and perch. Eric cooked them up for us. They were so tasty! The best fishing Dennis did though was the first night I was there. He caught a 17 inch Bass. This is him in the 'Mighty Fisherman' pose: *laugh!*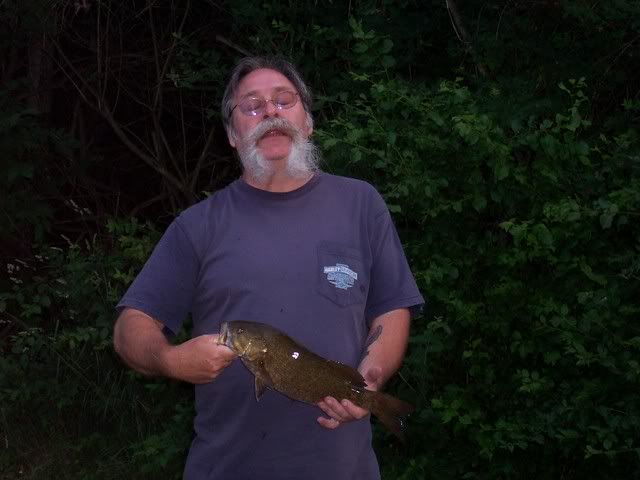 When we got back in town, I had a wonderful letter waiting for me... I've been accepted to Guilford College! Yup, I'm going for Forensic Biology and classes start on August 20th. Phew! I was so worried about that for the longest time. Now I just need to figure out how to pay for it all. I have a meeting tomorrow with my counselor and the financial aid counselor so I'll see what they both say.
I was also hoping to tell you I got a new job (because I had an interview this past week) but they decided to pick someone else. Oh well. It's all good though. I can stay where I am and I'm still looking for something different. Hell, you never know. I may get an offer on a different job tomorrow!