Rage socks. Done! Norberta. Done! New socks. Working on em.
This past weekend was pretty busy. I went to
my cousin's
house again. She's so great! She took me to the beach! It's been forever since I've been to the beach. And I think it's been a bit longer since I swam in the ocean. Here's my toes in the sand: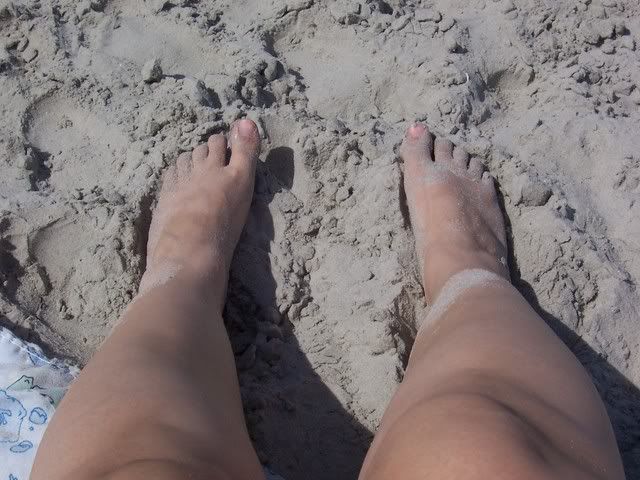 We broke out our knitting while the kids built sand castles:
I did get in the water for a bit too. Oh it was so wonderful! I can't wait to go back. :)
While I was there at her house, I finished my rage socks. They are done. I'm happy. They don't fit me in the slightest and make me cringe when I look at them because of how much effort it took to finish them, so I'm just going to donate them to a charity. Most likely
Afghans for Afghans
. I've sent them things before and I really like what they are doing. I plan to knit up a bunch of kids socks from some spare yarn a friend gave me. They can really use kids stuff if you have an inclination to knit anything for a child. Just check out their site and you can learn all about what they do and get a few free patterns too. :)
But here they are:
I also started on a pair of socks for myself out of some
Dancing
yarn from
Knit Picks
she gave me. (The stuff is awesome!) Check out the patterns it's making. Here's the instep:
And the sole:
I just love this yarn! I'd love to get some more of it sometime soon.
When I got home on Monday, I finished
Norberta
as well. :) Azuredrake gave birth to her little man on Wednesday. He's a cutie. I brought over Norberta today and she just loved him! I decided that once I was done, especially since I did a bunch of colors, it just felt more like a Norbert than a Norberta. A little boy dragon is a good dragon too! :)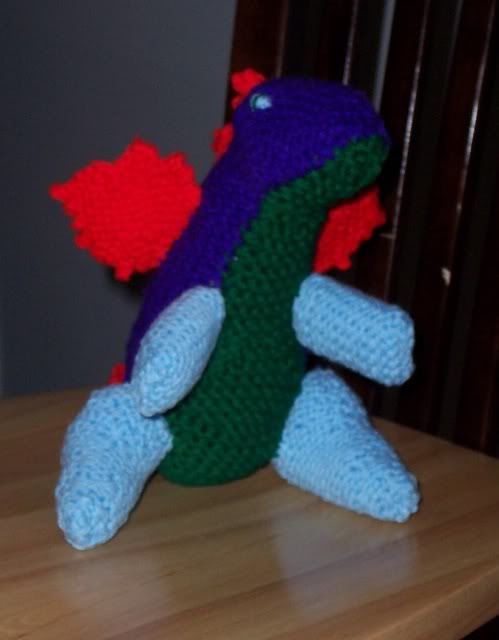 Once again, the colors are not coming out well in the picture. The back is royal purple. The belly is Kelly Green. The spines and wings are fire engine red. The legs and arms are Carolina Blue. I'm so happy with the way it came out! Oh and if you ever want to get stopped and made late for work... walk with a dragon in your hand. It took me 10 minutes more to get to my office than normal because I kept getting stopped and asked about him. *laugh* I was glad to tell them about it though. Working attached to a hospital, I always see people with bears, bunnies, balloons and flowers. But never any dragons! Another reason to knit one. I think I'll do a few more over the next long while, for the Children's Hospital. :) It was a fun and quick knit. Even Trouble enjoyed my knitting Norbert(a):
Since it was going to be for a baby, she decided it would be best if it was sent pre-chewed on: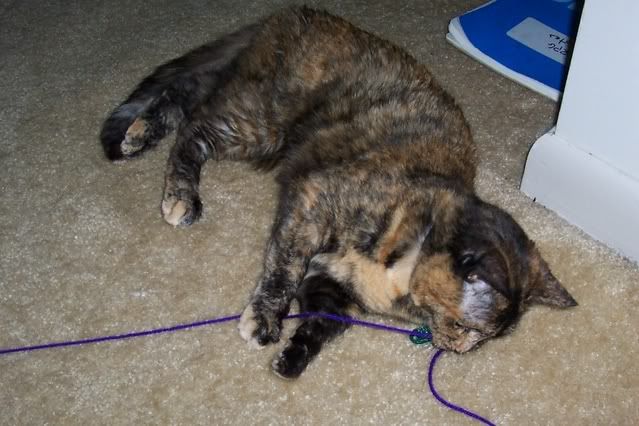 My crazy animals. ;)
In response to comments:
Kate
said: Yep. Nuts. A whole big jar of honey-roasted macadamias, is what you are. Go for it.
Okay that got a big laugh from me! :P Then I thought.... macadamias? Nah! Almonds! They have big bottoms just like me. ;)
LaBean
said: Intarsia in the round? I didn't think it was possible, let alone sane.
Oh I've heard it's possible. Sane though? I think you're right there... ;)
Kathryn
said: from what I understand it's actually supposed to be easier to knit colour work in the round. You don't have as much to weave in cuz the colours continue around with you.
Sweet! I'm all about not having to weave anything in. Oh and thanks for the link you sent me. I'll check it out. ;)