I give you Tubey.... soon!
Yeah, I know... I said I'd be done with this by now but dammit... Eric and I bought a copy of
Civilization III
for a mutual Valentine's day gift and neither of us have done much else since that day.
So this week I decided it was time to get back to my knitting. Mostly because Eric accidentally took the disk with him. Tee

hee

!
So I got to work with a fury last night on

Tubey

. Here's the progress so far:
I just started the last color stripe. So only 16 rounds of the Carolina Blue, then round and round of black until I'm done. I can't wait to put this sweater on. I've decided not to put a bit of waste yarn in the stitches so I can try it on. No... I'm waiting for any and all disappointment/joy to hit all at once. I'm sure it will be joy though. It's just coming out great!
Of course, my socks are doing well as well. Socks are

just

such a great work/travel project. Sorry about the bad pic though... (damn camera phone):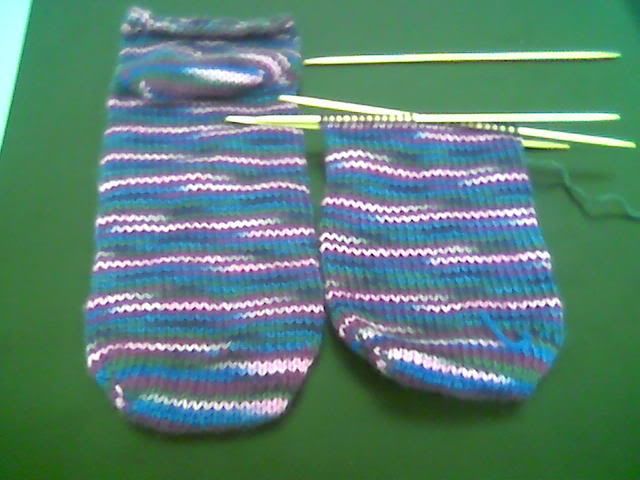 Oh and I realized it's been a while since I posted so you all don't know about Fang. She's 100% healthy again. Princess Piddles has lost her crown. Here she is at the vet: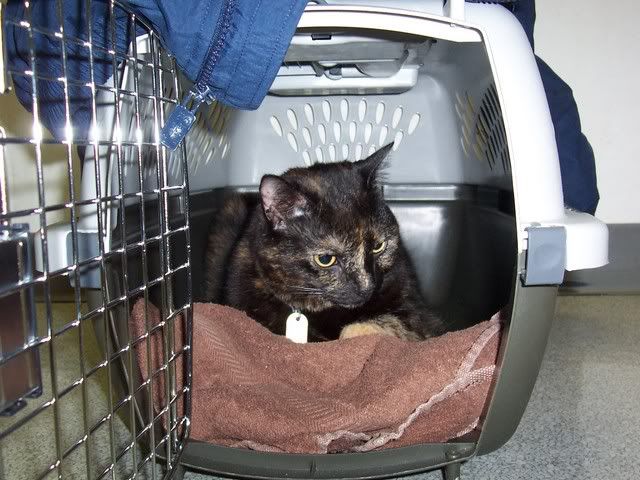 She was -not- coming out of that carrier. Nope. I

thought

I was going to have to disassemble the carrier just to get her out when the vet came in the room, but Fang finally popped out. She was not happy at all. Little does she know... she and Trouble have to go back on the 17

th

for their yearly check up and shots. Oh she's going to hate me something fierce...
On the

holy

cow, that's nifty side of life, I had this arrive in my office today: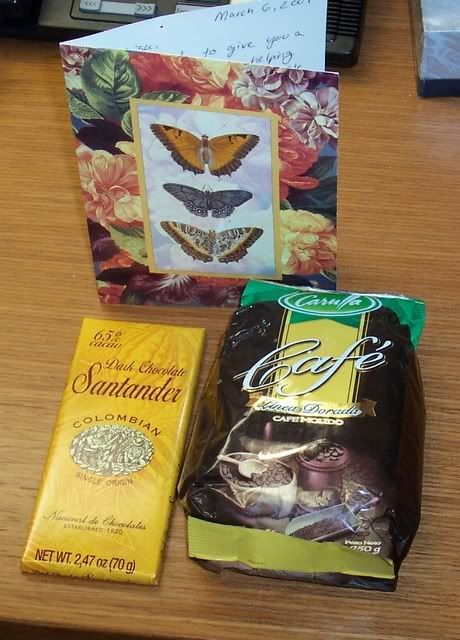 One of the 4

th

year medical students gave it to me as a thank you for all the help I've given her this year. Yup, a card and genuine

Columbian

coffee and chocolate... from Columbia. She picked it up while she was there on a rotation. Now I guess I need to start drinking coffee...
Oh well, lunch time! Time to go knit.