Atta' Boy!
Last week I posted about my husband, Eric, and about how he's a flight attendant. Well on Friday, on his way off the plane, he was handed a letter stating that for all of the flight attendants in PSA, for the year 2006, he was rated number 1 for on-time departures. It got him two extra days off with pay. :D (He was shocked. I guess it was completely unexpected...) So he's been home for three days now. It's so nice. It's a rarity that he's home for more than two days at a time.
In interesting schtuff, I saw this the other day: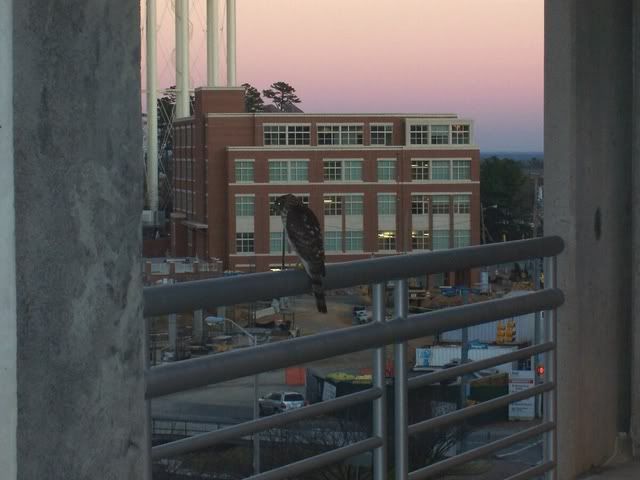 I can't tell if it's a red tailed hawk or a falcon, but either way, it was sitting on the rail of the visitor's parking deck of the hospital. I walk through that deck on my way to where my car is parked. He sat there for quite some time. Ruffled his wings a bit. Looked around like he was surveying his domain and then flew off. Such a sight! I wsh I had gotten a better pciture though. I was about 10 or fifteen feet from him and it was just that right light where I was worried to use my flash and scare him off. Isn't he just lovely? I wonder if he's got a nest nearby. It's not uncommon to see them near the highway and near my home, but I've never seen one near the hospital.
Well this is a short post because I just got back from the eye clinic and well... my pupils must still be dialating because it's getting a bit hard to see. Tae Kwon Do class is gonna be fun tonight! :P