Ah Yule... gotta love it.
Oh we had a good Yule this year. No we didn't have many gifts or much money but you know what... it was still great! There was definitely some excitement in the air. The cats helped me with the wrapping of the gifts the day before: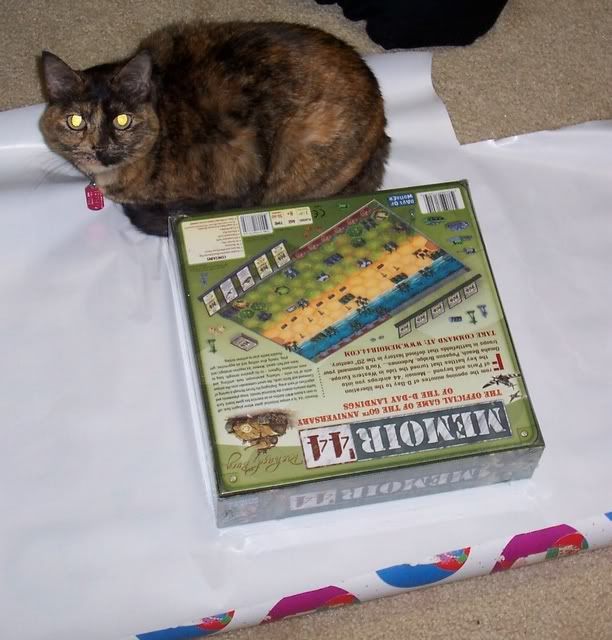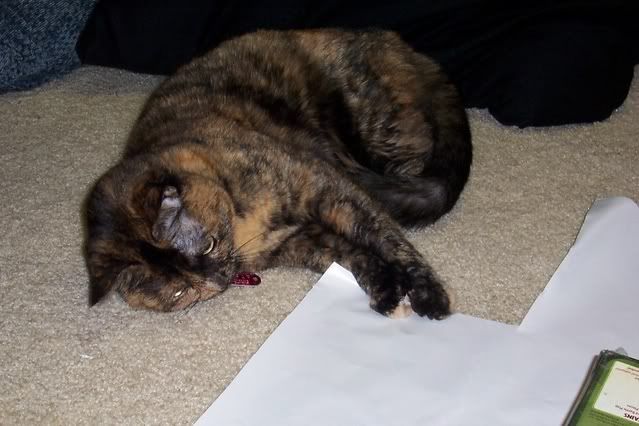 Apparently, attacking the wrapping paper helps in some way. (I'm still not sure how that is... but she was determined to attack... er, help.)
Right up until the day, the kitties were constantly sleeping under the tree. They even brought a toy
mousie
with them too: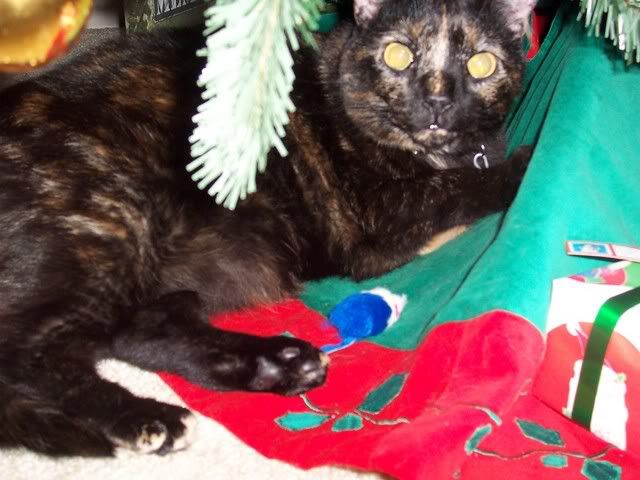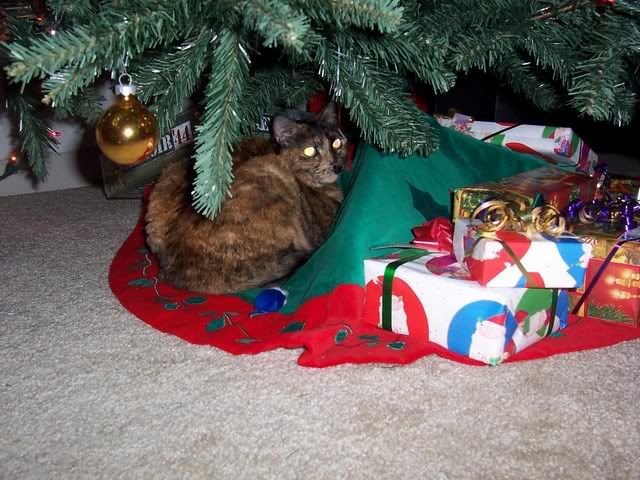 That morning, right when we woke up, Eric wished me Happy Yule and then said: "So let's go open our presents!" He was like a little boy! You should have seen him. He went flying up the stairs. :)
Even the kitties were excited. See: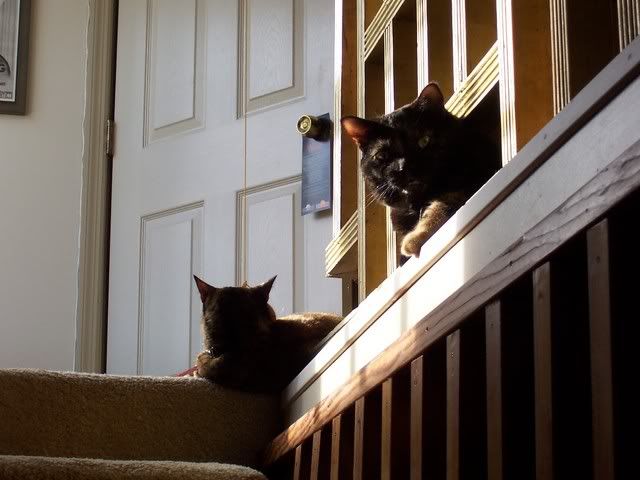 Well Fang was. Trouble was lounging in the rising sun. So the first gift we opened was for the kitties: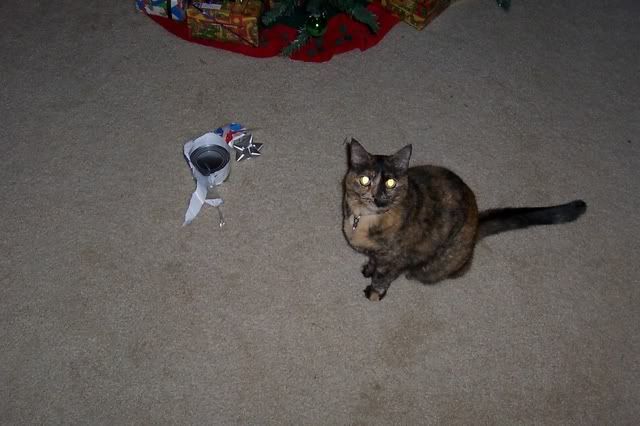 Tuna! Trouble is so happy. Can you tell?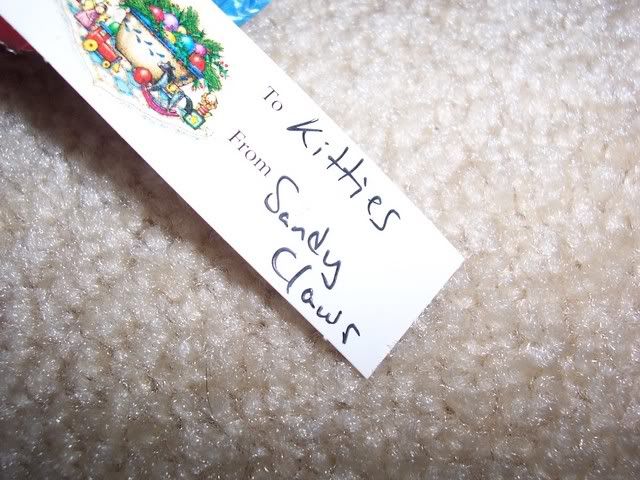 That was Eric's idea. Of course I ran with it... Like he said, everyone has to have a gift under the tree!
Then it was Eric's turn (and Trouble helped him unwrap it):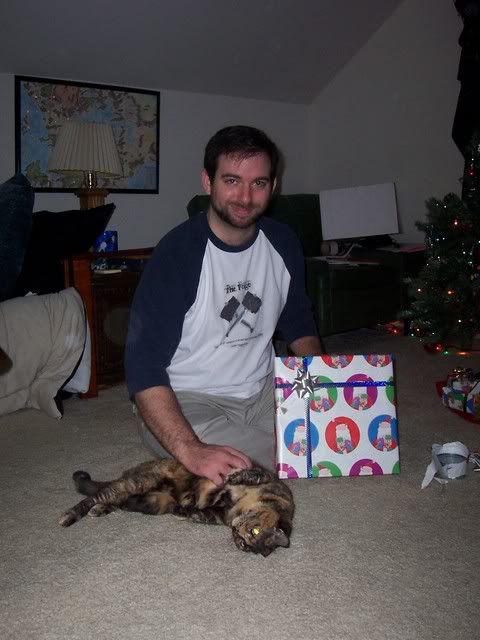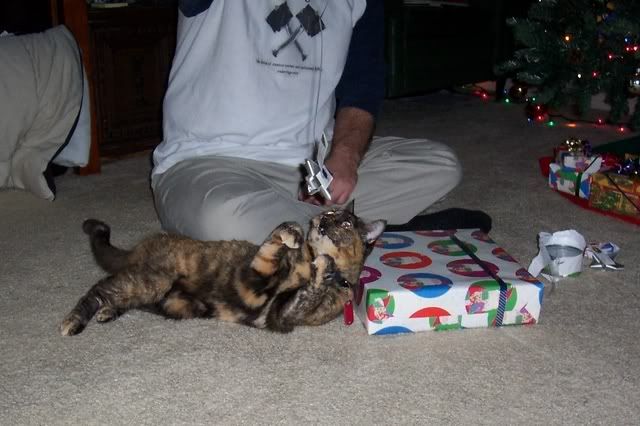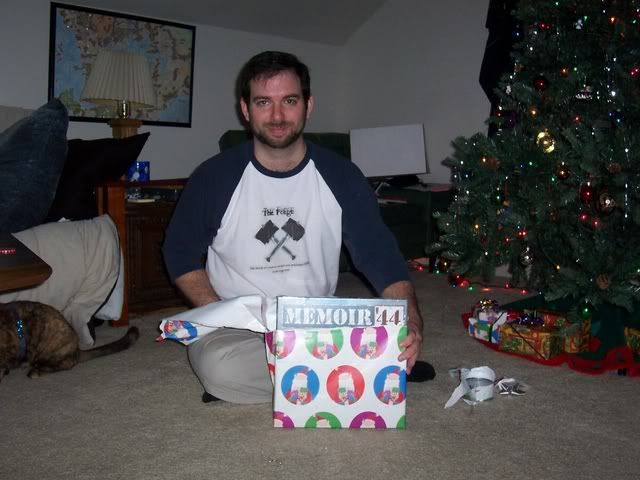 (You can see her in the back, still attacking the ribbon, now wrapped around her belly.) Ah,
Memoir 44
. He was
soooooooooooo
happy! We played -all- day. We gave the kitties their tuna and then they promptly passed out with full bellies and let us play.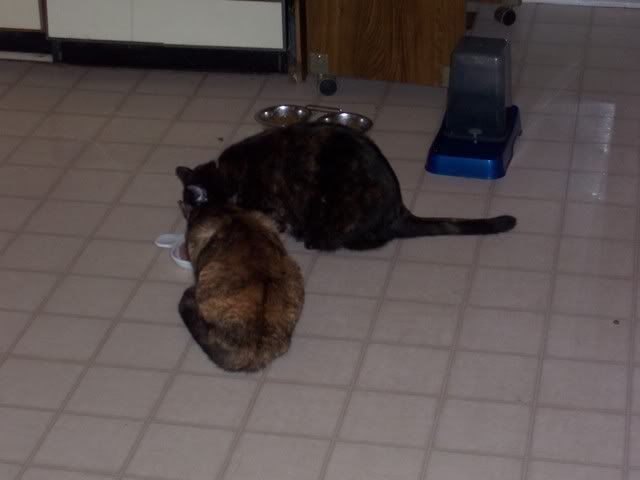 Here we are all set up for the first battle in the game: Pegasus Bridge. I can say with pride that the Allies were victorious! (I played the Allied Forces.)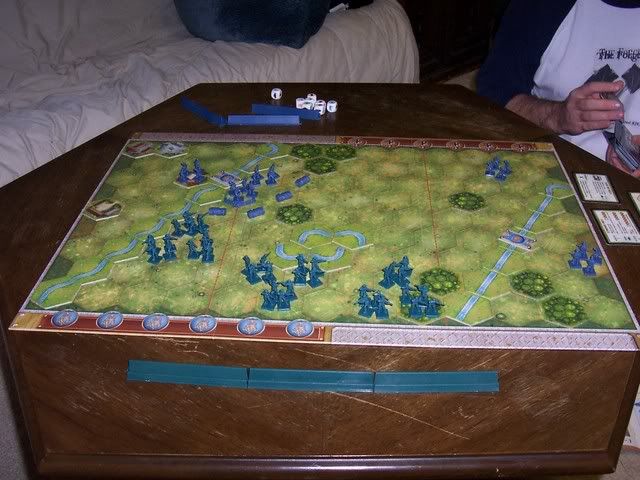 It is such an easy game to set up and you can play with as few as two players. It's one of the reasons we really wanted it. I think we've played almost 11 games so far and he's only been home four days. *laugh*
We saved the rest of the presents for opening the next day because we were having a Yule dinner with friends. It was originally supposed to be on Yule, but there were some schedule conflicts and well... you know how it goes. We did open one gift we got for ourselves the day of the dinner, just because it was part of the dinner decorations: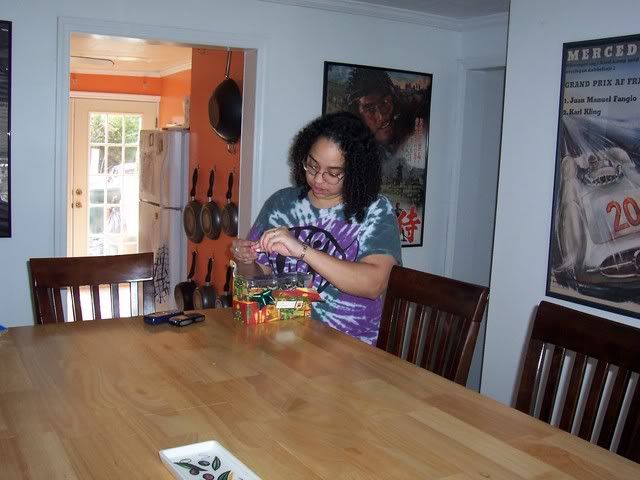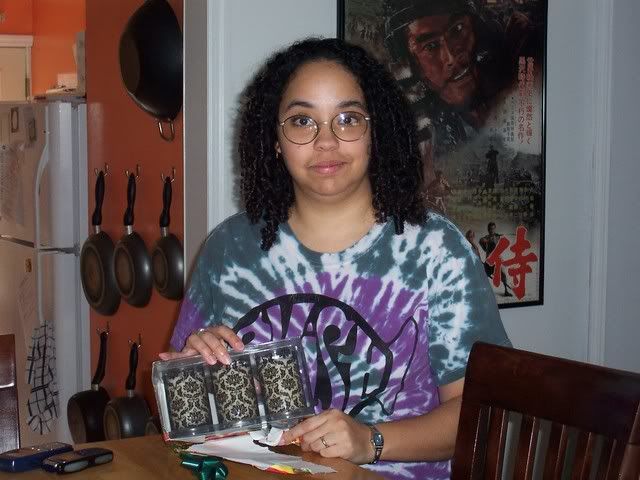 It's amazing how nice candles can look on a table. :)
Eric made a pork roast this time. A pork butt to be exact. He used the McCormick rub again (for pork), put it in a roasting bag, and poured a family sized can of condensed cream of mushroom soup over the top: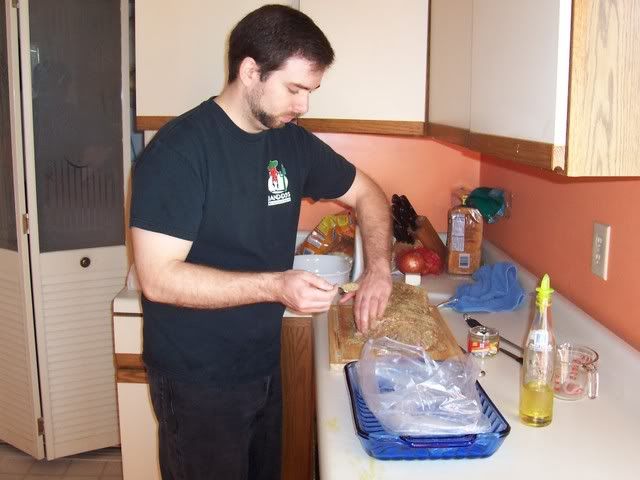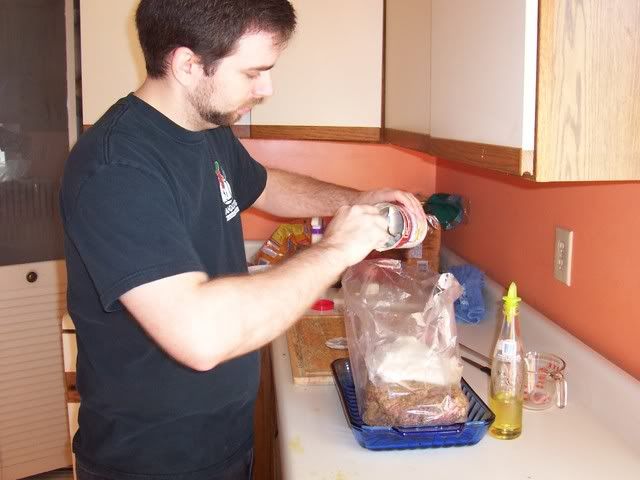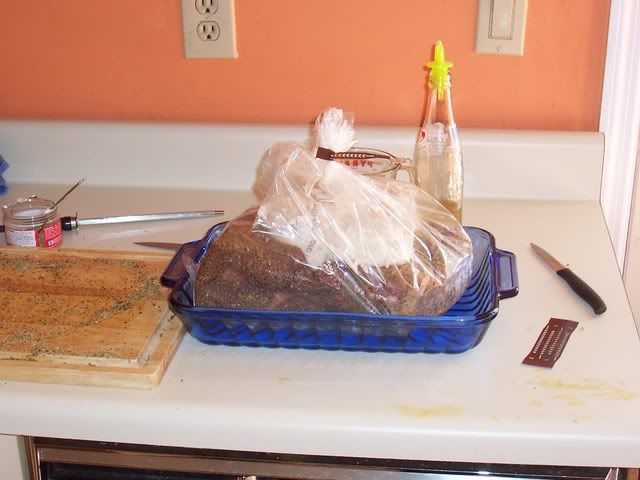 We also made cheesy rice, gravy, and Eric's carrots like he made at Thanksgiving. Our friends,
Ulysses
, Maura, Nate and
Alesia
came over. And they all brought good food.
Ulysses
brought the most amazing looking (and tasty!) cake. Maura brought a salad with a personal
recipe
for
vinaigrette
dressing, and Nate and
Alesia
brought some yummy potato salad. Check out the spread!: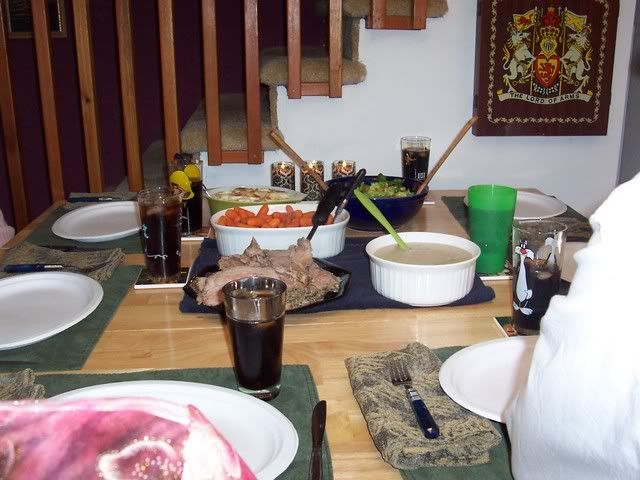 Of course we all pigged out. But before we actually got to all that, we opened gifts! :)
We started off with Maura because well, she was closest to the camera: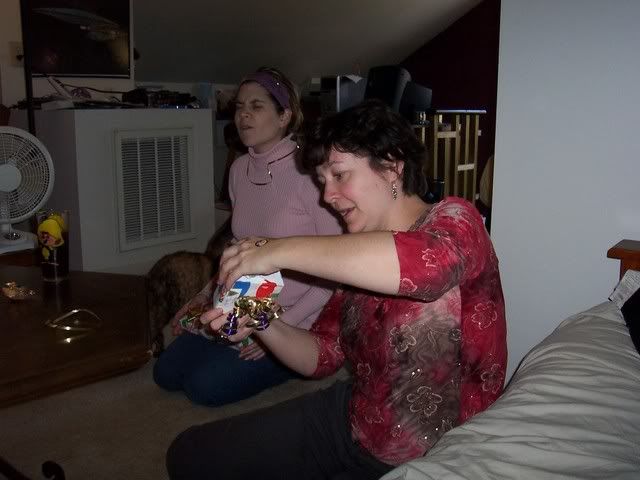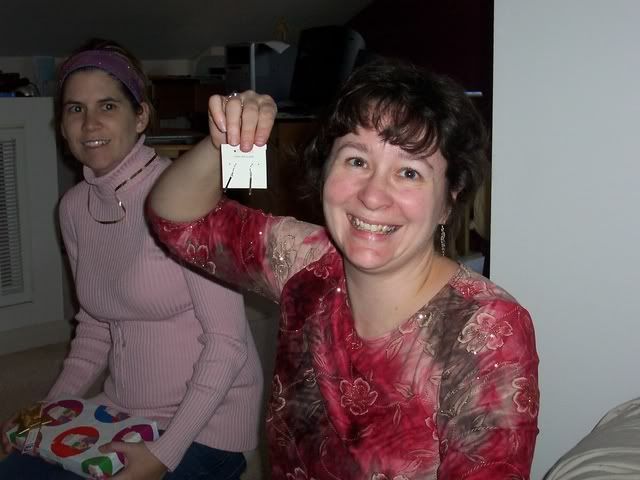 Some silver earrings which she promptly put on. I was so happy they looked good on her. :)
Then we moved to
Alesia
. She's 18 weeks pregnant in the photo (I don't know if you can tell) but of course this means she can't drink alcohol, so we tried to get her the next best thing. Coffee with liquor flavors! She and Nate love coffee: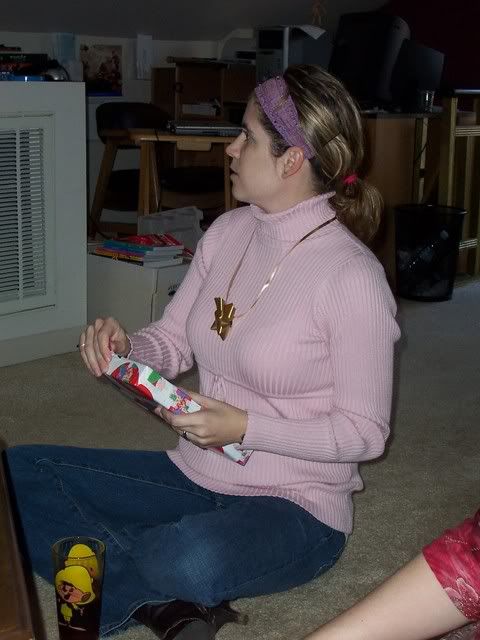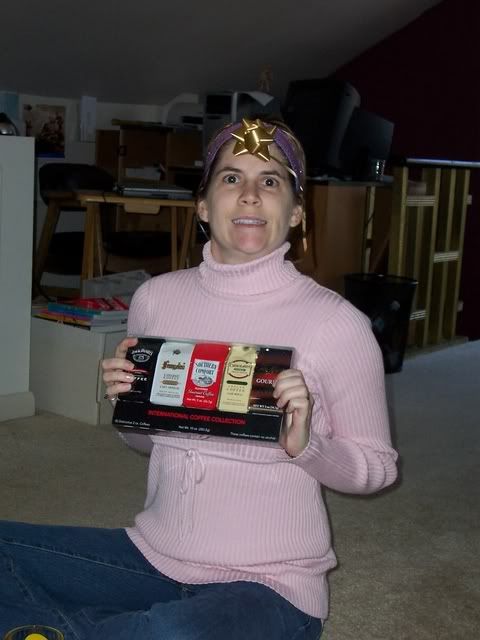 Yes, the bow on her forehead is for you
Ragan
. :)
Then it was Eric's turn: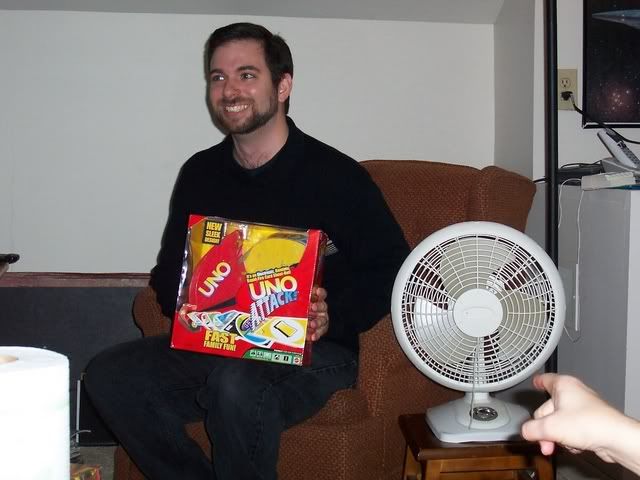 His brother Joel sent us this game of
UNO
Attack which Maura just loves! You can see her hand pointing on the right side of the picture as she yelled, "
Ooo
!
Ooo
!
Ooo
! I love that game!"
Then it was
Ulysses
' turn: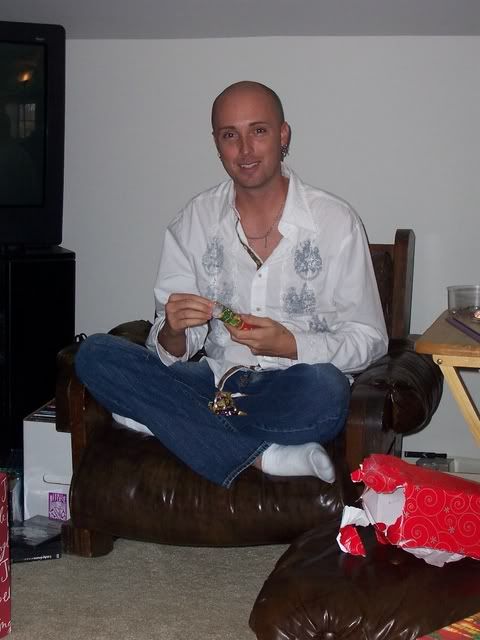 I'd have a better picture of his gift, (A copy of
Treehouse

)
but my ability to use a camera that day was obviously not up to snuff. I took a picture with the camera strap in the way! *smacks forehead!* He's moving to Cape Town, South Africa at the end of January so we wanted to get him something that would travel well. :)
Then it was my turn: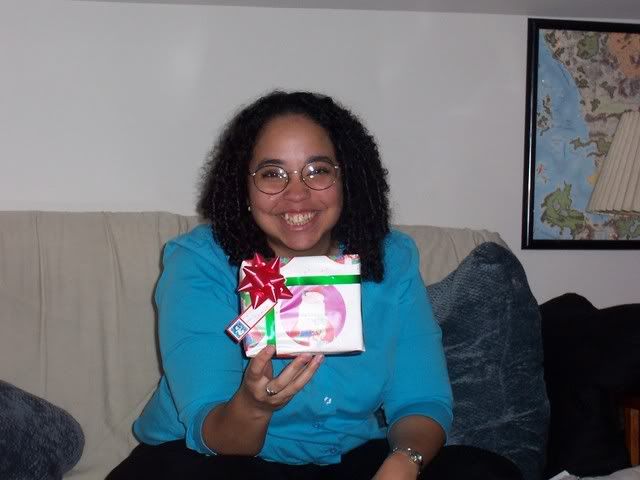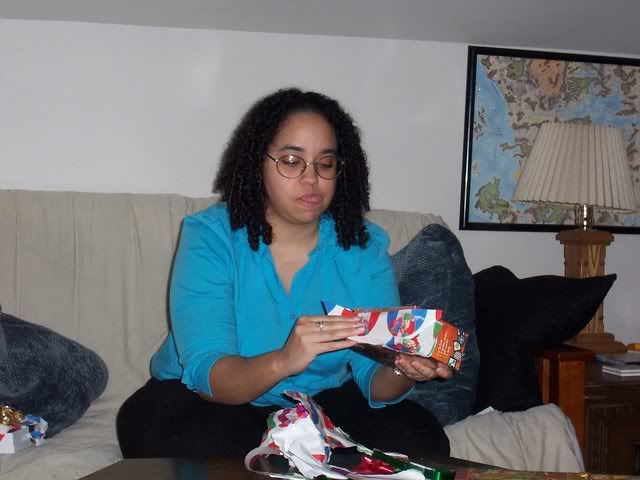 (yes, the oh so sexy, tongue out while
concentrating
picture.... thanks Eric!)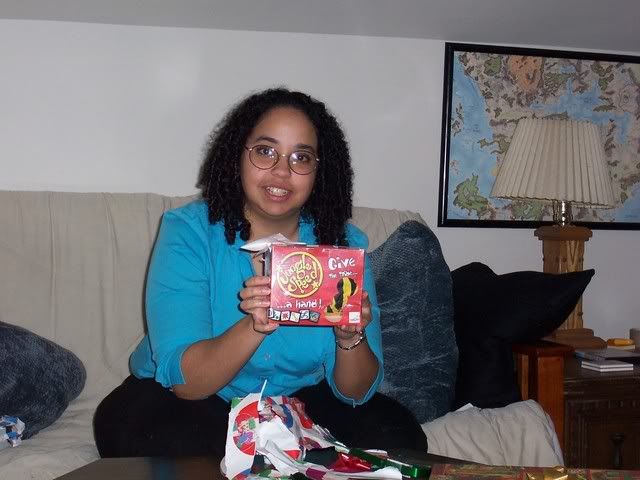 A copy of
Jungle Speed
. Another great game that I've been wanting for some time.
But wait, there was more: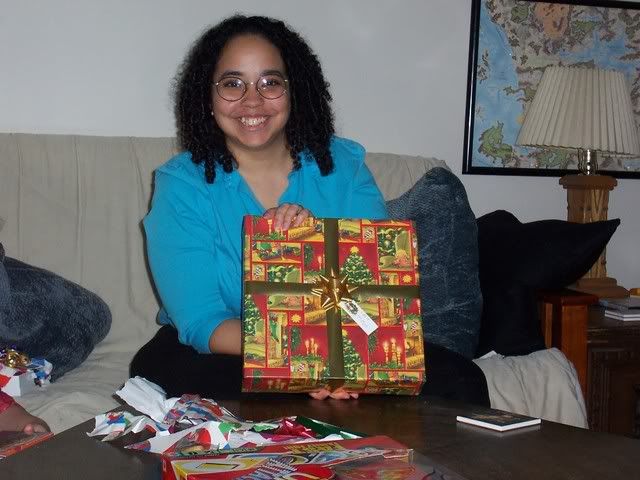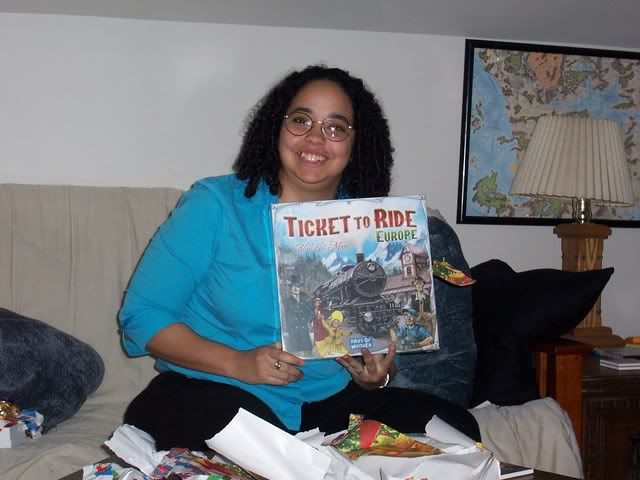 Ticket to Ride: Europe
. I love this game too! It's got some pretty crazy strategy and it's lots of fun. We ended up playing it that night. As you can see here: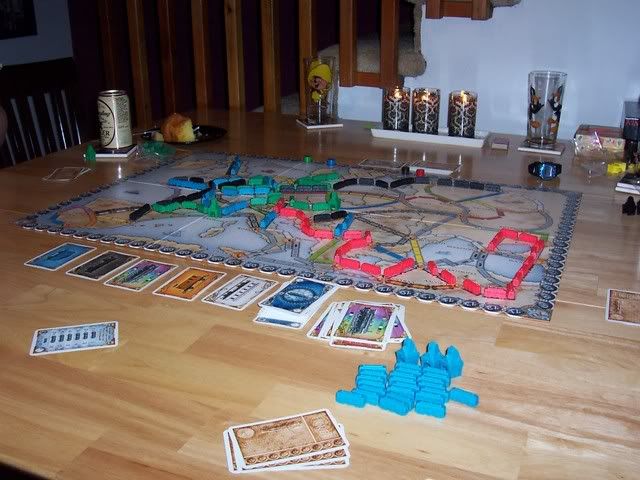 Lots of fun!
Then it was back to Eric. We didn't realize
Ulysses
had brought us something too!: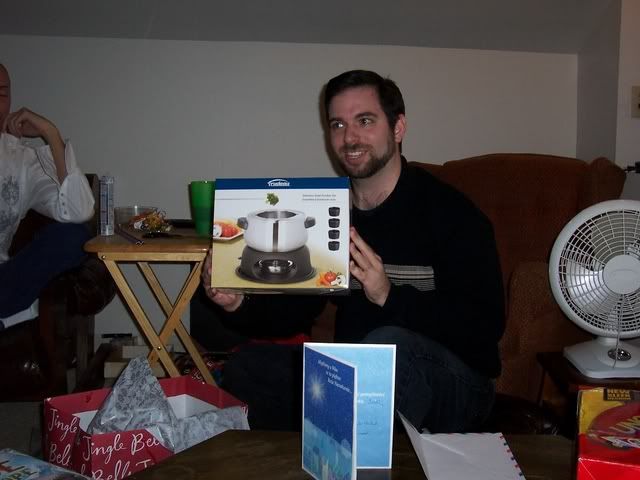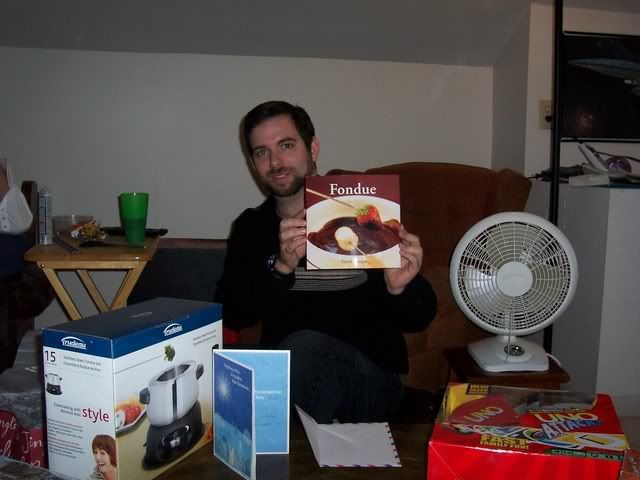 A fondue pot and fondue cookbook with some really great
recipes
in it. We're going to get so much use out of it! Especially with all these great new games we got. :)
After that is when we all went downstairs and pigged out. Then
Ulysses
brought out the cake. Look at this thing: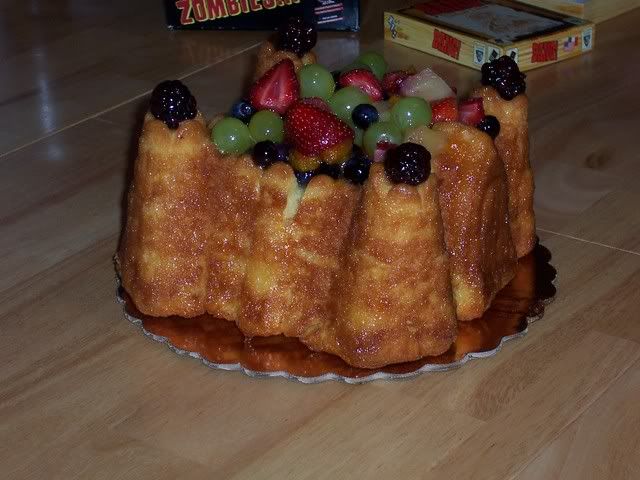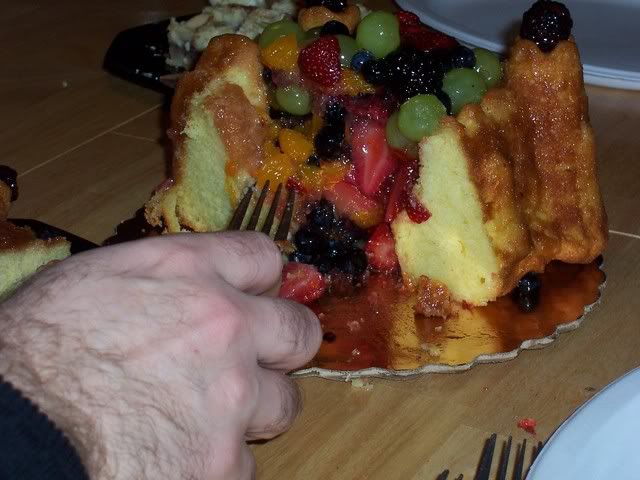 It's a castle filled with fruit!
While we played and yelled and ate, the cats changed positions to under the tree: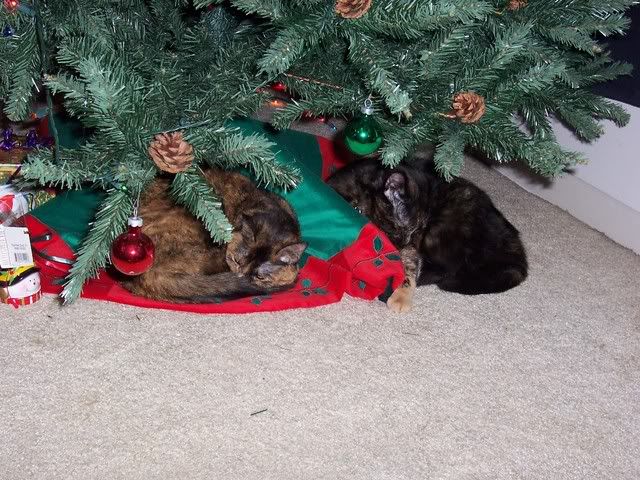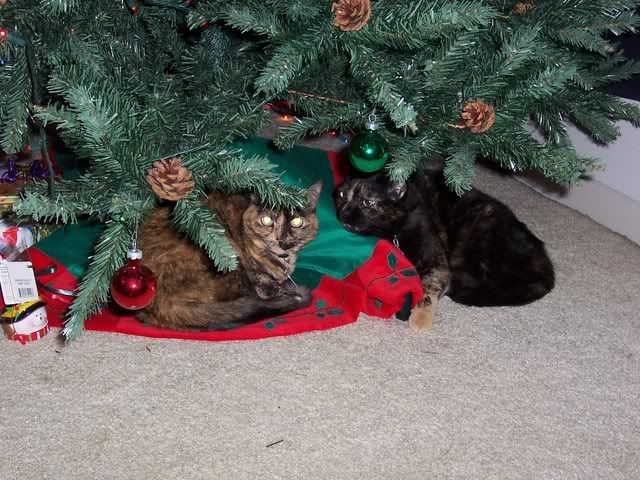 Too cute.
A good series of days all around. Eric left on Christmas Day to head to work and he said the airport was pretty busy and he had some of the worst
turbulence
he'd had all year. But he said his five flights that day were pretty calm. Me, I stayed home and rested until he got back on the 27
th
. It was a pretty lazy vacation... I loved every minute of it!
I'll respond to comments some other time... I've let this post go on long enough. :P