You just never know...
Obviously, you all read about the tragedy at Virginia Tech. I didn't hear about it until Tuesday. I was home sick on Monday and didn't look at any news at all.
When I got in to work that day, someone had put these on the bulletin board in an attached building: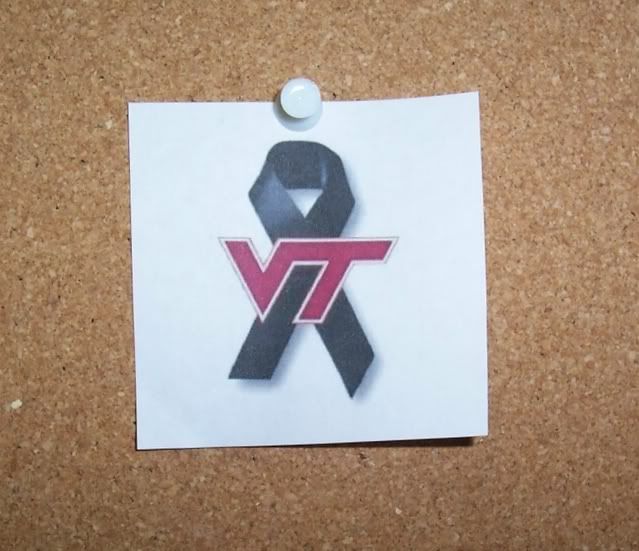 and: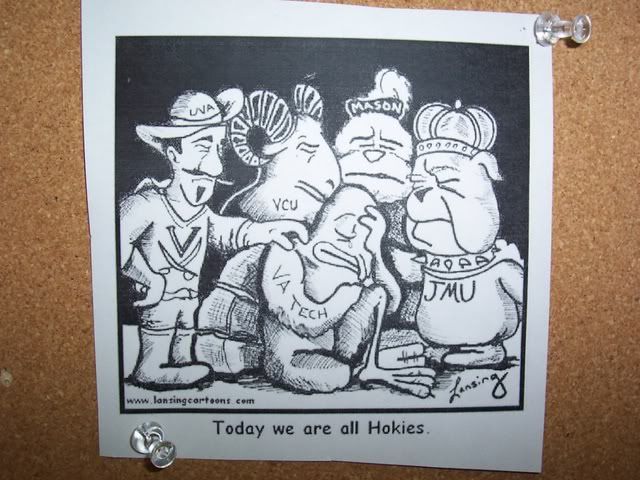 I thought it was nice that someone did. A lot of people are forgoing their Carolina Blue here and wearing maroon and orange. I am as well. Well... maroon anyway. I don't have anything orange.
I did it to honor a friend of a friend. See, when I heard of the tragedy, I was shocked and horrified as I'm sure most of you were, but it hadn't affected me. I suffered no loss. I know none of these people. And after reading some of their bios, I really wish I had. They all seemed like wonderful people. But it was only yesterday that I learned two friends of mine lost a dear friend of theirs to the tragedy. His name is, or was,
Jamie
. Please take a moment to read about him. He seemed like a wonderful guy and knowing that he was very good friends with my two friends... that means he was 'good people'. They are not the sort to have friends flippantly. They make close bonds. I am grieving with them now.
Like most of you, I'm sure, I feel powerless. Could it happen here at

UNC

? Could it happen again anywhere? Sadly, the answer is yes. What can we do about it? I just don't know. The only thing I can think is that at least he had said goodbye to his wife when he went to work. She at least has that. Really that's all I can think of. Remind those you love daily that you do.
I'm going to go call Eric right now.