Tubey. Oh yeah baby!
Brace yourselves.
I finished

Tubey

.
Yup. I can't

believe

it either.
Voila!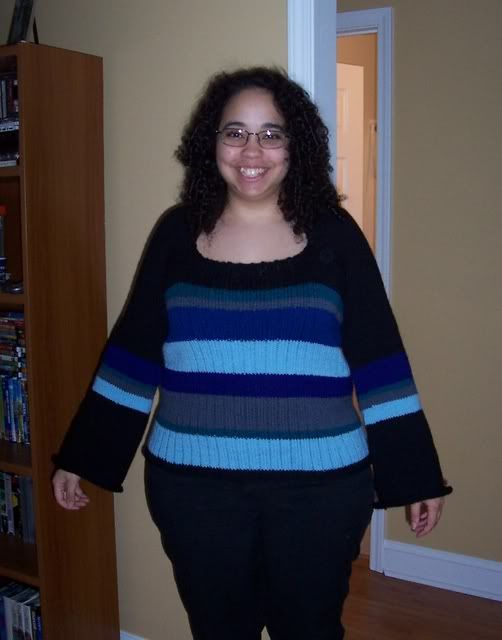 This is it unblocked. I finished weaving in the threads and put it right on. I'm so happy! I made it in the large on purpose. I wanted it to be a bit loose and

flared

before I washed/blocked it.
I can honestly say I finished it so quickly in this past week because I went to visit
my cousin
. :) I even finished one of those Cut Your Teeth Socks I

frogged

and started over. *blink* I can't believe it either!
Oh and remember how I was worried I was going to run out of black yarn? Yeah... this is all I had left:
I was mighty close!
I got my yellow belt on the 23rd too. You can see the pics
here
. I don't have any taken with my camera. Sorry! Eric was supposed to be there but unfortunately, he had to be up at 3am the next morning so he had to pass so he could sleep. If you look at the pictures and you see a young man getting his hair cut off it's because he decided to donate his hair to
Locks of Love
if he got his black belt. And he did! I was so happy for him. :) His father is a professional hair stylist (even has his own business) so he did the cutting and supervised all our cuts to make sure we were cutting long enough strands of hair.
Everything else is the same old, same old. Just a lot more of it so I've been busy as hell. I've sent out so many applications for scholarships I think my head is going to spin. And I have even more to do. I'm getting seriously nervous about going back to school. On the one hand though, I am feeling better because, based on advice from one of the Profs, I pulled out my old General Biology book and started reading. I didn't forget nearly as much as I thought I had! I still forgot a lot, but I was pretty surprised at what I even remembered.
Oh well, off to go fill out more applications. Wish me luck!