More sock progress... now only if I had my camera...
Well I finished the one sock. And here it is: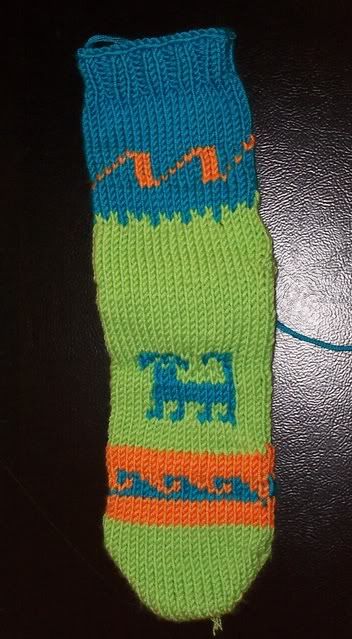 But then I tried it on. Nope. Too tight. So I ripped out the mountains on the top there and

reknit

the whole thing with a bird instead since birds are supposed to be bearers of good news. Now it's great! I wish you could see it but... my silly ass left my knitting at home today. Oh yeah, I have the camera. Just no knitting! Do you realize that's twice this week I've left the house with no needle craft?! It must be this heat!
That's my story and I'm sticking to it.
So, Eric and I have been roped into reading the Harry Potter books. Yeah. Can you believe it? The

urbanpagan

hadn't read books about wizards and witches?! :P And I can tell you... they are really good books! Eric just finished the fourth one and I'm in the middle of the third one as we speak.
My first day of classes start on my birthday... August 21st. I'm panicked! I'll be 33. I'll be a college student. I'll actually be on my way to my dream. It's pretty freaky to realize that you know. Seriously. I've been reading my old Biology books to catch up/refresh myself and well every now and then I look up and think "wow... I'm really gonna do it!"
In response to comments:
Marlene
said: Never had coffee. Huh. Wow. I got started loving coffee with coffee ice cream. Don't go with an espresso right off. They're kinda...strong. Definitely go with a latte until you get the hang of it.Also, if you e-mail me, I'll send you some good coffee. Really good coffee. Sell your soul to the devil coffee. Seriously.
I can't do coffee ice cream. *shakes head* Just can't. But I will most certainly take you up on the offer of free coffee! :)
Helen
said: try lattes. espresso with steamed milk, so the coffee is almost (but not quite) an

afterthough

.
Thanks for that tip! I'll give it a shot.
Stephanie
said: If it's tastes burned, it usually is - either in roasting or brewing. If the local or 'bucks style

cofree

houses come off a bit strong, try

Dunkin

Donuts instead of a fancy brand. You might be pleasantly surprised. I read a

WSJ

article re:

starbucks

v.

dunkin

'. It was pretty unanimous that people liked one and not the other.
Ah, I wish I could hit a

Dunkin

Donuts but we're in

Krispy

Kreme

territory and well... they are rather particular about who they let in. I think the nearest DD is in Raleigh! But I will try it next time I am near one. Thanks for the tip! :)
Abbey said: Oh, I meant to say - if you want to try a REALLY good coffee drink, I'll take you to Cafe

Driade

sometime.
Hells yeah woman! Call me sometime. We'll go. :)
Ragan
said: Holy crap batman!!!!!!!!!!! Wow. I am in shock!
Me too.
Ragan

also said: Now I can offer you coffee when you come over?????Down side of coffee....peeing lots.

Hahahahahahahahahaahaha

.:-P
Yeah I did notice that. I ended up having two that day! Can you believe it?! And yes, I was peeing all night after that. :P