Sockapalooza 4 socks... DONE!
Hurray! I finished them while I was visiting my
cousin

Ragan
this past weekend. We've pretty much both decided we are the other's knitting

mojo

. :)
So, not to hold you in suspense any longer...
...
...
...
...
...
(Ain't I a stinker?)
...
...
Here they are!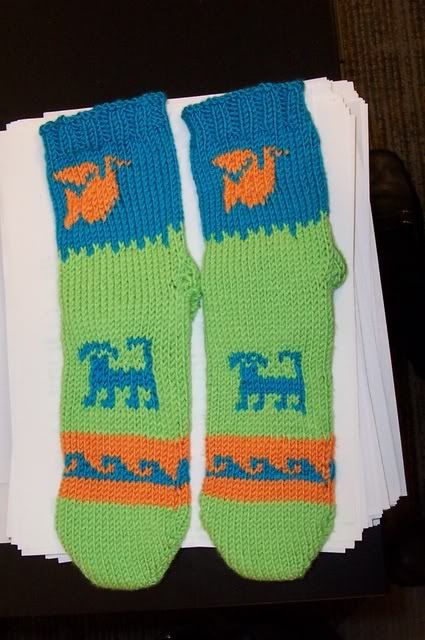 Boy I hope my

sockpal

likes them. *wrings hands* I have to get some goodies to go into her box and then I'll be sending them off tomorrow. :)
Once again, it was a great sock exchange all around. I had a wonderful woman to knit for and the woman who knit for me was just fantastic!
Classes have been going well as well. I've already decided what my research paper for my Intro to Computers class is going to be on. Computer

Forensics

. I know almost nothing about it and it has something do with computers. That was his stipulation. It had to be something about computers. I decided to just go with something I didn't know so that I could learn something. :)
But back to knitting. While I was at

Ragan's

house, I started another pair of socks. I decided to go with some funky, chunky stripes. I finished one in one day. Check it out: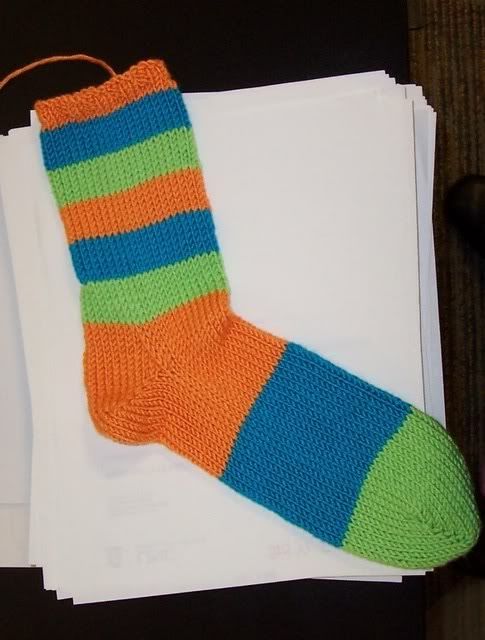 I might do some other designs over the stitches. I haven't really decided yet.
To all those that sent birthday wishes... thank you so much! It really made my day. Trouble was pleased too: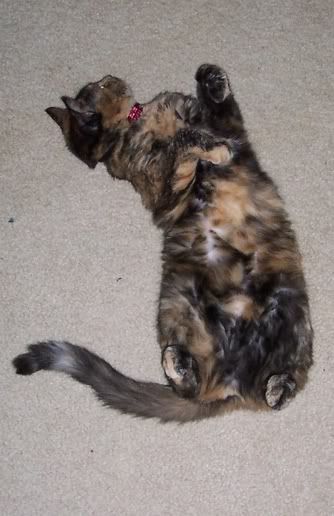 She's thinking... "It's your birthday? Well then, you can rub my belly. Right there."