Fall 2007 semester... DONE!
I can't believe it's over. I took my last final on the 13
th
. I wasn't feeling 100% on it but I know I passed. I'm hoping though that I keep my "A" average for the class. I have no idea what I got on my presentation so I have no idea if I've even still got an "A" for that class. I know I've held that "B+" in the other class as well. I would have really had to screw up on my final paper to lose that grade and I don't think I did. My peer reviews were very positive. I'm keeping my fingers crossed though... Oh well, I know I passed both classes easily enough. Now it's time to start preparing for the Spring 2008 semester.
I know a lot of people say it, but this year went by fast! I mean really fast. At least for me it did. So much has happened it's actually quite surprising.
1. I was dismissed from my job at
UNC
in late October. I've never been happier either. That place was becoming toxic for me.
2. I started college again and have completed one full semester. I'm still proud of myself for finally getting the courage and going back.
3. I got a job at Michael's Arts and Crafts about two weeks after I was dismissed. Yeah it's crap for pay but I've been having fun playing with the yarn, beads and the like. Plus that 25% discount never hurt anyone! :D
Before I left
UNC
, I had a bunch of interviews. I actually had 2 more this week. I've had 38 interviews since July. It's getting kind of tiring but I know it's a numbers game. Someone will hire me for a full time job soon enough... I just have to be patient. In the interim though, I started an
Etsy
store! Yeah, I have nothing for sale in it yet, but I'm working on it. As a matter of fact, here's my first project: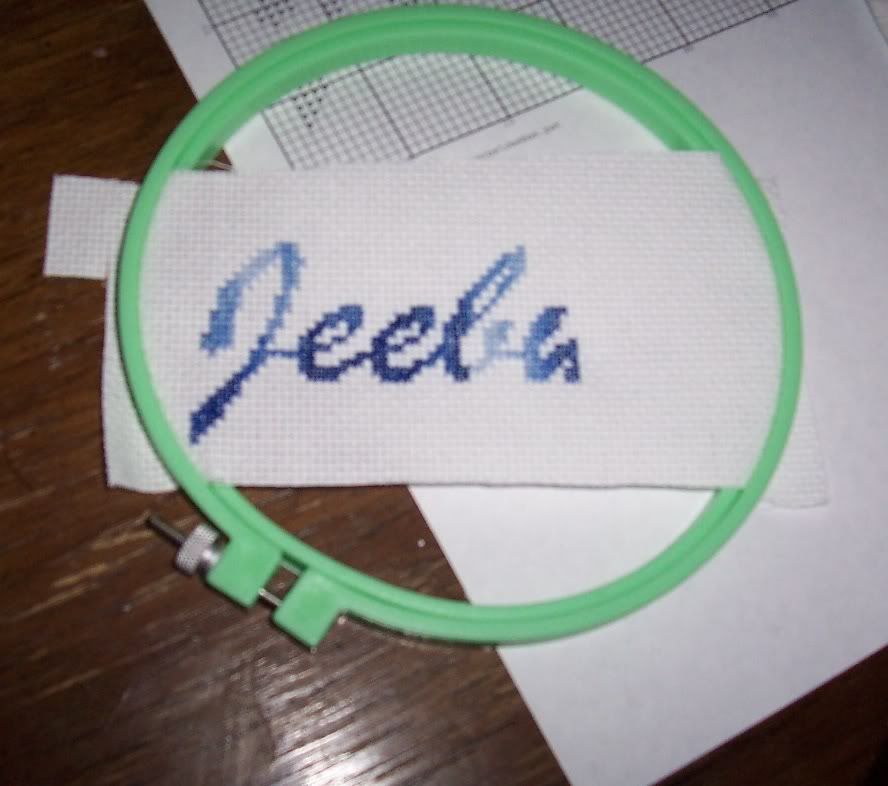 Jeebus
! *giggle* It just came to me so I had to do it. :D
I've gotten very little knitting done in the last month but I did finally finish that one
entrelac
sock I was working on. Here it is: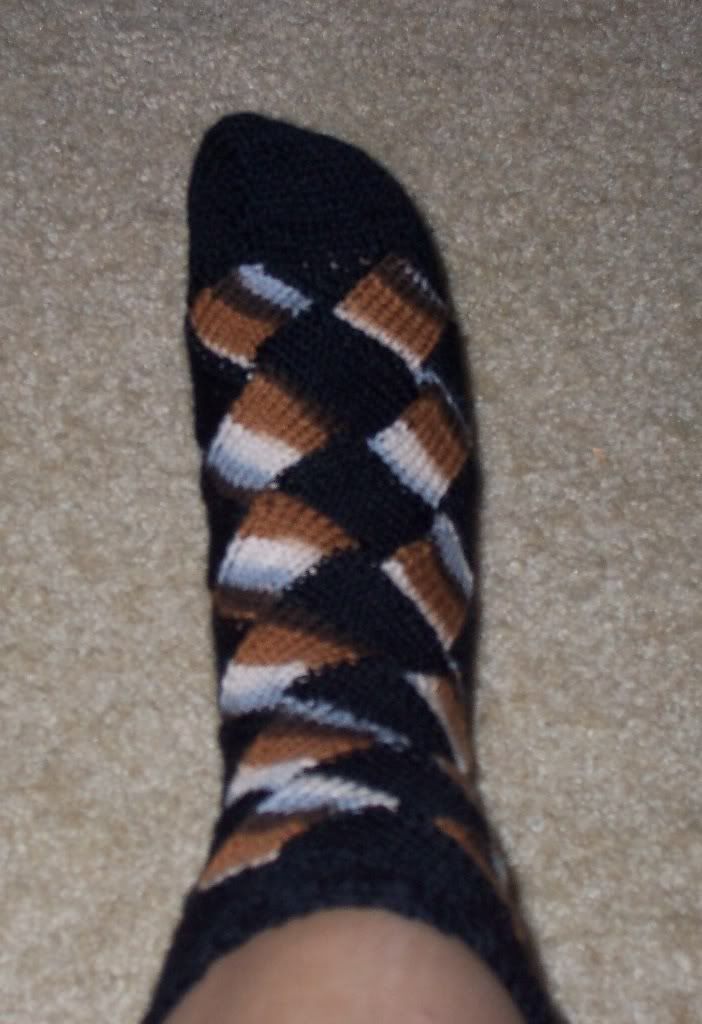 It fits perfectly. I'm very happy. I
frogged
the other one. Yes... it hurt to do so but it had
to be
done. :P I'm going to cast on probably today or tomorrow for the other sock.
So what Yule knitting have I been doing? Not one damn inch of it. I was so busy with studying that I really never picked up my needles much at all these past few weeks and when I did, it was only for a few minutes at a time. Everyone is getting cards this year anyway. Our
refrigerator
decided to die last week so we had to go buy a new one. That pretty much killed our shopping budget. That's okay though. I may just attach pics of the fridge to all the cards I send out so everyone knows why they're not getting
anything
this year. :P Behold! Our new fridge: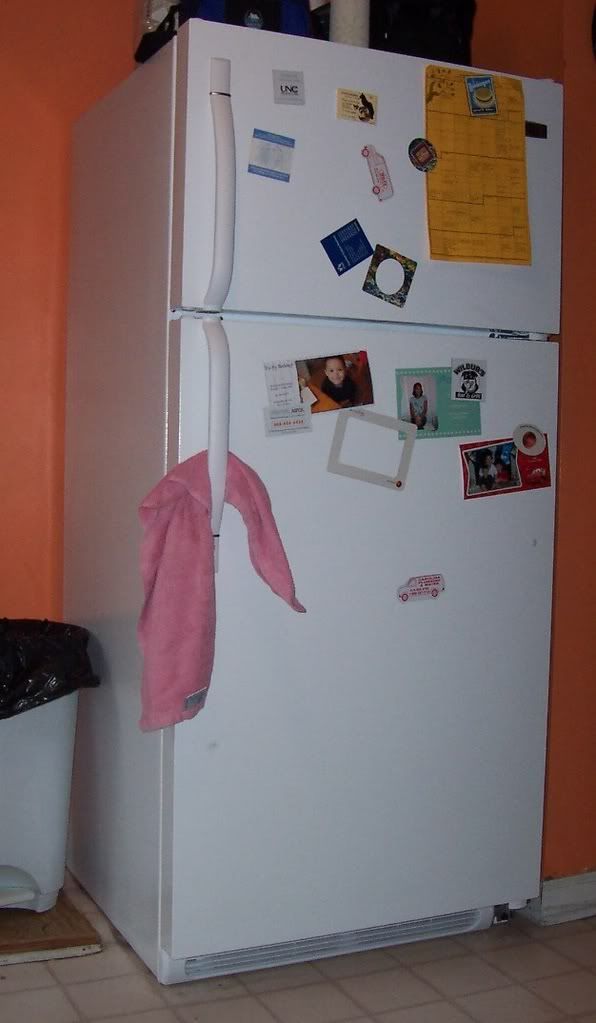 We've had it three days and already, started covering it with pictures again. :P
This Yule will be a good one still though. Things have been good. Eric and I both have the entire last week of December off so we'll be going to visit
my cousin
during that time. We both can't wait to go see her. :) We put the tree up as well and this week we got a box of presents from my mother in law. :D I can't wait to see what she got us! We also got a sailboat ornament this year. Eric
learned
to sail and it was such a memorable vacation for us both, we thought a sailboat would be a good addition to the tree. You can see its sail on the front of the tree: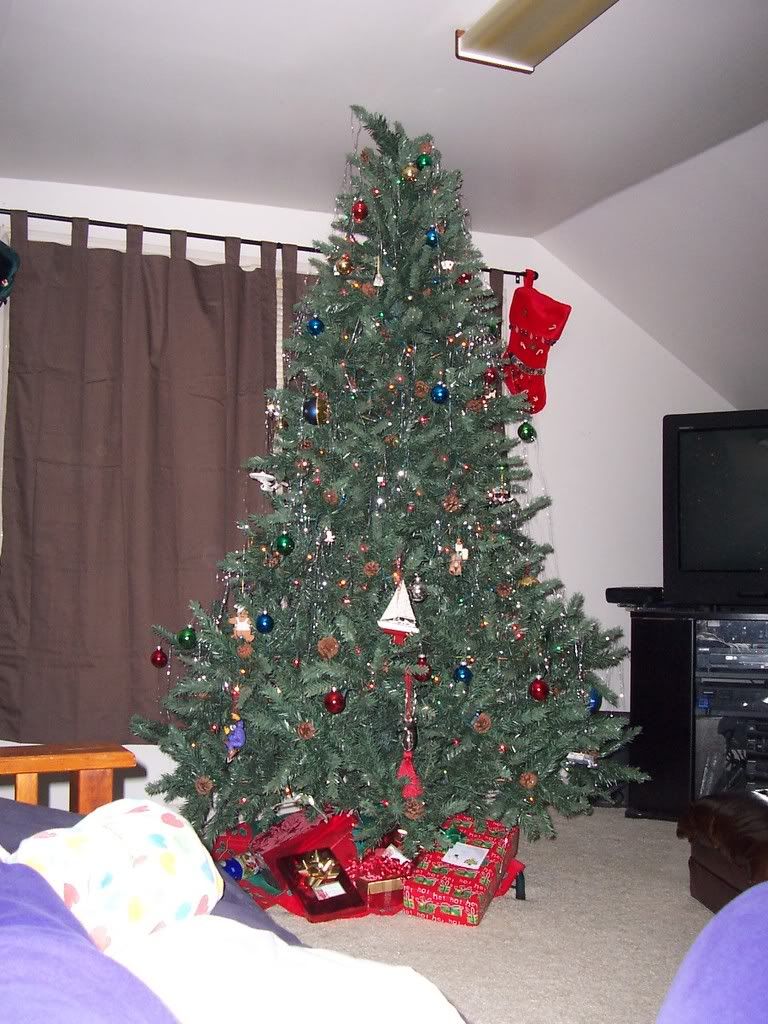 And of course, the light shot: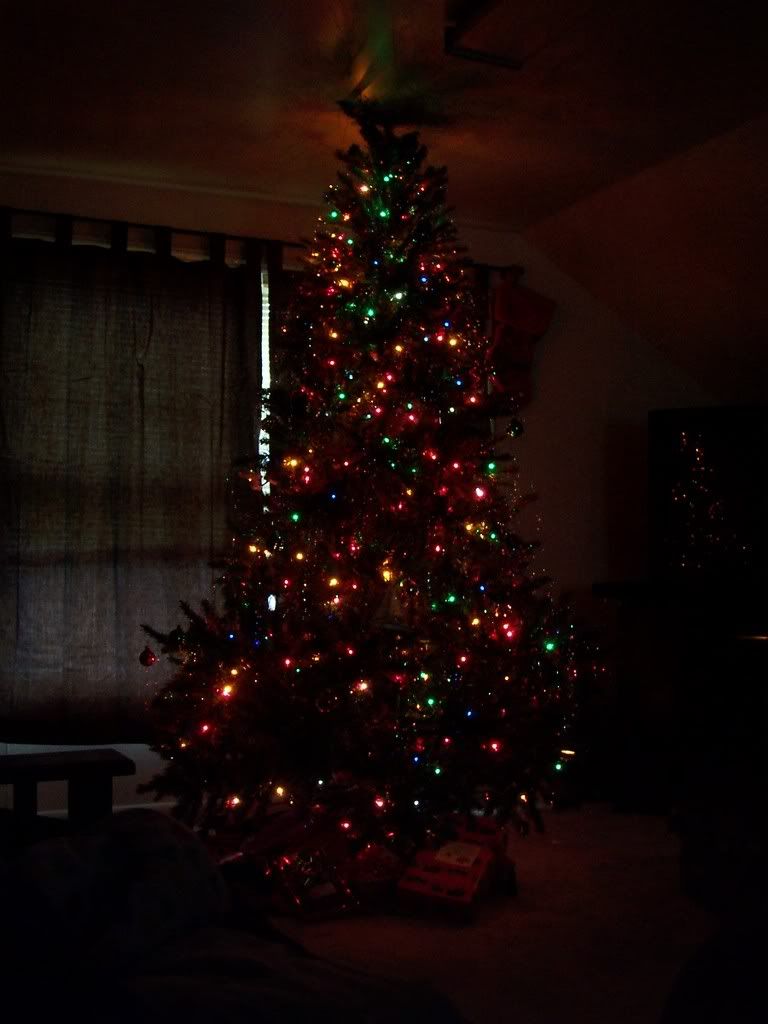 I love buying a new ornament every year. When we put up the tree and start putting the past years ornaments on, it always brings back memories. Especially our penguin with a cello. It was our first ornament and it was a gift from a friend of ours named Allen. Allen had full blown AIDS in 1994. He'd had full blown AIDS for 8 years by then. We lost contact with him in 1997 when our store closed and then when Eric enlisted in 1998. Every time we put that ornament up, we both smile. We're both sure he's passed away by now since he had stopped taking his medication all those years ago, but no matter what he was going through, he was always such an upbeat guy. I'd bet anything he's telling dirty stories and playing card games with the God and the Goddess right now or he's returned as a cat and is lounging on
someones
couch. He always wanted to be a cat and I think his next life as a cat would be a deserving one.
There's the bell that my mother in law gave us. It's an antique and one that was given to her by her mother. If and when we ever have children/adopt children that bell -will- be passed down through the family. It is very small, fragile and it's one of the first that always goes on the tree. For me I knew it was the true sign that I was truly part of the family. It's sappy I know but I know how important those bells are to her (it's one of a set), and for her to give one to us... well it made me cry. :) It's always the bell and the penguin with the cello that go up first. Funny huh? We just always seem to go that route when putting up the tree. Both of those ornaments have such meaning for us both that one of us always grabs one or the other first. *laugh*
All of them mean so much to us both. We have 14 years of ornaments on the tree. We missed one year though or we'd have 15 years up there. It was 2001. It was a rough year for many reasons not just because of 9/11. But neither of us regret not having one for that year though. We had looked at many ornaments but nothing struck us as wanting to join our family of ornaments so nothing did. Personally, I don't mind it so much.
Of course the cats love this time of year too. Within minutes of us putting the tree up, they were both laying on the tree-skirt. Rotten kitties. Fang was enjoying the tree's box too: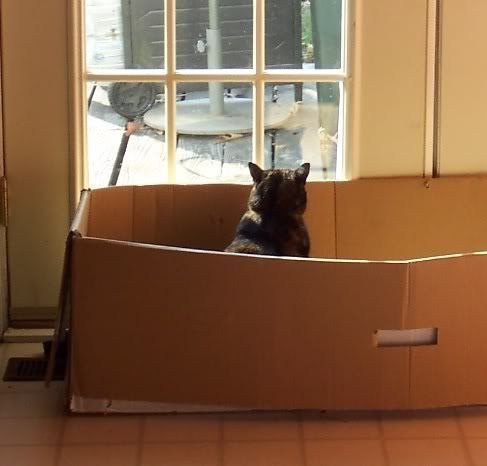 Well it's time for me to head off to work. I hope everyone is having a good holiday season so far. And I hope that those of you that are knitting... get your knitting done on time... or at least post the story of how on the eve of gift giving you were sitting up, knitting furiously trying to finish the project. *laugh*