Lazy day...
So yesterday I didn't get hardly anything done. Eric was online all day and well into the night so we chatted via our instant messengers. It was nice to talk to him. :)

Although I did get out and mailed off my first box to my Secret Pal. I'm already looking at what I want to send her in the second and third boxes. :)

I also stopped by a place called Needle Works in Burlington. (Sorry, they have no website or I'd attach a link.) Their prices on needles (especially bamboo needles) is fantastic! I actually had to ask to make sure that they were correct. I'm definitely buying all my needles there from now on! And they had a good selection of needles too. Too many times, I have walked into a store and they either had a pitiful selection (at almost no selection) or they had plenty of needles but all the same size! I once walked into a store and saw 12 pairs of size 6 double pointed needles. That was it! So yeah, I'll become a faithful shopper at Needle Works. And while they didn't have a huge selection of yarn for sale, what yarns they do have are mostly yarns that I can't find at some of the other stores I've been to.

While I was at Needle Works, I sat down and worked on my sock a bit more. While I was there, about four or five women came up to me to see what I was working on. We chatted and they were all extremely nice (including the two gals working there) but each and every one of them was shocked that I was using double pointed needles to make a sock. *Laugh* Is it that rare? Or are that many people afraid to try double pointed needles? *shrug* It's not like I have a huge amount of experience knitting, but I really don't find double pointed needles all that hard to use. *shrug again*

Not too long ago I bought the
2005 Knitting Pattern-a-Day calendar
. I flipped the day over and voila! Something I decided to try. This: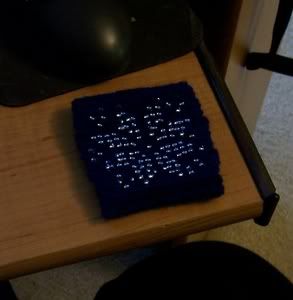 Here's a shot of it on my wrist: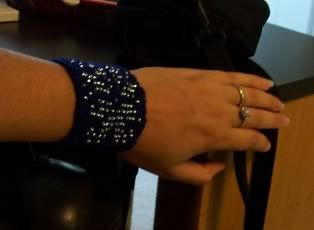 This was my first time knitting with beads, knitting off a chart and doing a three needle bind off. I'm very pleased with how it turned out! And it took only a few hours to do.
The cat didn't do much today either.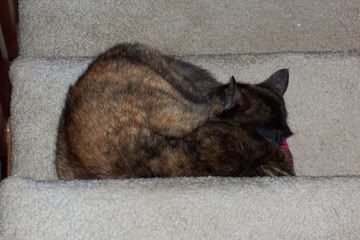 This is her sleeping on the stairs. (Yes, she does this at night too so traversing stairs in our house can be dangerous.) She was in such a deep sleep, I was able to walk past her a few times before she gave me a big, toothy yawn as a hello. She won't be so calm by this time next week... she's got an appointment to see the vet!