The screaming Meme's!
Actually, I don't have those... I just
thought it was a great title. :D
Anyhoo, I was tagged twice so here it goes:
ten years ago: I was 21 and probably still recovering from the day my MIL took me out drinking for my 21st birthday. We both go so drunk, Eric had to come drive us home. Yup, he had to pic up his girlfriend and his mother because we were too drunk to drive. :P He's still not nearly as amused by that story as I am.
five years ago: Eric was still in the Air Force and we were still in Utah. I was selling cell phones and the living was relatively easy.
one year ago: I taught myself to knit and was also enjoying my first year as a homeowner.
five snacks:
1. Little Debbie Devil Squares
2. Devil Dogs
3. Sour Cream and Onion Potato chips
4. Animal crackers
5. Goldfish cracker
five songs I know all the words to (and will sing at the top of my lungs in the car):
1. Mad About You (Sting)
2. Grand Bazaar (Tea Party)
3. Bachelorette (Bjork)
4. Crablouse (Lords of Acid)
5. Jeremy (Pearl Jam)
five things I would do with $100 million:
1. Pay off my house.
2. Pay off all my relatives houses.
3. Buy my FIL a classic car restoration business and let him run it.
4. Buy a classic Jaguar and start restoring it.
5. Get Eric's Triumphs restored.
five places to run away to:
1. My bed, under the blankets (with Eric).
2. (When at work) one of the atriums in the hospital, to knit.
3. (When ditching house work) Yarn's Etc.
4. (In general) My house. Always feels great to pull into the driveway.
5. Someplace I've never been before and one that I can just drive to when the urge strikes me.
five things I would never wear:
1. Burkha
2. Taffeta (Never. Again!)
3. Anything that is not meant for my body shape. It would make me look like an ass!
4. Anything with Barney, or Barbie, or Veggie Tales on it. O_o
5. Plastic shoes
five favorite TV shows:
1. Star Trek (Old school! Kirk, Spock and McCoy baby!)
2. Farscape
3. Babylon 5
4. Absolutely Fabulous
5. Cold Case Flies
five biggest joys:
1. Kittens!
2. Puppies!
3. Goats!
4. Really, any four legged mammal.
5. Being in Eric's arms. (Yeah, I'm a romantic. Who'd have thunk it.)
favorite toys:
1. My 67 Mercedes 200D. (Yeah... it was a toy! Too bad I had to sell it. *sniff*)
2. Dice! (One can never have too many dice.)
3. Pirates of the Spanish Main, Crimson Coast or Revolution, ships. (They are so nifty!)
4. Cat toys that I can play with my cats, with. (Whoo there was some good English!)
5. My DVR. I"m not a big tv watcher but this thing is so kewl!
five people to pass this on to:
1.
Azuredrake
cuz she's away and she can't fight it. Muwhahahaha!
2.
Lass
because well... why the heck not?
3.
Rogue Knitter
because I've read her blog a few times and would like to learn more about her.
4.
Lumen2002
because she SP'd for me and she was the best! I'd like to learn more about her too. :)
5.
Tamara
cuz I like reading her blog and would like to see her answers.
Okies, now that that's over, on to the knitting content. The second sleeve of the I Do shrug is coming along nicely. The beads slow me down but there's not much more beaded knitting to do. See: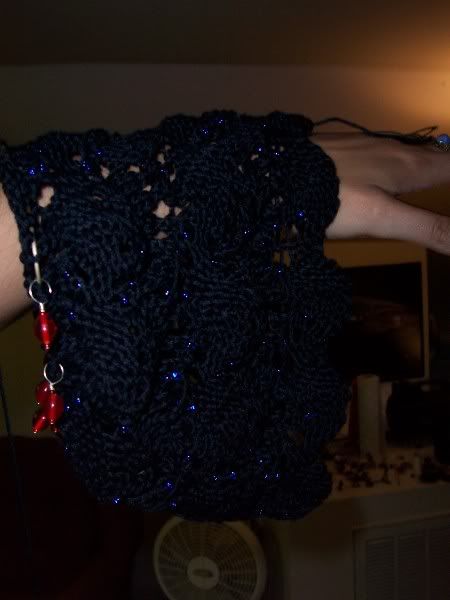 I finished (mostly) the hat for the Hats with Heart contest. I decided to make a hat for a girl. I've got that two tone ruffle:
And I'm making a ribbon to pull around the brim: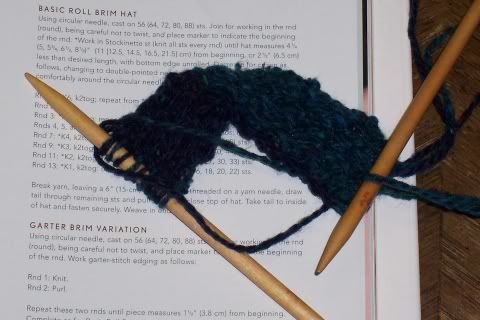 I'm using the technique of double sided knitting. At first, it's pretty slow going but once you get the rhythm on... it's pretty easy.
In cat news, Trouble and Velvet are really enjoying the toys that Lumen2002 sent me. Velvet hordes them: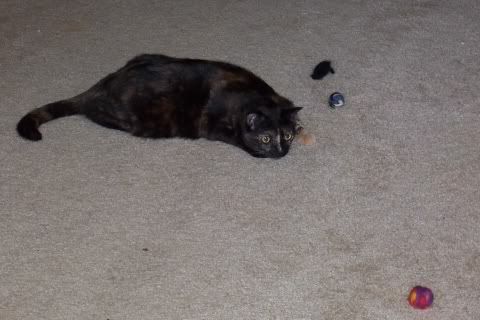 Trouble likes to sleep with hers: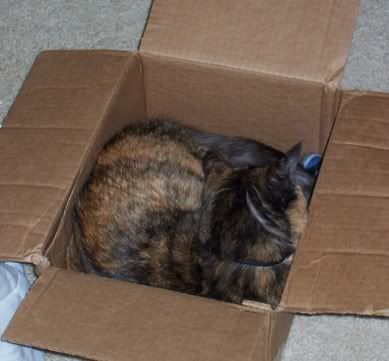 In response to comments:
Ragan said: it is hard crocheting with beads...i bet knitting with them is harder.
You know, I never even thought about crocheting with beads. *ponder* I might have to do that. It's actually not that hard. Just time consuming.
Heather said: Oh man, you make me look so bad. I got the yarn as far as the bedroom to show Mike, and there it is, sad in a plastic bag. Soon, soon *sigh* Thanks for the call today, it was really nice! Have a good night!
Hey that's what friends are for. Like I said, give me a call if you need to. I'm here for ya. As for the hat... don't worry! We've got until the 30th of this month to get it done. I just had some instant inspiration and decided to work on it that very moment.
Helen said: you also totally make me feel like my (current) decision to most likely not have kids is great because you have the freedom to do what you want and enjoy your husband
Oh yeah, it's got its benefits. Now, I'm not dogging on the little ones. Far from it. I just know for a fact that I couldn't handle having little ones right now. So Eric and I are doing everything we want to do now before we decide if we will or will not have little ones. (We're actually considering adopting. Yeah... we really are! I know... now I've floored some of my friends.)
To keep everyone calm and bring them all back to the reality known as Eric and Lisa not breeding (thhpt!) here is a pic of what Velvet woke me up for at 6:50 this wonderful Sunday morning!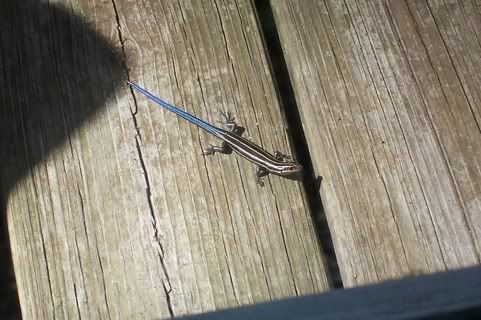 Yeah it's cute, and I'm sure it's nice and tasty kitty, but this is what I like to call a weekend *grumblegrumble* Rotten kitties. Waking me up when I want to sleep in...