Oh I see. That's how it goes huh?
Yup. I was wondering. One comment here. Two comments there. No comments another day. I wondered... had I lost my faithful readers? Had I said something to offend? And then it hit me. I just didn't have anything bizarre and/or whitty to post. Yup. I see how you do me. No pics of me frolicking in yarn. No loving. No pics of me playing Texas Hold 'Em with some Alpaca and I get no comments.
Fine.
I will succumb to peer pressure. Here's a pic of me in my office, having what I like to call a 'yarngasm'.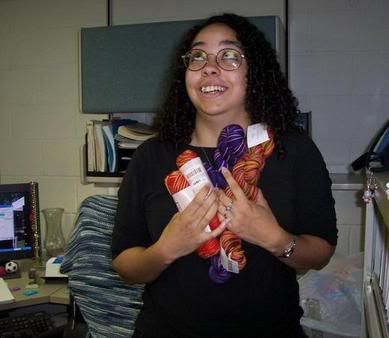 Six skeins of
Knitpicks
sock yarn.
I got 2 skeins of
Sock Garden
in the color Zinnia.
(Oh yeah baby.)
I got 2 skeins of
Sock Memories
in the color Gladiolus.
(Oh yeah, that's the spot. Work it now! Work it!)
And 2 skeins of
Sock Landscape
in the color Rocky Mountain Dusk.
(Yes. Yes! YEEEEEEEEEEEEEEEEEEEEES!)
Okay I'm calm now.
In other news, my sockapal-2-za socks are coming along nicely. See: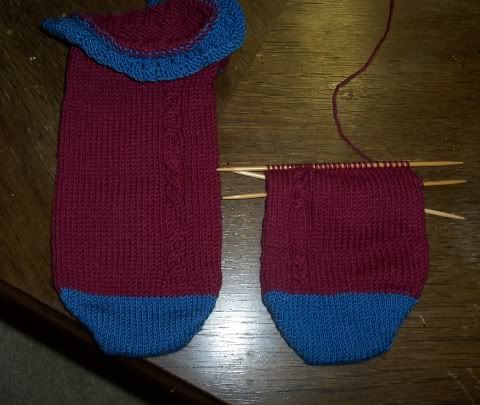 And here's a close up of the cables: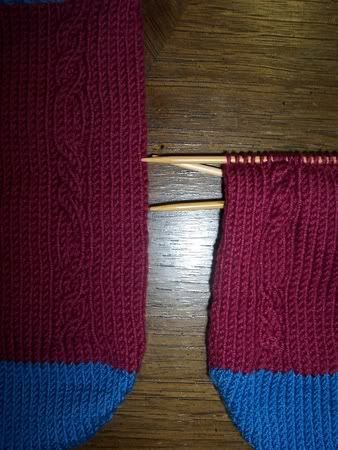 I did decide that I will do some more work on the cuffs too. I'm just not pleased with how the top of the sock looks and I'd really like to clean it up a bit. Especially considering they are a gift. :)
Of course, Trouble and Velvet could care less (as usual):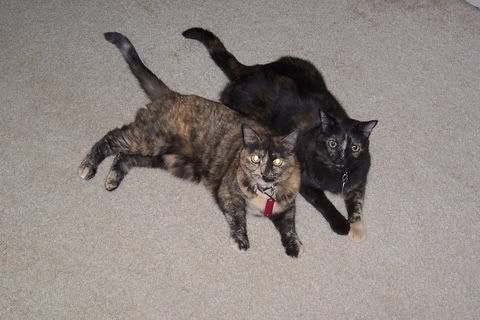 Well, it's Sunday and I do believe that means it's time to stretch out on the futon and watch cartoons. Buh-bye!
(I'm calm now.) ;)