Busted!
I was on my way to Yarns Etc. to do some knitting when it happened. I got pulled over. WTF?! I knew it was coming too. As I drove through Carrboro, a city cop pulled up behind me. I stopped at the red light and she started talking on her CB. When the light changed and I pulled away... she pulled me over. Doh.
And look at what she gave me! :)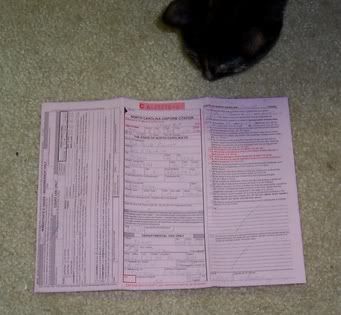 Yup. My very own speeding ticket. In downtown Carrboro. She asked me "Do you know what the city speed limit is?" I replied "45 in some spots and 35 in others right?" Apparently I was wrong. She told me that the last little stretch of road I had just passed through was actually a 25. Doh. As I'm sitting there, blue lights twinkling in my rearview mirror, watching the traffic go by as I wait for my ticket (and I hope for just a warning) a family of three goes walking past right past my open window. So what crosses my mind as they look at me? I yell out "Yup! I'm a criminal!" Yes... I am that brilliant *insert syrupy sarcasm here* sometimes.
So here's the damage: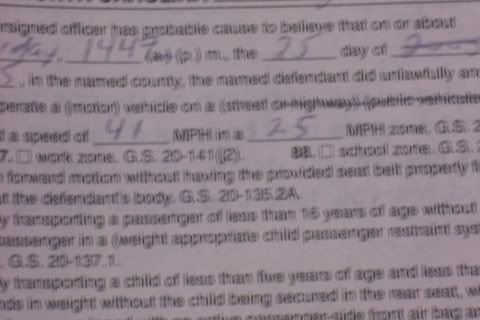 41 in a 25. Doh. Brace yourself for this part. Here's the fine: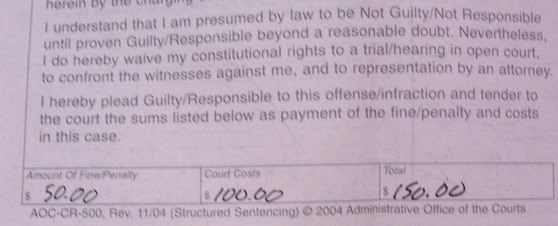 Holy crap! A $50 fine and $100 in court fees?! Oh yeah... I'm gonna go to court for this one. If I'm paying $150 then I want to at least be able to enjoy the smell of the old wood of the courtroom, hear my named called and then hear a gavel bang, and have someone tell me I have to pay the fine. I mean... for $150... I'm getting a show!
*sigh* So I went the remaining 100 feet (no lie) to the parking lot of Yarns Etc. and went in and did some knitting. I finished half of my I Do shrug. Here's a look: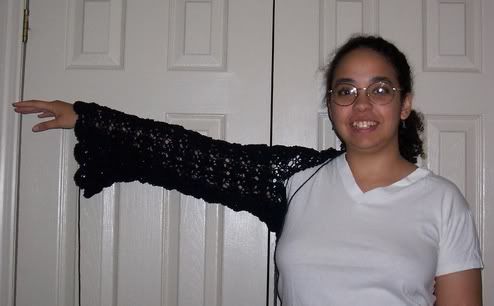 And the back: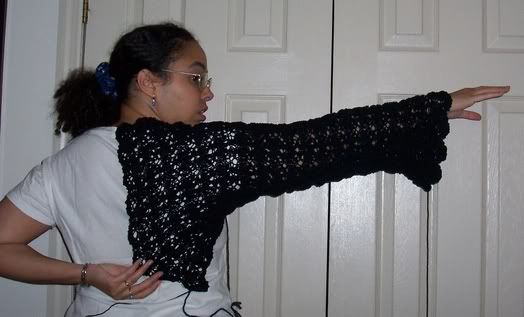 I'm very pleased so far. It's hard to see in the pics, but you can kind of see the blue beads. That's exactly the effect I wanted. Enough so that when the sun hit them, you can see them, but subdued enough so as not to take away from the lace. Well, time to cast on for the second sleeve but before I go... here's my obligatory pics of the kitties! :) You know you want to see the kitties...: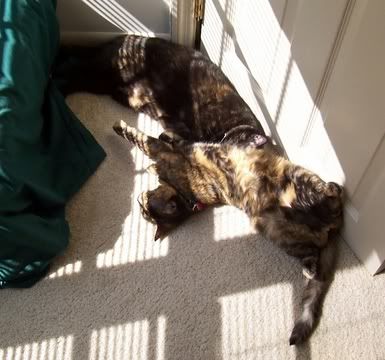 And: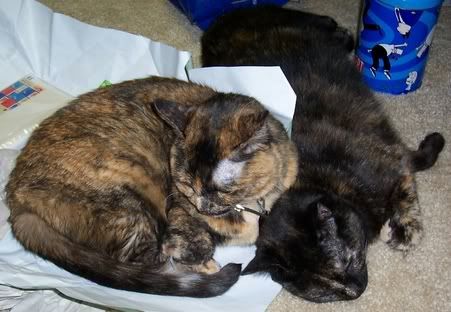 Okay, my work here is done. Back to the needles.