Why, hello Lass!
Today,
Azuredrake
and I met for lunch so we could meet
Lass
! Here are the three of us in the Children's Hospital: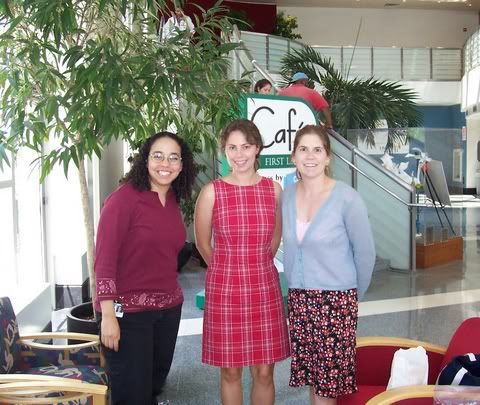 From left to right is myself, Lass and Azuredrake. I liked Lass instantly! I so hope she gets a job at UNC so we can all meet for lunch and knit. :) And hopefully, I'll let her get a word in edgewise next time! *laugh* I talked my head off! (As usual!)
When I got home, I had a lot of research to do. Tomorrow is Azuredrake's, Lass' and my Yarn-a-palooza Expedition! I had to look up directions for a bunch of stores. We plan to hit Great Yarns in Raleigh, Shuttles Needles and Hooks in Cary, Cozy's in Durham, Knit a Bit in Chapel Hill and Yarns Etc in Carboro. It's gonna be a long, fiber filled day! I can't wait! ;) If we have time, I hope we can stop by Stitching Counts in Mebane and Needleworks in Burlington but they have shorter hours than the other stores and are in the complete other direction of where we are heading so they may have to wait for another Yarn-a-palooza day...
In personal news, Eric will be home on Sunday evening for a whole week. I'm not even sure what to do. Well, actually I am but you know what I mean. ;) It's odd... I've actually gotten used to him being gone for long stretches at a time. Well... mostly. I do hope he gets a line some time soon so he can finally move back home. But of course, no matter what, he'll still be gone for days at a shot. The difference is, he won't have to be sitting on reserve in Charlotte like he does now so this way, when he's out working... he's out working. And when he's not, he would be home.
In knitting news, I haven't done any knitting this evening. But I did spruce up my knitting bags with some of the gifts that my SP sent me. :)
My main knitting bag (also known as my traveling bag) now spruced up with the little witch and the snow fairy. I love them!: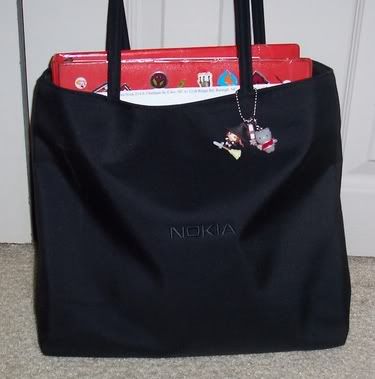 My home bag (also known as my big project bag) now spruced up with the Hello Kitty in Costume and a little Burro: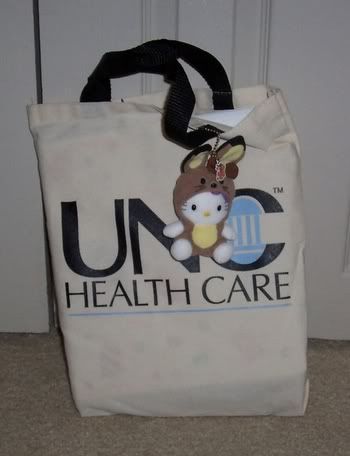 And my sock knitting bag now spruced up with my Hello Kitty Fairy: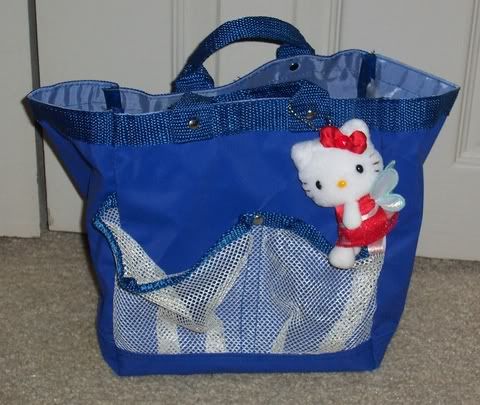 I know, I'm not normally so outwardly girlie but wow I love those little trinkets!
In kitty news nothing really different. Go fig, I still have odd cats. Here's Trouble, attempting to snuggle in some wrapping paper: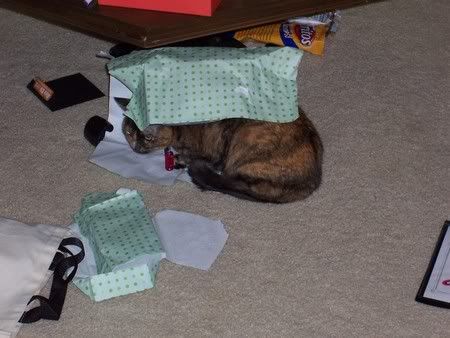 And here they both are, hiding under the futon while a storm raged outside. I was pretty surprised they were so calm... but this is pre-thunder boom. Post-thunder boom, they were scrambling even further under the futon. *laugh*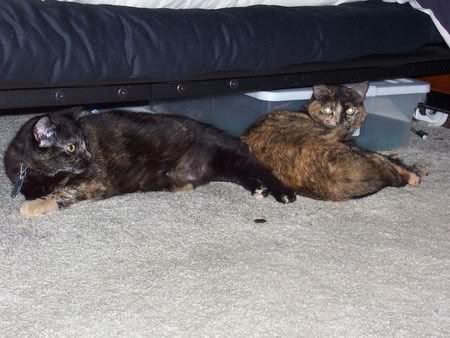 And if you can't tell by those pics, no I am not 'femaleus cleanus the-houseus'. Far from it actually. I miss Eric. He vacuums!