Knittin' n Purlin' in the sun.
I met up with
Azuredrake
today for lunch. We ate our lunch in the Women's and Children's Cafe in the hospital then moved outside to one of the atriums to knit. The weather was gorgeous and the knitting was fine! Too bad lunch is only an hour... I'm sure we both could have sat out there and chatted and knitted for hours. :)
When I got home, I kept working on the I Do shrug. I'm nearly up to the elbow now. Here is my progress so far, modeled on an oh so fashionable roll of paper towels!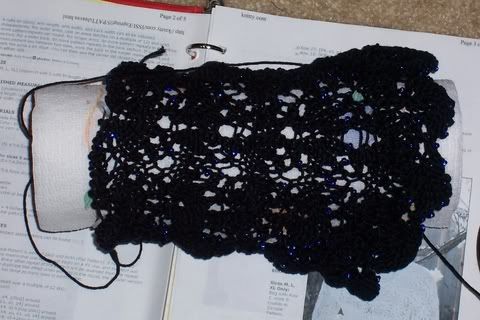 While I was at work, I also dropped off a "beginners kit" of knitting supplies for one of the men in the Med IT department. He's commonly seen me knitting before meetings or outside while I'm eating my lunch. About a month ago he asked me to teach him. I said sure! We'd tried to meet up a few times so I could teach him but we are both so busy in the average day and out lunches are never at the same time. Usually when I'm at lunch, he's walking across the quad to a different meeting... (Ah... meetings. Gotta love 'em.) So, I was at home last night, done with my knitting and getting ready for bed when the idea hit me! I really don't have the greatest amount of time at work either to be able to teach him but he has plenty of time after work when he's home with his family. So I put together a few things to help him learn. :) See:
The book I learned from: 20 Minutes to Learn to Knit (...with this book it took me three days...), a spare set of size 8 Boye needles that I got in an eBay auction, and two skeins of Encore that I won in
Elizabeth's
contest. I told him that he could call me anytime or just drop by my office and I'd be more than happy to help him out. Maybe I'll bring him to the Stitch N Bitch some time so he can see how everyone else knits.
Oh and nifty, nifty! I rejoined Crafter's Choice's Book Club. (Hey, they sent me a smoking deal to re-up and I took it!) When I got my books, they also sent me a nice little tote.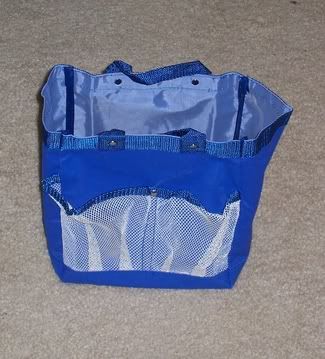 It is the -perfect- size for my sock knitting! So, I dubbed it my sock knitting bag. It feels special. It really does. *wink*