Time to roll in the yarn.
I got my yarn today from
Elizabeth's
contest. I was so excited, I could hardly wait to open the box! And once I did, I was so excited! I wanted to just touch it all but... which should I touch first? I couldn't decide so I decided to touch it all at once!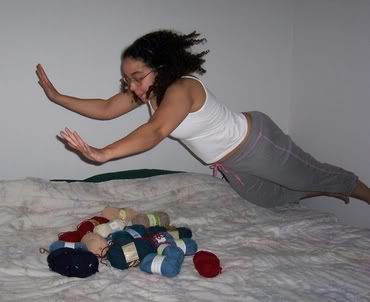 So lovely! So luxurious!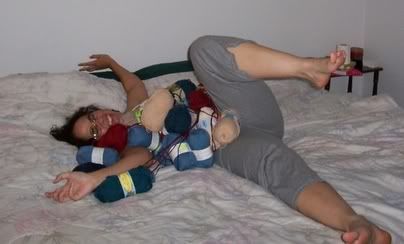 After a few minutes of basking in all those glorious fibers... I'm spent.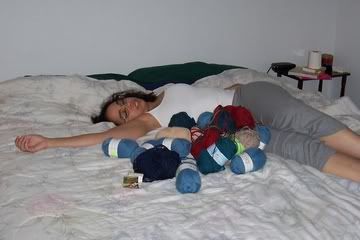 That's when it hit me... someone could be after my yarn! They can't have it! It's mine! All mine! Muwhahahaha!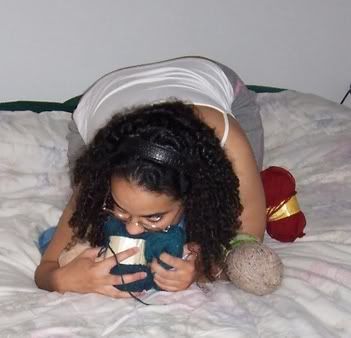 I had to take drastic measures and hide it from all those that would have designs on stealing my yarny cache!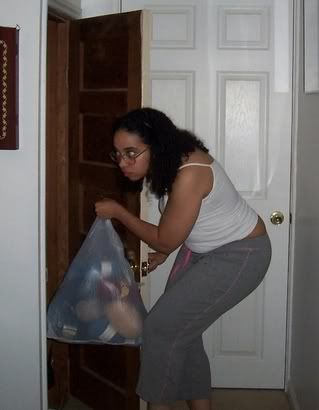 It wasn't until later on that I remembered that I had promised the Cone of Power a shrine to it's yarny goodness! I got right to setting up the offerings: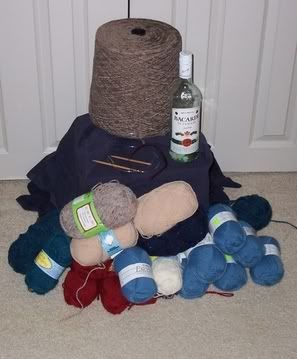 A broken circular needle. A torn strand of Lamb's Pride yarn and a 750mL bottle of Bacardi. Please oh Great Cone of Power! Bestow upon me the mysterious techniques of Intarsia, Fair Isle, and Steeking!

Both cats could care less about my ravings on the bed or the yarn shrine. it doesn't involve petting them so really, they have no interest. They seem more interested in sniffing my foot.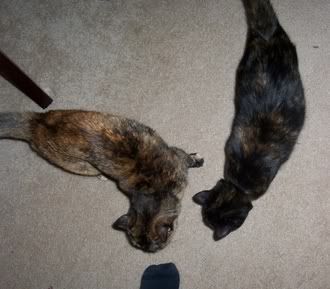 Of course this made me wonder if my feet actually smell. Nope. They are just odd. Go fig. I have odd cats. *insert sarcastic snort here*

So did I get any knitting done today? Yup. And because I'm a idiot, I had to frog it all. *shakes fist at self* Sure I can read a pattern. Sure I can understand it and follow it. But can I actually put those two tasks together coherently? Well today, apparently not! I'll get to it tomorrow. For tonight, I'm going to pet the
Knitpicks
yarn I got in the mail. *purr!*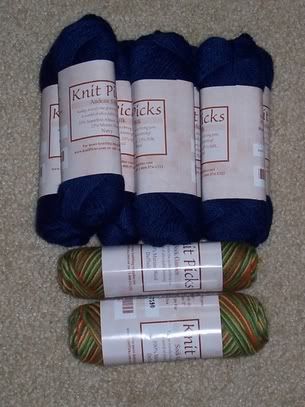 That navy Andean silk will be a Clapotis and that sock yarn will be... well... socks! :) I also got something for my Secret Pal but I'm not going to post it here just in case she reads my blog. ;)