Showing off my cleavage... er... Cleaves. Wait... yeah cleavage!
WARNING! Skin IS shown in this edition of Urban Pagan Knits. If you can't handle it... tough. Okay well maybe not that much skin but there's skin none the less! :)

On to the knitting news!

I finished my
Cleaves
. Woot!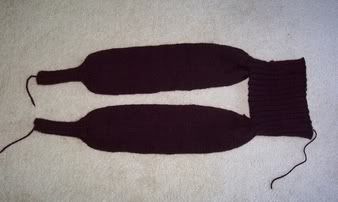 And here it is on me! This is my Super Model pose. Work it!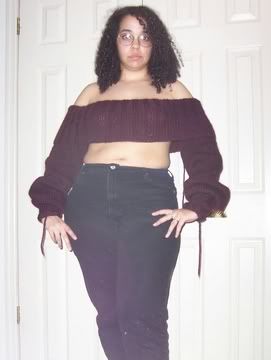 And even making the arms so much longer than the pattern, I still had plenty of yarn to make the cowl longer than eight inches so it would cover my cleavage. :) I'm really happy with how it came out. Now all I have to do is weave in the yarn ends and it's truly finished.

I got the bulk of it done while I was at
Azuredrake's
house this past Saturday. While I was there, she introduced me to some of her turtles. Here's a few: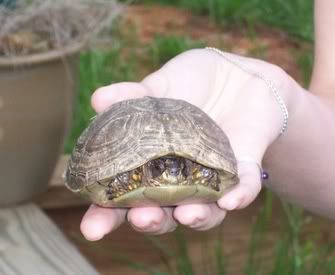 The Nameless wonder




Pineapplehead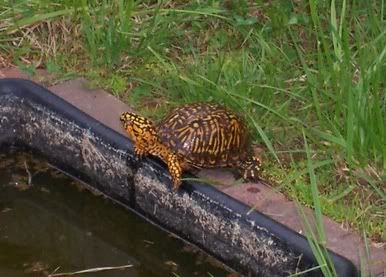 Pretty Boy

She's got plenty more but these are some of the really nice ones. :) We had decided to hang out for the evening since no one showed at the Stitch N Bitch. *shrug* Oh well... no biggie. I had a lot of fun at her house playing with her dogs and kitty. :) We did stop by Yarns Etc. and I got to check in with Ivy as to the status of her afghan. She's done! She's got to mail it out before this Wednesday so it will get to the wedding on time. It looks great too. I totally spaced though and didn't take a picture of it. Doh. Oh well... it was lovely and I know some of you were wondering if she would finish it on time. :)

Time to start on
I Do
.
Oh hey, I also found out that I was one of the winners of the Big Box of Wool Ease Contest that Elizabeth was running! Talk about suprised! I had fun reading all the other entries too. Talk about some talented people... the poetry was great! You can read their entries on Elizabeth's blog here.