Awesome possum!
Okies... like
Azuredrake
, I have a
possum
too... Except mine is not playing dead. See...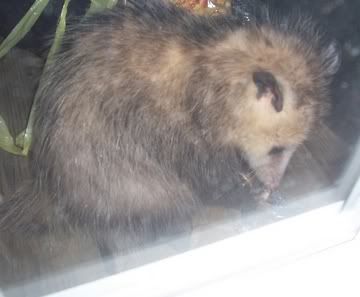 No this one is digging through my trash and making Trouble make all sorts of very angry noises...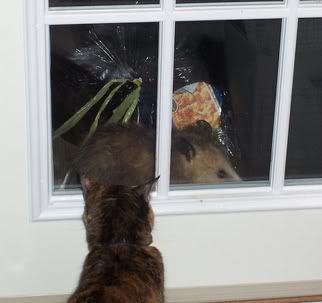 The -one- damn time I leave my trash outside of the bin and I get a possum tearing it up. *shakes fist* Oh well... my fault. I'll just have to clean it all up and hope the little bugger doesn't figure out that if it chews through the bin, it can get to even more trash.
Not much knitting going on these past few days. Eric has been home. *happy sigh* He was supposed to go back to Charlotte today so when I left, I gave him a huge hug and a kiss. As the day wore on, he decided he wouldn't leave until I got home so he could say goodbye again. *even happier sigh* And then when he called scheduling, they told him he didn't have to report to work until 10am tomorrow so, he's going to stay home tonight. *such a happy sigh, it could be considered girly, froo froo overload!*
The kitties are getting along a lot better too. This is them sitting near Eric.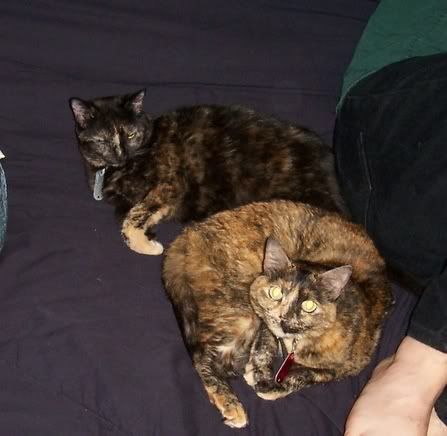 Okay, I actually have gotten a bit of knitting done. I'm making little bags so I can send out those stitch markers as part of an RAK. I should have sent these damn things out last week! Yeah... I know... I've been dragging my ass pretty fiercely lately. *laugh* I'll post some pics once I've finished one. Now all I have to do is resist the urge to order some yarn from
Knitpicks.com
... it's been very, very difficult! I think the only thing that is holding me back is what to do next. Yeah I know I have all sorts of projects on my sidebar that I should be doing, but I really want to do something 'summer-y'. Something for myself. I just have no idea what. I've thought about doing Clapotis in the Andean Silk Twist, most likely the Navy color. I've also thought of doing Tempting but it's a sweater. *shrug* I have no idea what to do!