Traveling with us is always an adventure!
That's a little saying we have. Right Justin? *wink and a belly laugh* (Justin knows...) Anyhoo, no matter how hard we try, Eric and I always seem to have something come up while we are on vacation. Grab your cup of cocoa and your favorite blankie... this is a long story boys and girls. :)
Tuesday, March 15th.
Both Eric and I made it to the Charlotte airport about 8:30am. He flew in from Dayton. I flew in from Raleigh. Very uneventful. Our flight for Las Vegas was supposed to leave at about 10:30 so we had plenty of time and no worries. When we went to check in at the gate, the gate agent told us that it looked tight but she thought we would get on the flight. Now one thing to keep in mind; since Eric is an employee of PSA Airlines, that means we can fly anywhere in the US for free... but we have to fly stand-by. (Keep that in mind.) So the ticketed passengers start boarding. We're feeling positive. A man walks up and gives a big hug to the gate agent. Looking at him, I saw his ID badge and realized he worked for US Air too. He had a young lady with him that also had an ID badge on. He talked to the gate agent and the whole time, the gal that was with him was putting off vibes I could feel about 20 feet away. A few minutes later, the gate agent hands the gal a boarding pass. The gal gives her a really, really rude look and then gets on board the plane. Eric and I kind of shrug. The gate agent looks at us... looking extremely distressed and says "There is only one seat left." Of course we are both floored. The gate agent goes on to tell us that the gal that was giving her attitude was the current girlfriend of the man that had hugged her. Obviously, the current girlfriend is jealous (for what reason I have no idea.) Anyhoo, the gate agent told this gal that if she could ride in the jump seat then the non-rev passengers (e.g. us) could get on the plane. The gal askes if the gate agent will be able to get all the non-rev passengers on (since there were more than just Eric and I) and when the gate agent said no, the gal demanded a normal seat. This gave Eric the idea to ask if he could ride in the jump seat. Afterall, he's a flight attendant. The pilot said okay, and we boarded the plane. Yay! They closed the door, and even pulled the jetway away from the plane when one of the other flight attendants on board realized that Eric worked for US Air Express (PSA Airlines) and told the pilot Eric was not certified on that plane (which he is not) and thus, we had to get off the plane. So they pulled the jetway back, opened the door and even had to pull Eric's bag from the cargo hold. Doh. While they were opening the door, I spotted that gal... she looked at me and then looked down. I was so pissed off at her!
So we got back out to the gate agent who looked really upset now. She tells us that she was very angry at that other gal (rightfully so) and that the only other plane going to Las Vegas that day wouldn't leave until 9pm and it was oversold. O_o Now we are beginning to panic. Thankfully, this gate agent was on the ball. She gave us the idea to fly to Los Angeles and then get what is called a 'Zed Fare' on one of the other airlines. We would pay about $25 a head and be able to fly from Los Angeles to Las Vegas. Perfect! We list on a flight to Los Angeles and at 2:30, we are on our way!
On the plane, Eric pulled out his laptop and we watched "Airplane". LOL! It was great! The flight attendant kept looking at us because we were cracking up and the movie they were playing was not a comedy. *snicker* So we landed in Los Angeles about 6pm local time. It was really neat! I have never been to Los Angeles and I have never seen the Pacific Ocean. It was so cool! So when we landed, we went over to the SouthWest Airlines desk and told the gal there we wanted to buy two Zed Fare tickets. I think the only way the stare we got back could have been any blanker was if they had put a mannequin there. Really. She said that PSA would have had to have faxed over a request three days previous for us to get that rate. O_o So we shelled out $210 total for two tickets on Southwest to Las Vegas. But before we could leave the gate, the TSA had to inspect our bags. Now keep this in mind... we had to pass security at a different airport. We landed and were still in the gate area, still behind security. Yet we had to get our bags checked. *shrug* It was painless but odd. So while we were in LAX, Eric decided we had to have dinner! After all, we were on the west coast. :) So here we are at our glamorous feast in LAX!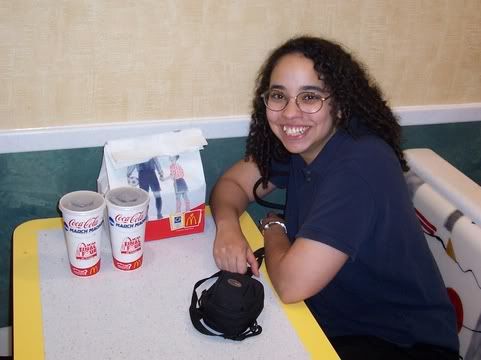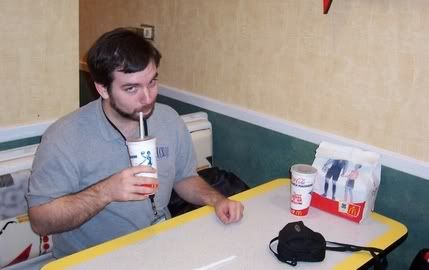 *laugh!* So finally, eight hours after we were supposed to land, we were in Las Vegas!
Wednesday, March 16th.
We blew money! Circus Circus was good to us. The Stratosphere took all our money. The Four Queens held strong. But Binion's Horseshoe was good to us as well. We also walked all over the place. My feet hurt so bad! But it was great! So many things have changed since we were there, it was great to see it all. :)
Thursday, March 17th.
As we were getting ready to head out, I called to make sure that our flight at noon was all set. Doh. Over sold. We ended up spending an hour on both our phones, calling the automated system to find flights that we could get on. Between Thursday and Saturday, there was only one flight that had any seats left at all. It would leave at 1am, and it had five seats available in first class. We listed ourselves on the flight.
We had to check out of our room pretty much right away though, so we checked out and the hotel clerk was nice enough to let us store our bags in the back room with the safe. So until 9pm, we went to a movie, gambled a bit more, had something to eat and generally had fun, with no thoughts of any troubles ahead.
We got to the airport at 9pm to one of the longest check in lines I have ever seen! I can not believe they do not have electronic check in at McCarren Airport! It's Las Vegas for fucks sake! *shakes head* Anyhoo, we get to the clerk at the desk and she tells us, the flight we thought had five seats is now oversold by eight people. And in the most fake sympathetic voice I have heard in a while, she tells us "you aren't getting out of Las Vegas today folks." O_o
Eric is now looking really, really distressed! We've been up and walking around for about twelve hours and now it's looking like we'll be up even longer. So when we got to the gate, I had a small epiphany. I asked the gate agent to list us on every single flight headed east. I didn't care what city. Just get us to the east coast. It would be easier to get our connecting flights that way. And it paid off. I was half asleep with my head on my roll-away bag when I hear our names paged at about 10pm. Lo and behold, a flight to Charlotte had a few seats available. Yay! We wouldn't be able to sit together but at this point, I really didn't care! When we got on board though, a man sitting next to me traded seats with Eric and we were able to snuggle and sleep on the flight to Charlotte.
We landed at 5:30am local time to Charlotte. The first flight I had a chance to get on that would get me to Raleigh was going to leave at 7:50am. The first flight Eric had a chance to get on that would get him to Dayton would leave at 9:40am. So I called my boss and left a voicemail letting her know I would be a little bit late. :P
We both lucked out and managed to get on our respective flights. But when I got to Raleigh, I had to deal with 9am rush hour traffic. Ugh! And to top it off... I smelled bad! I realized we had been wearing the same set of clothes for about 26 hours! I was stinky! So I went home, took a shower and was going to take a nap then go to work, but my boss is soooooo cool and told me to not even worry about it. I gladly went to sleep and didn't wake up until 6pm. :)
So that was our trip. Rough. Yet we still had a really good time! *laugh* I even got a bit of knitting done on the plane.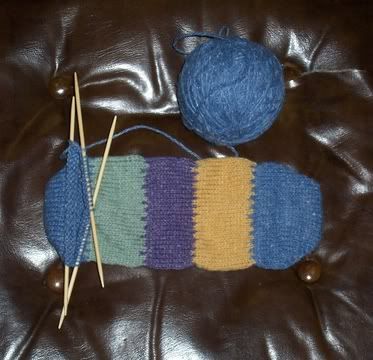 Sock #2 is almost done. I posted a note on my Sockapalooza Pal's blog letting her know they would be late. She was cool enough to reply so I knew she knew. Thanks! :)
On the kitty front, here is Velvet stealing a fortune cookie!
(Yes it is still in the wrapper and she has that in her mouth.)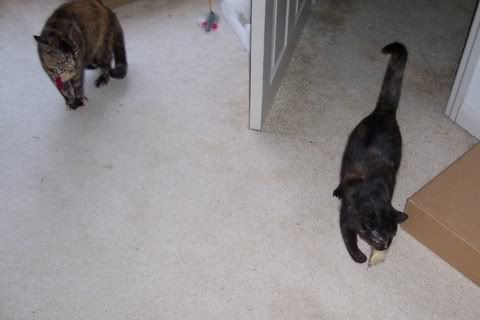 As you can see, Trouble is not happy with that! *laugh*
I also got an Random Act of Kindness (RAK) gift! She sent me some stickers and some chocolates! Yay! So that got me working on some stitch markers to send out myself. Here are a few: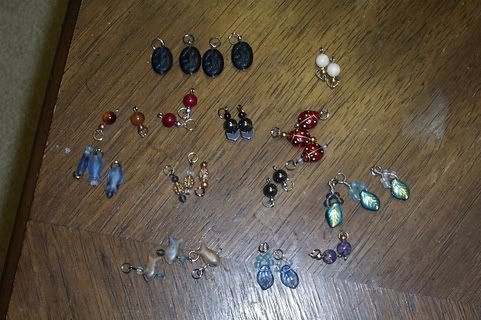 Only a few more to make and I'll send them out to everyone. :)