Weekend update
Saturday I started out the day by sleeping in. Wow that felt good! I got up about 10:30 and decided to go thrift store spelunking again before the Stitch N Bitch. I went to the stores in Carboro and Chapel Hill. I really didn't find anything I liked that was worth frogging, but there were plenty of good things to see! :)
At 2pm, I went to Tyler's for the Stitch N Bitch. I completely forgot that it was a game day. UNC was playing Georgia Tech. The place was packed! We ended up having to sit all the way in the back which actually turned out to be a lot nicer than where we usually sit. More light. :) Bronwyn came again. Here's one of her eBay finds!: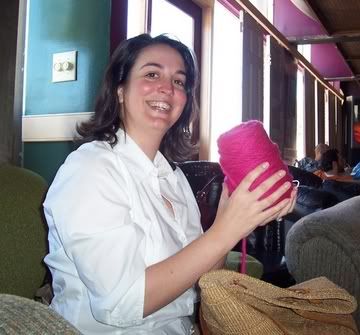 I love eBay... :)
I frogged a bit more of that sweater I bought last week too. I'm getting a lot of yarn out of it! :)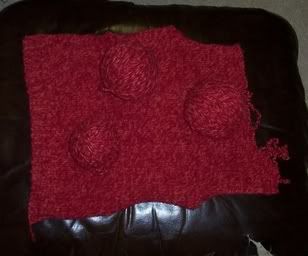 Today I decided to go hang out at
Yarns Etc.
in Carboro. I like Yarns Etc just because it is such a pretty store. But like monkeemaven said, there is really no such thing as an ugly yarn store... but this store is really pretty. See...: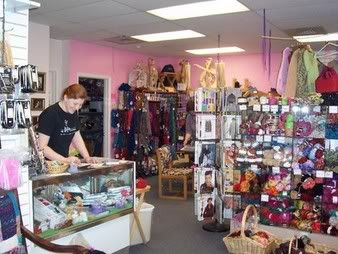 That's Ivy, one of the clerks. I'll tell you, every time I've gone into that store, she's always made me feel welcome. :)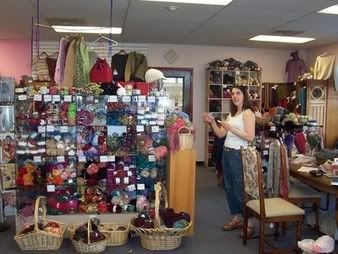 This is Amy. I met her today. A really nice gal! She was starting on this cute skirt from one of the Rowan magazines (I think). When she came in she said that "It was such a beautiful day outside... I should go to the store and knit!" I couldn't help but laugh because I had been thinking pretty much along the same lines today too. It is a beautiful day today! In the 70's. I love North Carolina. Poor Eric is up in Dayton where it's snowing. :P
While I was there, I worked more on my Sockapalooza socks. Take a look see...: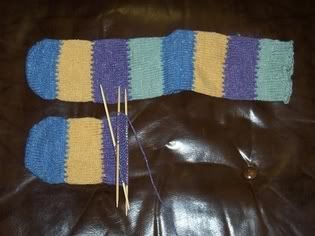 I got pretty far considering I was only there for two hours and I made such a big mistake in the fair Isle pattern, I had to frog three rounds. Thankfully there was a little girl in the store or I would have been swearing long and loud. *laugh* Also, while I was at the Stitch N Bitch yesterday, Azuredrake taught me how to knit Continental. I tried holding one strand English and the other Continental today when I was doing the color changes on my socks. It worked really well. :) Thanks!
When I got home, I got to see this: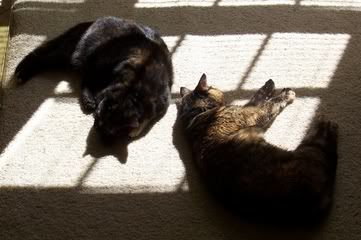 I couldn't believe how nicely they were sleeping next to each other! :)
For those of you that are wondering, yes I am still working on those Cut Your Teeth Socks from Knitty. I've just kind of put them on hold because I've been busy with those Sockapalooza socks. But here's how far I've gotten: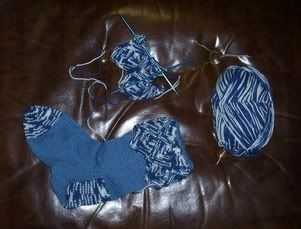 Oh and I finally decided on what pattern to use to make a scarf for Eric. He specifically requested a black scarf that he could wear in uniform. So since he works for PSA Airlines and it's part of US Airways, I've decided to make a stockinette scarf with a relief of the US Airways logo. I'm going to try and work out the chart tonight.