All kitties. No knitting.
Nope. I didn't get any knitting done today. (Well, not so far...) While I was at work, I was busy putting up decorations for our party on Thursday. When I got home, I chatted with Eric for about an hour and a half and then it was time for dinner. Since then, I've been burning some CD's for Eric so he'll have some music while he's away from home. You know, I didn't realize how long it takes to burn a CD! *shrug* Maybe it's just my computer but whoo, it takes some time! I don't know what I was thinking when I told him I'd fill a case for him. *laugh* I've got about 15 done out of twenty four and I've been burning CD's every night since Sunday!
But I do have some progress to show between Trouble and Velvet. Lookie here. Velvet is taking a bath while Trouble sleeps...: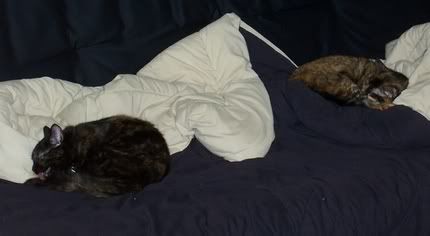 and another: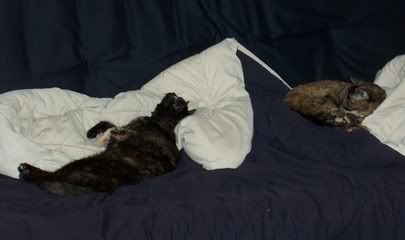 Velvet woke Trouble up when she started meowing at me to pay attention to her. *laugh* Would you believe there was no hissing going on during either of these shots? It happened because I had been sitting between them. The phone rang and of course, I had to get up. When I hung up the phone, they were still sitting there. :) I thought, "Wow... they are making progress after all!" and then that is when Velvet got up to get closer to Trouble and Trouble began hissing. Oh well... I spoke too soon. :P
To reply to comments:
Carole, Ana, Wendy, Donny and Monkeemaven... thanks! :) And Donny.. yes... they are supposed to be cheese boobs. LOL! Ana, I ended up getting and keeping that break away collar on Velvet. She struggled for only a few minutes but I think she's pretty well used to it now. And to the other Anna.... thanks for clearing up my Intarsia/Fair Isle confusion for me. :)
Oh and a correction. Azuredrake's friend is Bronwyn. Sorry about that!