Tag! I'm it!
Ah ha! I have been tagged by
Wendy
and I must answer the following questions. Here I go:

1. Total amount of music files on your computer?
None. Funny huh?

2. The CD you last bought is?
Labyrinth by Juno Reactor. Totally rocks.

3. What is the song you last listened to before reading this message?
The Crablouse by Lords of Acid (yes, I know, I'm a dirty girl!)

4. Write down 5 songs you often listen to or that mean a lot to you
Mad About You - Sting (Makes me think of Eric and he said long ago, it makes him think of me)
The Way Love Goes - Janet Jackson (Only song Eric has ever danced with me to)
Bounce Around the Room - Phish (Reminds me of just how happy I am to snuggle in bed)
P.E.T.R.O.L. - Orbital (First song I listened to as we drove out of Utah! Good riddance!)
Save Me - The Tea Party (Reminds me of how lucky I am my husband never had to go to combat.)
(Wow, it's mostly romance related... Wow, I -am- a sucker for some sweet loving!) *snicker*

5. Who are you going to pass this stick to? (3 persons) and why?
To
Azuredrake
because we just met and heck, I haven't sent her nearly enough spam yet! *laugh*
To
Helen
because heck, she helped me with my blog and I haven't spammed her enough either! *snicker*
And to
Glittrgirl
because we both enjoy a few good sparkly things.

And to you three lovely ladies that I have beset with being tagged... it's not that I don't love you... it's that this is not normally my gig, it seemed fun and well, you were the first three people I thought of that I knew I had not offended yet. LOL!

Now to the knitting!

Here's that scarf I've been working on: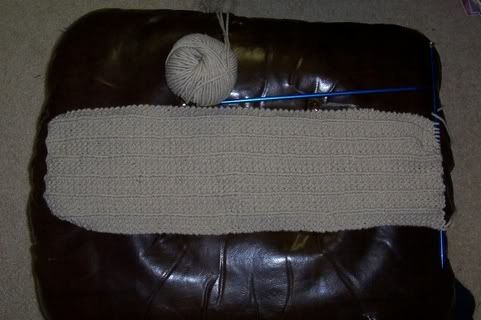 and a close up: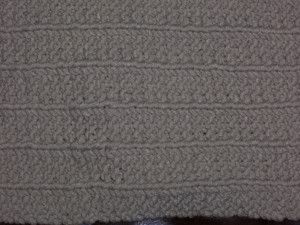 If not for the fact that I've been helping Eric with getting housing set up for Dayton, I'd have finished this by now. Poor guy... he thought he had his crash pad (temp housing) set up in Dayton but the deal fell through. The damn hotel they had been negotiating with decided to quadruple the price. So he and 19 other people are now scrambling to find a place to live for the next few months in only a few days. I think I have a few good leads though... hopefully they pan out in the morning. I'm so glad I could help... it's what I'm good at. I'd hate for him to have to stay at that awful hotel he was at for training but if he has to, he has to. Wish me luck. I'll be putting on my best wheeling and dealing hat tomorrow!
And with regards to Wendy's comments posted yesterday: And your boobs comments makes me think I do some strange contortions to poke myself on purpose or something...hum.
Yeah. I don't know how I do it, but no matter how far I try to keep my hands from my chest while working with double pointed needles, sooner or later, a boob gets poked by one! *shrug* Like I said, maybe I'm just a bit too enthusiastic about sock knitting... *a wink and a giggle*