I give you sock!
Whoo hoo! I finished one sock! Here it is on my foot: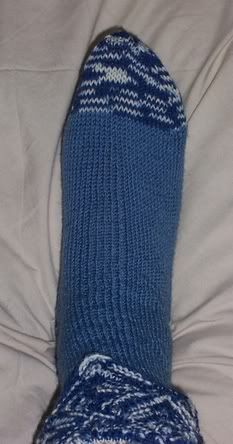 And another shot: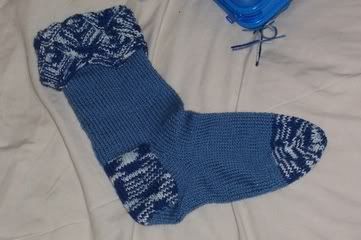 So I know what you're going to say... and yes, I will start on the other sock tonight. I swear. Totally. I will. In a bit. ;)
I'll be honest, for my second pair of socks, I'm overall pleased with how this first sock came out. But... I'm upset because of what happened here: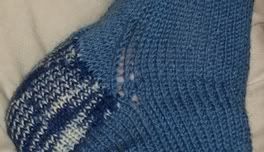 This is where I picked up stitches and began the decreases for the gusset, the stitches are really loose. It looks like poo. I'm wondering if it's because it's the side that I dropped those two stitches on. *ponder* I'm going to have to figure out how to fix that. Here's the other side: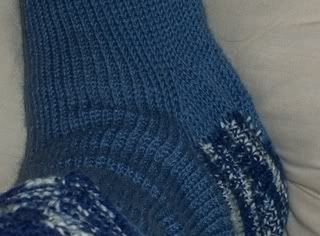 Overall, though, not too bad for my third ever sock. :) And I learned at lot of things so that when I start on the socks for my Sockapalooza buddy, they will come out a lot nicer.
Well, I should go start on that second cuff... Gonna have a drink first though.
Tomorrow is going to be a busy, busy day. I'm going to go get some books from the used book store to send to some troops overseas. I'm also going to get some yarn to start some hats and scarves for them as well. Hopefully the yarn for my Sockapalooza socks comes in... I'm itching to start on those too. Then, I need to take the cat to the vet. 0_0 She's not going to be happy with me tomorrow...