My first Stitch N' Bitch
Well I went to my first ever Stitch N' Bitch this evening. It was a lot of fun! We ended up with about ten people there. They were working on all sorts of projects too. A few hats. A sweater. Some scarves. My socks. A few ponchos.
We all chatted about the various yarns stores we'd been to. What projects we were working on. Work. School (for those getting their Masters and PhD's). I really liked everyone there. Truly a friendly bunch of people. :)

Of course while I was there... I was knitting. Lookie how far I got on my sock today!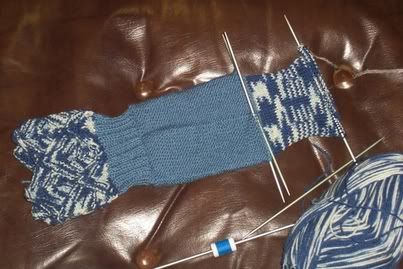 Oh we're cooking with gas now! I'd start on turning the heel tonight but... I'm soooooo sleepy!