Penguiny goodness.
I finished the other Pasha! I'm really pleased with how this second one came out. Here's a few pics: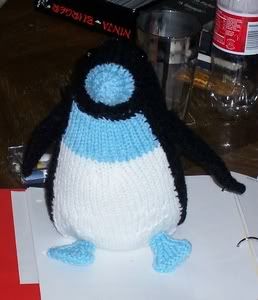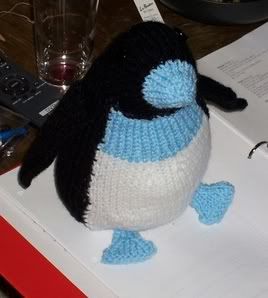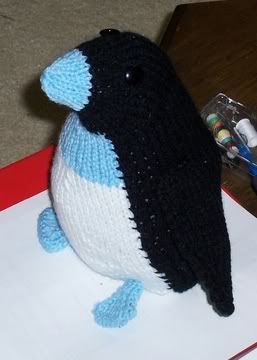 I'm glad I finally finished it. I had really wanted to finish this some time ago but I got kind of stalled by other projects. For all the time I let it sit, it really didn't take all that long to make it. I bet I could make one in one day... easy! I had planned to make three total for the Children's Hospital but I'll be honest, I think I'm going to move on to some other toys. Or maybe some hats for the Cancer Center... *ponder* I'm making hats for the Troops... I can space those with some Chemo Caps. :)
On the home front, Eric will be home Friday night. All I can say is... "!!!!!" Sorry Azuredrake, but I won't be at the Stitch N' Bitch on Saturday. ;)
Oh, I found out that the gal I am Secret Pal for got her box and she's happy with everything I got her. Whew! I was honestly worried she wouldn't like it. I'm so happy! The yarn I ordered for her second box, arrived today. I got it from
Elann
and it was most certainly a fabulous price, but the colors are just not what they looked like online. They looked more vibrant online than they do here in the house. Oh well. I should have known that you take your chances when buying yarn online. I'm sure she'll still like them though. I'm having such a good time with this Secret Pal! I'm shopping for a person I have never met and may never meet, since she lives across the Atlantic, but it's so much fun!
Oh and by the way Koh commented: LOL I really hope thats not your foot in the sock in that picture...did you stuff it? or has the camera just made it look puffy?
Yes that is my foot in the pic. When I took it, I was sitting on the floor, cross legged and the picture was taken at a slight angle. So yeah, I guess the camera did make my foot look puffy. :)
Well... back to that other sock.