Kitty update and a sock grows...
So I wrote back to that lovely lady about the cats I was interested in. Here's what I said:

I am aware of the procedure and how it is accomplished. It is why I would find a veterinarian in the area that either does the tendon clip, or uses the laser procedure. I know exactly what the procedure entails. When I had Trouble declawed, I interviewed about a dozen veterinary clinics, asking them all about how the procedure was done, and the potential complications. I got references from some of their clients' owners. I was assured that Layton Veterinary, while they did do the last digit removal, was the best, most comfortable and most humane. I even asked the clinic about such things. I can honestly tell you that I am extremely surprised, nay shocked, that I would be declined on this one condition/consideration alone. If you contact my veterinary references, you would see that I have done everything and more than the average pet owner to make sure that my animals are comfortable, happy and healthy. I just took Trouble to the clinic this past month for her yearly checkup and shots. Would your office reconsider if I was able to find someone that performed the laser surgery? Yes it's expensive, but it was my intention in the first place when I thought to adopt another animal. I had sincerely hoped to rescue another animal from life in a shelter but I guess I was incorrect. I wish you all the best of luck in finding them good, happy homes and hope that I can find another cat for our home. Have a good day, and I thank you for your time.

I think I was pretty rational all things considered... Here's her reply this morning:

Lisa - As a private, foster-based rescue group, we urge adopters to find other alternatives to declawing, including "Soft Paws", a rubber tip that can be applied to cat's nails, if a scratching post proves inadequate. It's wonderful that you are looking to rescue a cat that otherwise would have no chance. Independent Animal Rescue brings in dogs and cats from all over the Triangle, including rescue from shelters, and our volunteers keep the animals in their own homes until we are able to place them permanently with adopters. However, there are many previously declawed cats surrendered to shelters in Durham, Orange, and Wake counties, and your rescue from there would also save a cat's life and provide a loving home.Let me know if I can be of any further help.

Rubber tips?! So I decided she was a crack fiend and called my vet. She informed me that she performs the tendon snip and finds it quite humane. Go fig! And she even had a contact for me to a woman in Raleigh that helps place shelter kitties. Amanda is her name. She has a tortoiseshell. 6 months old even. Her name is Velvet. And no, Amanda doesn't care if I declaw the cat. Hopefully I'll be able to meet Velvet sometime this week to see if we are compatible.

I stopped by the Orange County Animal Shelter to see one kitty they had there named Summer. It seems Summer and I didn't hit it off. While she was a sweetie, she was more interested in the woman next to me than me. *shrug* This is why I want to go meet all the potential kitties I'd be interested in to see if they would be interested in me too. Hopefully that woman that had been next to me took little Summer home with her. :)

So with all of that out of the way, I got to working on my Sockapalooza socks. Yay! Lookie... a toe!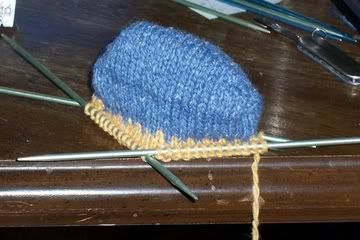 I've never tried any such pattern but hey... we'll see how it goes! :)