This is going fast!
I finished the second sleeve on
Cleaves
today: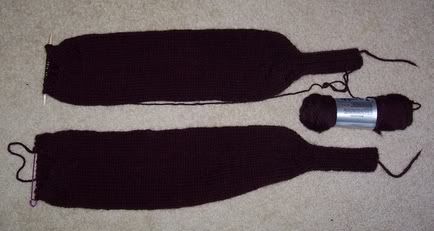 I started on the cowl but I didn't take a picture. Why? Cuz I'm feeling frigging lazy today. I wasn't feeling well when I woke up so I took the day off. While it sucked because I felt ill, it was nice because Eric is home so I got to sleep in and snuggle with him for a while. But this afternoon, I got to knitting.
Not much else happened today. Eric wrote. I knit. The cats played. Then we snuggled on the futon and watched cartoons. It was a really nice day. :)
In reply to comments:
Kay said: I like the extra Cleaves length too ... but I hope you have enough that you won't run short! Running short is the WORST :-(
Oh yeah that would be awful! I think I'll have plenty of yarn because I am making the pattern in the medium size and even though I made the sleeves longer than the pattern calls for, I had actually bought five skeins of yarn (just in case). Hopefully *crosses fingers* I'll have enough.