It's official. I'm a transplant.
Yup. I love it here. It was 89 degrees yesterday. It's supposed to be in the 80's again today. When I looked up the weather channel website to see what the weather was like in Plattsburgh, NY (my home town) and it said it was 58 degrees... I decided I was now officially a transplant. An 'ex-pat yankee' as it were. :P Which is perfectly fine by me.
I went to go get my allergy shots today and as I was sitting outside in the mini-park that is between the Neurosciences Hospital and the Women's Hospital, it hit me... this really does feel like home. I put my needles down and just marveled at that thought. I always talk about the fact that Plattsburgh is where I am from. No longer. Mebane is where I am from and it's a nice little town. I can honestly say I have truly forgotten the darkness and drudgery of the North Country. Now I'm not saying it's all bad up there. Let me tell you, when September hits and the leaves start to change... I'll be missing the North Country as I always do. :) Nothing, and I mean nothing, beats Autumn in New England.
But (to continue) here in North Carolina, the air is filled with the sweet scent of flowers. It's the most amazing thing too. No matter where you are, all you can smell is flowers. It's funny too because while my car has a nice layer of yellow pollen absolutely all over it, it's not an over-powering scent that wafts across the air. It's light and sweet. :) Everyone I see is smiling. Even in the hospital. Walking over to Neurosciences and then back to my office, I cut through the main hospital and there were doctors, nurses, and patients running about but they were all smiling. I love it here. :)
So while I was sitting outside knitting, I realized I didn't bring my camera with me so you can see my progress on
Cleaves
. But I was a good girl and took pics the other night of my swatch and the little bags I had been knitting for the RAK. :)
My swatch: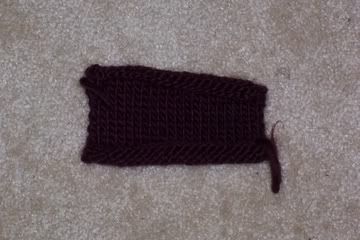 I'm so proud of the fact that I even made a swatch. It's done on size 10.5 needles. I know the pattern calls for size 11's but it came out perfect. :) Actually, this past Sunday, I was going to start working on it and realized, to my horror, that I did not in fact have size 11 double pointed needles but size 13's. "No worries" I think to myself "It's 3pm and Yarns Etc. is open until 4pm. It takes me 20 minutes to get there so I've got plenty of time." I hop in the car and head into town. Now you have to understand, I could take the direct route to Carboro to get there but it takes about 30 to 40 minutes. So instead, I take my short cut which means I will have to go through Chapel Hill. No biggie. Until I got to Chapel Hill. The traffic was nuts! I had no idea what the heck was going on but Franklin Street (the main drag in Chapel Hill) was completely blocked off. It ended up taking me about 15 minutes to go 2 miles but thankfully, I made it to Yarns Etc. in time! (With two minutes to spare actually.) :) So I run in and they have no size 11's! O_o Only some 10.5's. So I grabbed them anyway. Had to knit! Needle emergency averted! :)
So what was holding up traffic? The Annual Apple Chill Street Fair. It looked pretty cool and I was going to go check it out but parking was a nightmare and after about 10 minutes of trying to find a place that was close and under $5... I decided to just head home. I'll remember for next year though... I love fairs! :) This weekend is the Mebane Dogwood Festival. I didn't get to go last year since we were out of town but I plan to go this year even if I have to go by myself. No, Eric won't be in town but that's okay... I'll take pics for him. (He loves fairs too.)
Oh, I forgot, I was going to show you pics of the bags I made. Voila!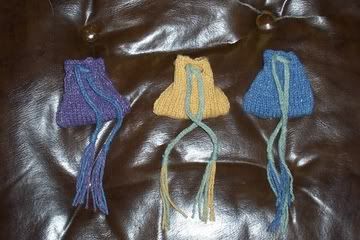 I put the stitch markers I made inside. I hope my RAK pals like them. I didn't want to just throw them in an envelope because it just seemed kinda boring. So I made those bags. Now have I mailed them out to my RAK plas yet? Oh no. No, I've been dragging my ass. (As usual.) I'll blame it on Eric since he's in town until tomorrow. :P
So when I get home tonight, I promise to take pics of my progress so far so you can all see. :) Really... I pinky swear!