Yarn swap! Yay!
Today was a great day! The weather was perfect. I got to meet a new person from the
knittyboard
and I got to be part of a yarn swap. :) Who did I get to meet? Well Fschmom, that's who! And here she is with her little one, Shawn: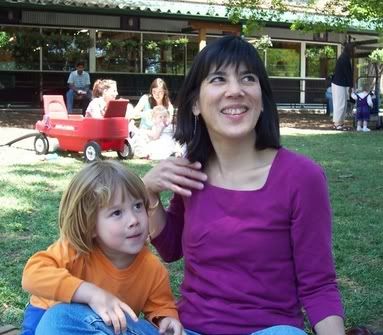 Isn't he a cutie? :) And so polite too. He shared his trail mix with me. *laugh* Of course,
Azuredrake
was there too, showing off her lovely
Honeymoon Cami
.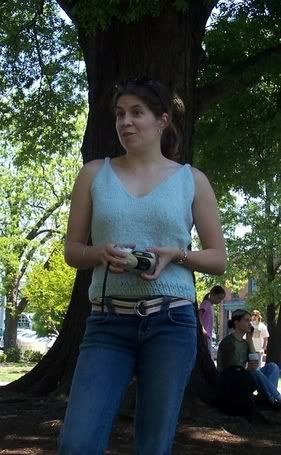 Isn't it great? It fits her perfectly!
Here's all of us on the mat with all the yarn: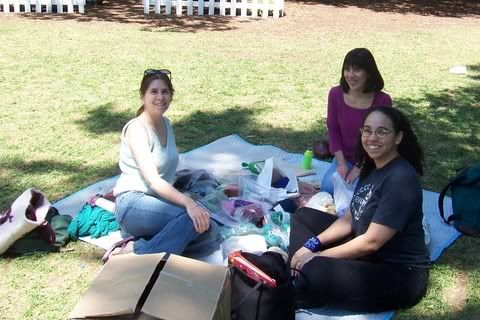 I was pretty surprised at all the lovely stuff that was in the box. I'll be honest, I would have thought all the good stuff would have been taken by now. I was happily wrong! :) Here's what I took out of the box: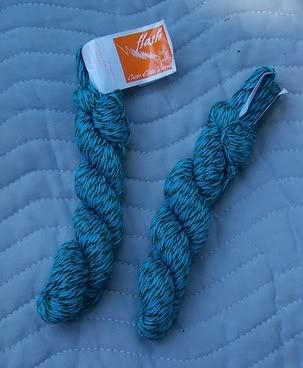 Some great cotton. I'll make these into ankle socks to wear around the house in the summer. And: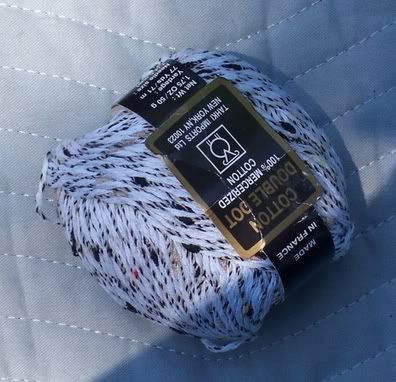 And I have no idea what I'll do with this but it was fun to pet it! :D
So when I got home, I started on my
I Do Shrug
. Now of course, in my infinite wisdom (yes that is sarcasm!) I decided to add beads to the pattern. I had planned (key word -had-) to chart out where I would be placing the beads. Did I chart it? Nope. So I cast on and by the third round, I realized I had to frog the whole thing. Thankfully I figured this out on the third round! No I still have not charted out where the beads will go but instead, I have decided to place them on the purl or knit stitch that is after the yarn overs. Here is how far I've gotten so far: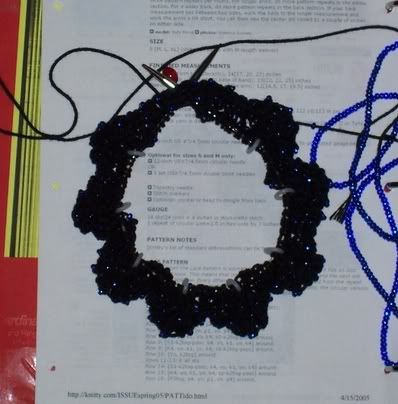 Here's a closer shot of the beads: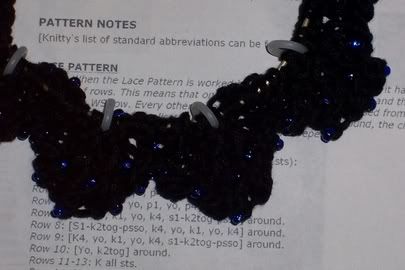 Yeah I know it's all scrunched up (I'm only on round 7) but I have high hopes it will look pretty good. :) But I had to put it down because my eyes are about to fall out of my head trying to read this pattern and watch tv at the same time. I had to give up on the tv but by then, it was too late. Besides, it is after midnight and I really, really should go to bed.
On the kitty front, I have proved two of my greatest theories.
1. Put a blanket on the floor, a cat will lay on it within five minutes...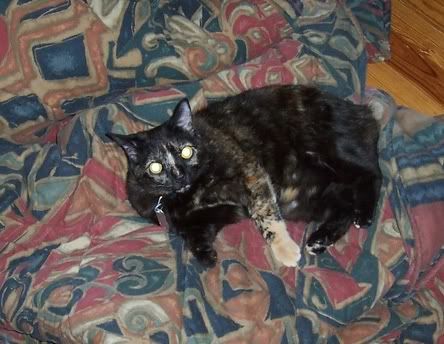 and 2. Stick your finger out and a cat will sniff it no matter how many times they have sniffed it before...