Hillsborough Hog Day!
I love festivals. Especially ones based upon food!
Hog Day
is a big bar-b-que (meaning
Carolina Bar-b-que
) festival. Eric was home this entire week (and it was wonderful!) but he traded his schedule so he could have one more day off so he, our friend Justin, and I could all go to Hog Day. It's kind of become a tradition for the three of us to go. We've gone all three years we've all lived in North Carolina. It's great to go, eat food, wander the booths, listen to the music and just generally enjoy the day. Here's a few pics we took.
Eric and I: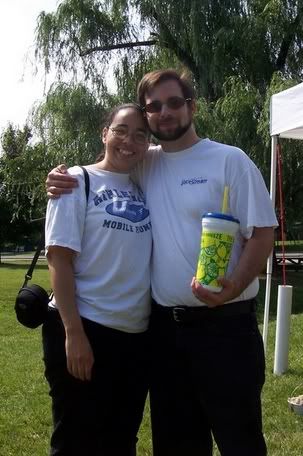 Eric and Justin looking at some ceramic ware: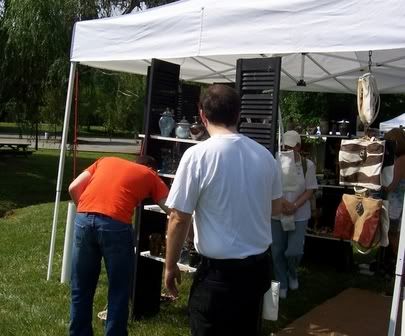 A nifty bit of art for sale. I love the gecko: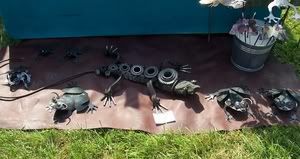 And Justin stopping to look at the honey sticks: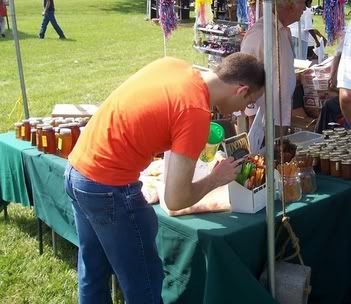 We have a running gag from last year where Justin walks up to this booth and just starts talking in a southern accent. Last year, it was dead on and completely subconscious. This year, we reminded him about it and he swore he wouldn't do it, but what do you know? He walks up, and without realizing it, starts talking to the man behind the table in a southern accent. *laugh!* Eric and I had to leave the booth because we both started giggling hysterically. :)
In knitting news, the whole week Eric has been home, I've actually gotten a decent amount done on my
Clapotis
. I know, I know. Most of you are going to ask "How did you have time to knit when your husband (who isn't home much right now because of his job) is home?!" Well, he told me the other day (while he was overnight in Cleveland, Ohio) about how much he just misses sitting on the futon with me while I knit. It was simple but damn it was sweet of him to say that. :) So, we've done that every night that he's been home so far. He works on his laptop and I knit and the kitties snuggle up between us. :) So here's how far I've gotten on my Clapotis: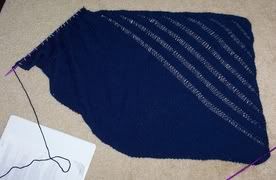 Time to head back to the futon. He leaves for work again in the morning so I want to get some quality futon-time with him. :)