Yarn-a-palooza!
Oh yeah baby! Yesterday
Lass
,
Azuredrake
and I all went out in search of local yarn stores. We planned on hitting about 5, but sadly, the fates were against us. I had a few things I had to handle in the morning that made me late picking them both up and then the traffic was completely backed up heading west on I40 and Route 54. To tell you how bad it was, we decided to skip I40 and try to go up 54 and it took us nearly a half an hour to go three miles. I couldn't believe just how bad the traffic was! But thankfully, I had them both with me and the time and bad traffic passed pretty easily. This didn't mean I wasn't swearing at traffic (I -always- do that!) but their presence made it a heck of a lot more bearable. :)
Anyhoo, we went to Needleworks in Burlington first just because it closes a lot earlier than the other stores. As usual, the ladies in there are nice and friendly. I still really like that store. It's too bad they have such short hours.
We decided to stop for lunch and then blasted down to Raleigh and Cary. We stopped at
Great Yarns
first. I'd never been and it was a pretty nice place. I ended up meeting a woman there that I had met before at
Yarns Etc.
It was funny when I saw her too. Have you ever seen someone you know and it just starts driving you nuts because you can't remember their name or where you know them from? I ended up going over and asking her how I knew her. :) But enough about that, here's a pic of Great Yarns: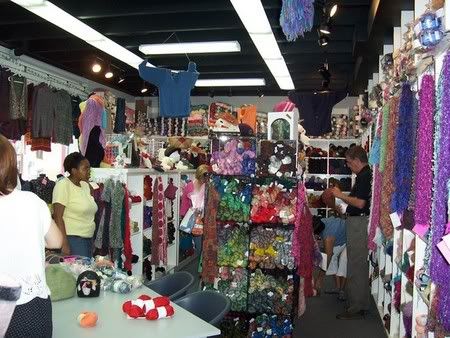 We weren't in there very long. While there weren't a lot of people in there, I kept running into all of them. It was really hard to move in the store. Their prices were about average too and they did have some very nice silk on sale. :) I'd heard a lot about the attitudes of the staff there too and I can say I didn't find them rude at all. But then, I didn't really talk to any of them, I didn't buy anything and we weren't there but for maybe 15 minutes. They did have the cutest felted bear on display though! And I can't believe I didn't get a picture of it! *smacks forehead* Azuredrake was talking about picking up the pattern the next time we were there. :)
We headed off to
Shuttles Needles and Hooks
next. As Lass said, "It's the Mecca of yarn stores!" It really, really is! I mean... look at this place!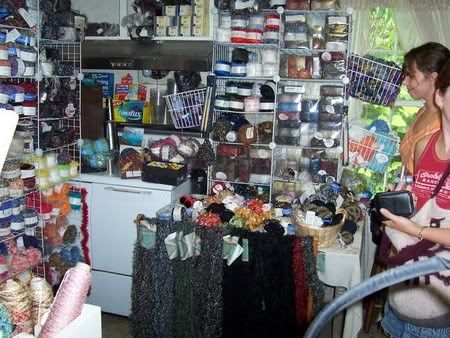 Yes. That's a stove with a mini-fridge on top of it sitting under all that yarn! It's an old two story house filled (and I mean filled!) with yarn. Check out this pic!: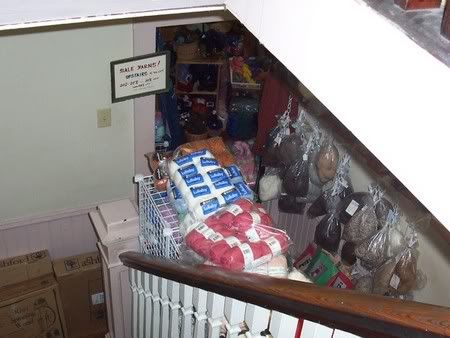 I should have taken more pictures but I was just completely floored every time I went in another room. All of us kept doing the same thing... walk into a new room and say "Oh. My. GOD!" because you didn't think there couldn't possibly be anymore yarn. And there was! And then you went into the next room and said it again!
I will make the 40 to 50 minute drive to shop at this store! Oh yes. And I'm sure I'll do it often. The woman that owns the place said she has been there for 16 years and I completely believe it! There is no way that she could have amassed that much yarn in anything under five years let alone ten. The prices were average but the selection... the selection in Shuttle Needles and Hooks can easily beat any and I mean ANY chain store like AC Moore or Michaels. Hands down. And she has yarns that I haven't seen anywhere else.
Goddess Yarns
.
Tahki
. And Noro. Noro as far as the eye can see. Every single room had Noro in it and stacked to the ceiling in some cases.
Sadly, we had to drop Lass off on our way back to Yarns Etc. We thought we would be able to make it but the traffic was still all jacked up so we'll have to check out that store some other time. Maybe we'll meet for lunch again and head over. :)
Not much went on the rest of the night. I hung out at Azuredrake's house with her cabana boy, had dinner, and watched a movie. (Thanks again for dinner!) I didn't do a heck of a lot today either. ;) Eric will be home within an hour and a half so I really, really should try and clean some of the house but *dismissing wave* we'll see just how much enthusiasm I have for that in about half an hour. How much you want to bet I'll be sitting on the futon and knitting in the next fifteen minutes? I'm giving even odds! ;)