An average Sunday.
I stopped by
Yarns Etc
today and did some knitting. Eric had left to head back to Charlotte for work at about 11 and I really wasn't in the mood to sit at home. I got there and did a decent amount more on my
I Do
shrug. See...:

I'm halfway through the flat portion of the pattern. I'll probably finish the one side by the end of this week. Well, at least that is the plan anyway. :)
Here's a close up of the lace with the beads: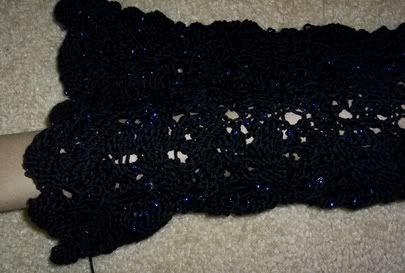 Wow I hope this blocks out well because I really, really like the blue beads with that black.
While I was at the store, I grabbed the last ball of yarn I needed to start on my
Sockapal-2-za
socks. I decided to go with some Rowan 4-ply that was on sale: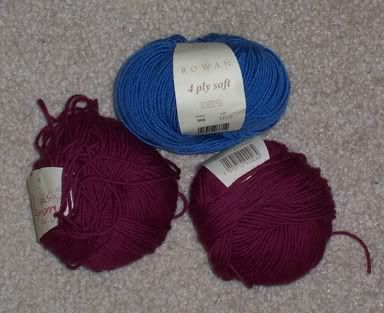 I'm thinking ankle socks with a rolled over, lace, cuff. What do you think? I think I'm going to do this pattern on the fly too and see how it comes out. We have until September but I'll probably cast on some time this week or maybe on the way to Origins next week. :) I'm so glad I was able to get in on this. I had missed the original sign up day and was pretty bummed. I had really enjoyed the first sockapalooza and had really wanted to join the second one. I was so happy when
Alison
decided to re-open the sign-up page for another day! Thanks Alison! :)
In kitty news, Velvet and Trouble were pretty good the entire week Eric was home. *shakes fist and grumbles under breath* Damn kitties... So of course, the instant he leaves to head back to Charlotte, they go nuts!
Trouble decides to climb all over the place!: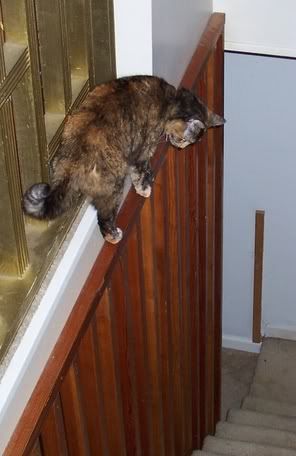 And Velvet gets into position to attack anything that comes up the stairs: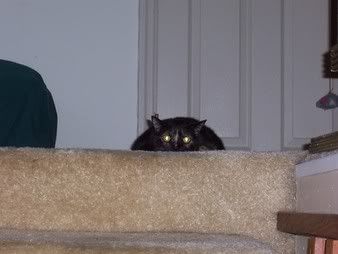 In response to comments:
Monkeemaven said: "Futon". So THAT'S what they're calling it now... *wiggles eyebrows*
Yes. Yes. That's what we're calling it now. Dirty girl! ;)
Monkeemaven also said: I can't believe you have the gall to call a pork product "barbeque". BBQ is of beef! (why else would they start with the same letter?) Moomobiles, not oinkers! I read that page trying to explain why they misuse "barbeque"... piles of excuses, but they're still wrong.
Hey, I didn't name the stuff! But I will say I think it's uber tasty! :D Remember, I'm a born and bred Yankee. 24 years of my 30 in the Empire State. When we first moved here and went to a bar-b-que restaurant, it must have been painfully obvious that I "wasn't from 'round here" when I kept asking for chicken when they asked what kind of bar-b-que I wanted. *laugh* I know better now!