Started a sock.
I finally got out my yarn and started working on my Sockapal-2-za socks. I'm using some Rowan 4 Ply Soft (in blue) and Rowan Wool Cotton (in red) I bought at
Yarns Etc
and size 3 wooden needles. I'm using
Wendy's generic toe-up sock pattern
but I will be modifying it. I decided to add an offset cable on the instep and I'll be making them ankle socks with a lace cuff.
I'm hoping they will look nice. :) Here's the first toe: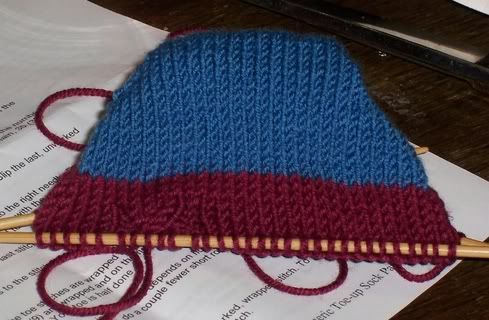 And a close up on the start of the cable: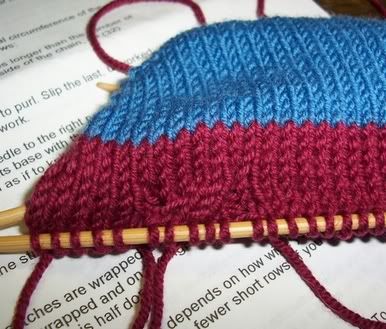 When I do the other sock, I'll offset the cable to the other side. :)
Now like I said, I'm planning on making a lace cuff but I have no idea what pattern of lace I will use. I guess I need to get on it pretty soon and decide now don't I? *laugh*
Through all this, Trouble was taunting me with a tummy that cried out to be scratched! Look at it. Could you resist this tummy? ;)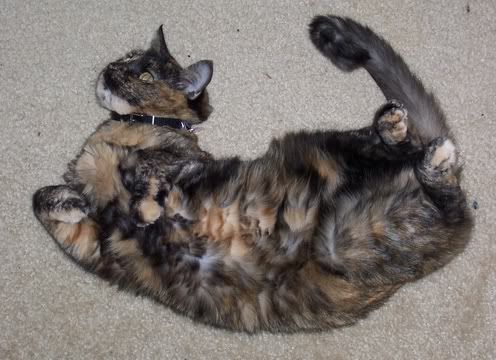 In response to comments:
Monkeemaven
said: I can't show my stash anytime soon because then people will remember I have enough yarn and will not gift me with random skeins.
Oh... I didn't think of that!
ATTENTION FUTURE SP'S, RELATIVES AND GENERALLY NICE PEOPLE! I will never under any circumstances ever decline any yarn sent to me.
That is all. *giggle*
Continuing in response to comments:
Azuredrake
said: Soooo....you still gonna get some knitpicks yarn when I do my order?
Oh hell yes! Just because I have way too much yarn for one woman to knit within this year does not mean I don't need more. *laugh*