In the mood for love... and long socks.
Of course we all know that Valentine's Day just passed. Eric was out of town so I sat home, snuggled on the futon with the kitties and ate some ice cream. Ah yes, the romance.

So last night, Eric and I decided to go out and have dinner. The restaurant we wanted to go to called
Kanki
had an hour to an hour and a half wait at 6:30. Screw that! I mean, I love the place but I just don't think I'm going to sit around for an hour to an hour and a half, smelling that really good food cooking and listening to my stomach growl along with the other twenty people sitting there. But of course, we had the dilemma of it was a Saturday night and every restaurant was going to be packed. What to do? As we were driving toward our third choice, Eric had the brilliant idea to head to the
Lantern
. It's actually a restaurant with a bar in the back. We always go sit in the bar. If you are -ever- on Chapel Hill, I can not recommend this bar/restaurant enough. Oh yes, you will pay a bit more but the drinks are fabulous, the bar staff extremely knowledgeable and friendly and the food... oh it's to die for. If you do want a good drink you can't find anywhere else (at least I haven't been able to) have the bar manager, Kristen, make you a June Bug. I'm not sure what all the ingredients are but I do know that she adds ginger, and fresh cucumber. Very, very refreshing!

From there we went to
Ham's
for some more drinks and some dessert. Not that the Lantern doesn't have good desserts but when you are in the mood for some apple crisp, you can't deny that mood. :) Also, I can honestly say that the best white russian I've ever had (besides Eric's) can be had at Ham's in Chapel Hill. (They use half and half instead of milk.)

It was a great night!

So of course, when I woke up this morning, I decided that I needed to grab my needles since I didn't do any knitting yesterday. Here's how I've been doing: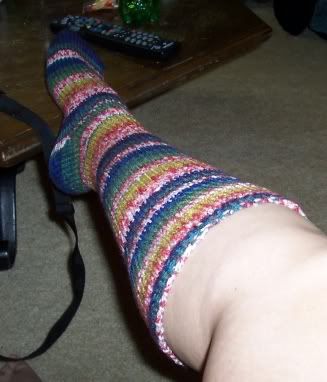 and another angle:




They look great right? Yup... that means that I want them to look even better! (Cuz I can't do a damn thing easily.) So after I had already bound off the end and very nearly finished weaving in the end, I decided to unweave the end and unbind the edge. And yes, I decided to do this at about midnight this past Thursday (because no insane knitting decisions are ever made when you should be asleep.) So about 45 minutes later, I get this:





I've added about a half inch so far and I plan to add about another inch to an inch and a half since then, essentially making the socks come to right beneath the knee. Yup... I can't do -anything- easily. :)

In the Interesting Schtuff I've seen this week, I want to share this with you...:




Yes, this is Eric. On his hands and knees. Scrubbing the kitchen floor. With a bucket and a hand brush.

*blink*

I didn't ask for this. I got woken up to this. And I am not complaining. Oh no this is not me complaining! He decided that the floor needing scrubbing and as he said, the kitchen is his balliwick, it was up to him to do it.

*blink*

I promptly got out of his way so he could finish. ;) And it looks great too!