I almost, kinda, sorta made it. Almost.
Okies, well realizing that Yule/Xmas was coming soon, Eric was gracious in helping me come to the realization that while I may be a knitting freak, I was most certainly freakish for thinking I could finish everything I had on my knitting list. :P

So, the list was updated as follows:

Eric (my husband): Scarf (his request.. and still working on it for Valentines now. In the interim, I got him a few other things.) ;)
My MIL, Denise: Socks - Done!
Her DH, Don: Decided on a DVD - Done!
My FIL, Dennis: Hat with a Harley Davidson logo (Yes. I am insane and no I haven't even started it yet!) *sigh!*
His DW, Cathy: Once again, a DVD (she had a wool allergy. What am I supposed to do?!) - Done!
My BIL, Joel: A Scarf was the original idea. Instead he requested some scented candles so we went to Yankee candle and thus, Xmas was saved!
My BIL, Patrick: A Hat was the original idea but Eric decided on a very hard to find CD that he thought Patrick would love, instead. - Done!
Alesia: Socks... still working on them.
Heather: Socks - Done! (See below)
Ragan: Giving her yarn! :) And a Pasha (will have to give her that Pasha for Valentines Day or something.) :P But I still gave her some yarn. :)
Mike and April: Afghan ... still working on it.
Maura: Socks - Done! (see below)

Okies, so that brought me to 8 items to make and I totally choked and only got three done. :P I finished these though before Yule. :)

Socks for Maura...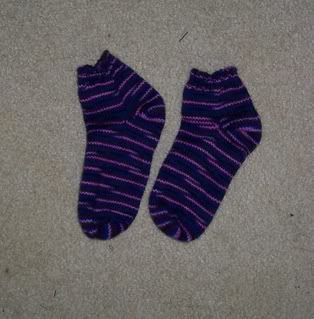 Socks for Heather...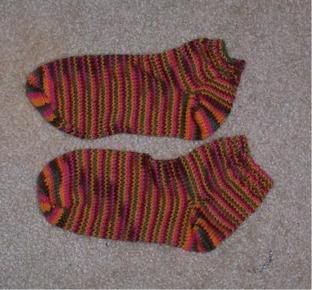 I haven't seen either of them yet though so I'll be hoping they are both in town so I can give them to them tomorrow. :)