Okay, I've figured it out.
Sort of.
It seems the consensus is to go with this yarn for my sock pal:

And I've decided to go with the
Falling Leaves
pattern on
Knitty
. That is if she doesn't email me by this weekend. :P If she doesn't, then that's what I'm casting on, by gum!
But in the interim, I'm itching to make some socks! (I am a monster that can not be stopped.) So I've decided to make myself some. Lass gave me some sock yarn that I just love! See: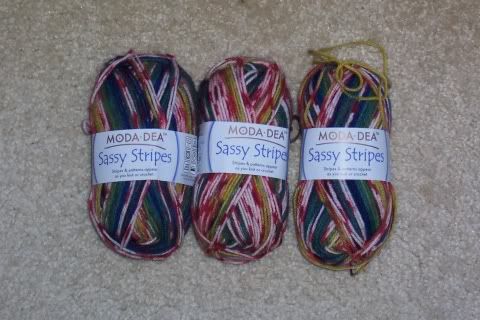 Isn't it funky? So I thought... I have three skeins of the same colorway. I gotta make myself some long socks! I've decided to go with the
Very Tall
pattern on Knitty. Obviously, I'm not going to change colors but I love the idea of outrageously long socks. :)
So 'a casting on I go.
Of course through all of this, I have other projects to finish. I don't know if you remember but some time ago, I had a poll up as to what I should finish.
I Do
was the number one choice. But did I pay attention to my loyal readers? Oh no. :P So I've decided to finish it at the same time too. I picked it back up last night and got cooking right along on it. :) But you know how it is... the socks keep calling to me. O_o So I'll make those my travel project since I'm back to work now.
Well sort of. Again. I woke up this morning and there was no way I was going into the office today. I must have rolled over again. Grr. How the hell can people handle getting a nose job? This is killing me some days! So Eric told me that I should prop myself up again on some pillows and also use the big pillows on the couch to kind of wedge myself in the bed so I'm less likely to roll over when he's not home. I'll try that tonight.
But my needles call! *goes and flops on the futon and pulls out the needles*