Tilted Duster done!
Yup, I finished it last night. I couldn't be any happier with it if I tried. Here it is: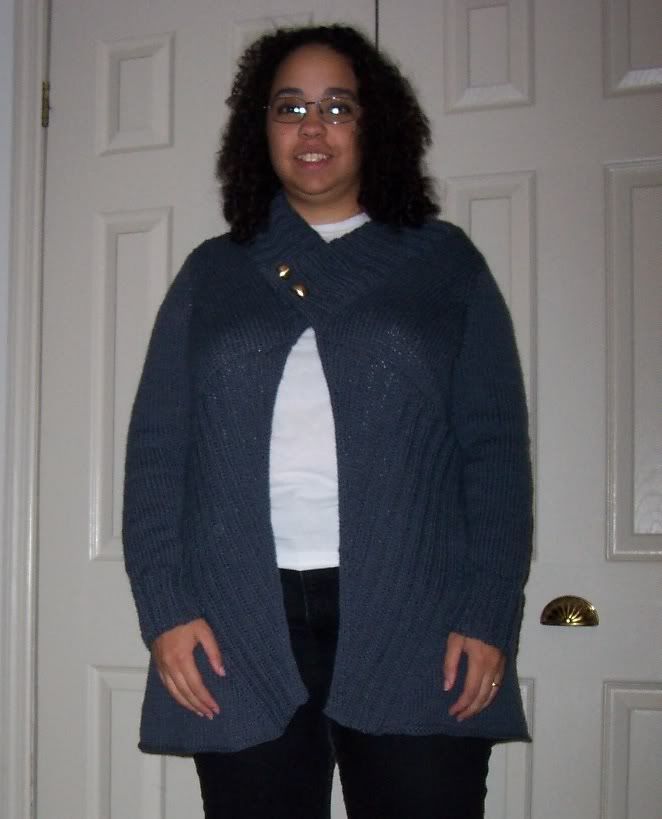 It was such a fast knit and so easy too. I decided to steam block it once it was seamed up and I'm very happy with how it sits now. I had knit the pattern out of order because I had

originally

wanted to knit it with a longer skirt but actually I think it's good where it is. I finished it this past weekend at
my cousin's house
. She gave me the idea to use some buttons of our grandmother's. Actually she was Eric and my cousin's grandmother but I couldn't help but think of her as my grandmother as well. The first day I met her, I knew I was family. I was called "

ShitPot

", hit on the head with wooden spoons, fed ceaselessly and yelled at for not visiting more often than the two times a week I visited... just like all of her blood grandchildren were. *laugh* I love her and I can tell you my only regret is that I didn't have the opportunity to know her more than the 12 years I did. But I still feel great love for her and am very pleased to use four of her buttons on my duster. She would smiled. Then probably fed me something. So

I'll

proudly strut in my duster with those buttons. :)

While I was visiting my cousin, I also worked on my I Do shrug.

...!

...!

I know I can't believe it either! I'm telling you, she is my project

mojo

. I'm nearly done with it and I just can't believe I was able to figure out where I was in the pattern. I have about 9 more repeats to finish and then it's seaming and then wearing.

...

...

I think I can get that far. Heck it's only been like a year or so since I've touched it. :P

Wish me luck!